In his latest piece for PWP Nation, Todd Rick explains how the Young Bucks have forever evolved the business… one superkick at a time. 
In the world of Professional Wrestling, WWE rules all. Without the WWE, it's hard to make a name for yourself. It's hard to get over. It's just plain hard to making a living, that was until we were introduced to the SuperKick Party.
Matt and Nick Jackson, brothers from California, but many know them as the Young Bucks. Considered to many as the best tag team in the world as they currently hold the IWGP Junior Heavyweight Tag Titles, the Ring of Honor Tag Titles and were voted as Tag Team of the Year by the Wrestling Observer for the past 3 years in a row (2014-2016). For as great as they are now, they almost considered giving up Pro Wrestling all together.
Before really discovering who they were, the Young Bucks were signed by TNA under the name Generation Me. Their time in TNA was a complete flop. The TNA run was so bad, that both of the Young Bucks almost quit Pro Wrestling. They made no money, feuds went nowhere but most importantly, they weren't having fun. But they decided not to quit as they took a tryout match with WWE.
During the tryouts, an incident with Booker T came about when Nick Jackson was apparently leaning on Booker's coat in the locker room. Booker T went online with the incident and talked about how disrespectful the Young Bucks are… this made the Young Bucks.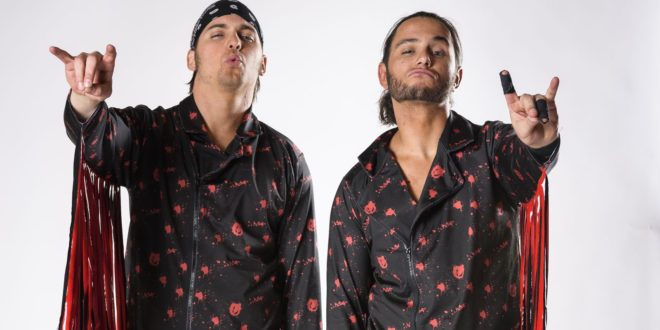 Giving Pro Wrestling one more shot, the Young Bucks went to New Japan Pro Wrestling, only this time, they played off the real-life comments that Booker T made about them. Young Bucks never looked back as they joined the Bullet Club and the rest was history. In an interview with Sports Illustrated, Matt Jackson commented on Booker T and how they took that into their own, "This is wrestling, but no one knows how to blur the lines anymore. Let people think we have an attitude." And did they ever! (Booker T & the Young Bucks have reconciled and there are no hard feelings between them).
Through New Japan Pro Wrestling, Ring of Honor & PWG, the Young Bucks have taken over the Pro Wrestling world along with the Bullet Club. In the past, the Young Bucks have worked with the likes of Finn Balor, Karl Anderson, Luke Gallows and AJ Styles. When they left for WWE (in different time periods), the Young Bucks thought about breaking up the Bullet Club. Instead, they help rebuild with Kenny Omega as part of the Elite, Cody Rhodes, Adam Cole (who was just recently superkicked out of Bullet Club), and Marty Scrull. Many consider the Bullet Club bigger now than it's ever been with merchandise sales are through the roof!
Through the Bullet Club, the Young Bucks with Kenny Omega as part of the stable the Elite, have their own YouTube show called "Being the Elite." It breaks kayfabe at times but keeps it alive in others. The show has help catapult the Elite into superstardom. It has also helped out Marty Scrull and Cody Rhodes as well…I'm sure you've heard "Fuck the Revival" before… The Bullet Club members have also landed a deal with Hot Topic recently for their T-Shirts respectively. Sales have been so well that Hot Topic ordered that their shirts be sold nationwide in every store!
While many love this show, a lot of old time wrestlers and fans of the old school style are none too pleased. Along with this and the style of wrestling that the Young Bucks have, many believe they are killing the Pro Wrestling business. That's something I scratch my head at.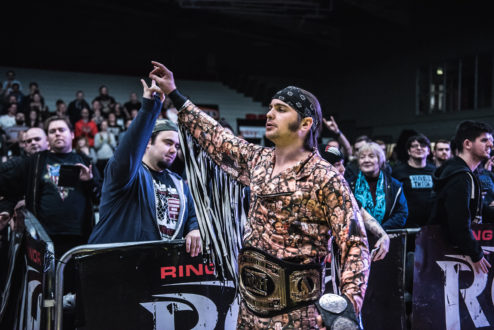 Pro Wrestling has evolved in so many ways over the years, that it's just that. They are evolving it even more. As for the people complaining about their style… well take it this way, what if movies had just one genre? But then came along a new genre that people love? You see their style of Pro Wrestling is just a different genre, a different art form of Pro Wrestling. If it was all the same, that would be pretty boring, wouldn't it?
The Young Bucks have made a name for themselves and have created a way to live as a Pro Wrestler outside of WWE. But more importantly to the fans, they have made Pro Wrestling fun again, whether it be a SuperKick Party, a Meltzer Driver, a Harmless/Harmful Rib, a Too Sweet, a Suck It… You can see it when they wrestle, they are having a blast! And why? It's simple, they are like us. Fans of what they love and they have incorporated what they love… into themselves. I have become a huge Young Bucks fan over the past few years. With that being said… to Matt and Nick Jackson, thank you for making Pro Wrestling fun again! Too Sweet, good brothers.
For more news, rumors, videos, podcasts and exclusive articles, follow us on Twitter @PWPNation.