PWP Nation's Derek Gifford lists five things that should return in WWE's latest video game coming out later this year. 
With WWE 2K17 just around the corner and a few months away, I thought why not compile a top 5 list of past features that I believe should be in WWE 2K17.
These are not in order if I may add and there are a lot of things that I'd like to see added that aren't on this list, and that I believe should be in the next WWE game. For example, stuff like online server issues and the grappling systems, even some game modes, but here is my top 5 list for things that WWE 2K17 should bring back.
Object Detection
This particular one gets on my nerves because you could be setting up for an epic move through a table only to go through it and the table goes through the ring. This game is supposed to be realistic and show you the real WWE experience, but they can't get the game physics right. It's just a small thing to fix, but it really grinds my gears.
The reason for this is because the WWE Games team have used the same game engine since the SmackDown vs. Raw days and with the new additions and animations to the game, it struggles to keep up with the game, but as I said, it is a minor thing, but it can be fixed by the time the new game comes.
Include Every Active Superstar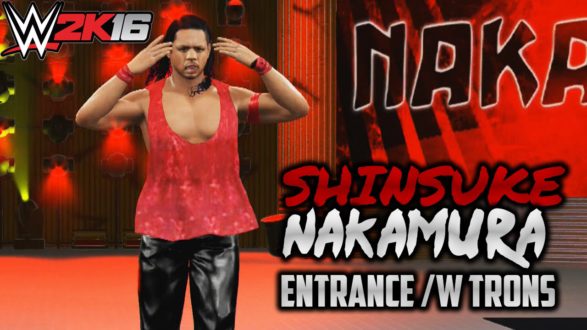 As much as I like playing with Andre "The Giant" and Diamond Dallas Page, I want to play with some of the newest superstars on the roster. The Four Horsewomen got scanned for WWE 2K16 last year, but still never made it in which is really disappointing. I want to be able to play as American Alpha and take on the likes on brand new additions such as Shinsuke Nakamura, AJ Styles, Luke Gallows and Karl Anderson.
If they can't make it in to the game at launch, put them in a DLC pack and schedule it for later in the year, don't just leave them out. I hate downloading superstars who are in WWE from Community Creations and have to use that generic music when they come out and fight in my Universe mode or my exhibition matches.
Backstage Brawls
Ah, yes, the memories coming back to me now…
"SmackDown: Just Bring It" was one of the best wrestling games of all time and one memorable feature of it was the ability to fight backstage and all around the arena. Now, our fun has been restricted to just inside the arena, from the commentators desk to the stage, that's it.
The sheer element of fantasy has left our wrestling game in spades over the last 15 years. Even if we were to get an arena like SmackDown vs. Raw 2008, where you had a bit in the crowd to fight, it would be a massive improvement to our fights in the ring (and outside as well).
Old and New Match Types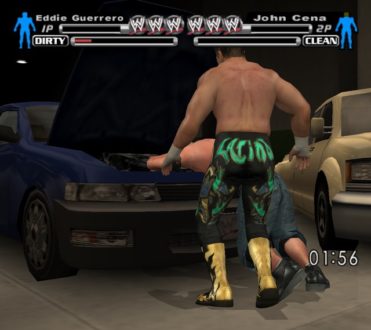 There is nothing better in WWE and in your virtual wrestling career than having a massive variety of match types to play in. In WWE 2K16, we had just the normal match types like Extreme Rules, Steel Cage, Hell In A Cell, Submission etc., but we need new match types that are either new or have been removed before like Special Guest Referee or 2 out of 3 falls match to make stuff more interesting.
For example, I could be doing a storyline in my 'Universe Mode' with The Undertaker and Dean Ambrose, but I don't want the whole rivalry depending on No Holds Barred matches and One-on-Ones.
I want to go past the limit and have at one pay-per-view an Asylum match then the next night a casket match on RAW, which would bury the loser for like 9 months, that's the type of stuff I want in 2K17.
An Improved "Universe Mode"
Okay, probably the greatest thing in the WWE series (if you are a creative person like me) currently is WWE Universe.
Universe Mode if you are not familiar with it, is like the WWE being placed in your hands and you can do what you want with the company; you can delete shows, add shows, real and custom (cough cough TNA, ROH, etc. cough cough) and have your own rosters and storylines. Basically, you're Vince McMahon.
But for the past 4-5 years, Universe mode has been the same with the same layout and same stuff. It just gets boring once in a while and they need to fix that. This is the part that 2K need to focus more on rather than the 2K showcase and MyCareer and it could be great.
So, in closing these five additions and game features could really make WWE 2K17 the best of their franchise. Thanks for reading, everyone.
For more exclusive articles and content, follow us on Twitter @PWPNation.