After a brief hiatus, PWP Nation Featured Columnist Zak Fellows examines the "hall of fame" career of the returning Kurt Angle. 
An accomplished amateur wrestler from youth with several accolades in the National Collegiate Athletics Association, Kurt Angle would parlay this success and natural ability to the 1996 Summer Olympic Games. Against all odds with a severe neck injury sustained during the trials, he would defeat Abbas Jadidi to win the Gold Medal in the Heavyweight Class a fact that would be used as a basis for his future.
After making an appearance with ECW and the National Wrestling Alliance, Angle would sign with the WWE in 1998 to be trained with Power Pro Wrestling in Memphis going on to win the PPW heavyweight championship on July 24, 1999 by defeating J.R. Smooth, better known as WWE Hall of Famer Rikishi. While wrestling dark matches and competing with PPW, he would hone his skills until finally on the 1999 Survivor Series Kurt Angle would make his debut defeating Shawn Stasiak.
Angle's character was that of an American Hero, one who believed in hard work and determination and the rewards that come with it with his gold medal, which he would wear to the ring, serving as representation of his three I's: Intensity, Integrity and Intelligence. The audience would soon turn on Angle's as he became more of a condescending and arrogant athlete as he would go on to win the European and Intercontinental Championships, becoming the third man to unify both titles. Despite losing both championships without taking a fall at WrestleMania 2000, Angle would continue the year by aligning himself with Edge and Christian, forming an entertaining trio and he would win the 2000 King of the Ring tournament by defeating Rikishi. However, this would still prove to be just the beginning for the phoenix like Olympic Gold Medalist.
At No Mercy 2000, Kurt Angle would The Rock to become the WWE World Champion becoming the first man to have won both the Olympic Gold Medal and WWE World Championship certifying his success in both amateur and professional wrestling. Angle would hold the title until February 2001, defeating the Rock, Stone Cold Steve Austin, The Undertaker, and Triple H as well as being victorious in the only six-man Hell in a Cell in history. As the Invasion storyline progressed, and the Alliance divided the WWE and its roster, Angle would prove to be a major player, feuding with Stone Cold Steve Austin, briefly claiming his second WWE Title from the Texas Rattlesnake as well as holding the WCW World Heavyweight Title and would be one of the major deciding factors in the WWE's victory at Survivor Series 2001.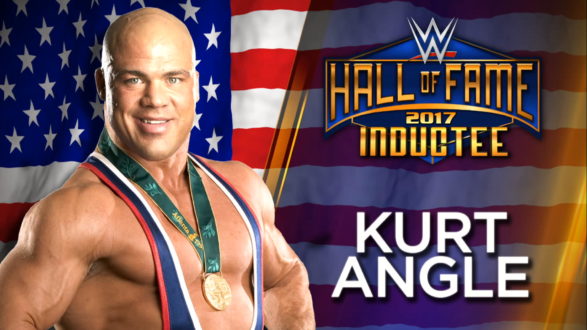 Angle would soon find himself facing off against the rising star Edge in a series of matches that would not only see Angle's head shaved but also started the famous "You Suck" chants in the beat of his entrance music. Both of these changes would stick with him throughout the remainder of his carer and in the summer of that year he would also prove to be instrumental in bringing forward a man now known throughout the world but until that point was looking to gain his opportunity: John Cena.
After defeating the Big Show for his third WWE Championship at Armageddon 2002, Angle would begin a long standing feud with Brock Lesnar, going on to his first and only WrestleMania main event with the man and wrestling an hour long Iron Man match on the September 18th edition of Smackdown. After accomplished matches between the two, Angle would move on to another heated rivalry with Eddie Guerrero the following year, wrestling him at WrestleMania 20 and SummerSlam 2004 and in 2005, he would find another rival, this time arguably the greatest athlete in WWE history in Shawn Michaels.
With Angle winning his medal in 1996 and Michaels winning his first WWE Championship the same year, the two would begin a feud to determine who the better man was until finally they faced off in a classic dream match at WrestleMania 21 with Angle emerging victorious. The two would meet again at Vengeance 2005 with Michaels gaining his win back until they would ended their series in a draw at Raw Homecoming in October of that year. Angle would challenge the man he helped usher into the WWE, John Cena, for his WWE Championship until he would take advantage of the injured Batista having to vacate his World Heavyweight Championship in order to claim the title, his sixth World Championship overall.
By August of 2006, Angle had decided to leave the WWE, feeling accomplished and worn down from his injuries sustained a decade previously from one of his great triumphs and made his way to the second biggest promotion in the United States, Total Non-Stop Action Wrestling. First appearing on October 19, 2006, Angle would immediately begin arguably the greatest rivalry in TNA history with the then undefeated Samoa Joe, going on to end his streak and becoming the first TNA World Heavyweight Champion the following year at Slammiversary 2007. Continuing his hot streak as TNA's newest villain, he would also quickly become TNA's second Triple Crown winner when he managed to hold the TNA World, X Division and Tag Team Championships at the same time, soon facing off in a dream match with the "Icon" Sting at Bound for Glory 2007.
He would enter into acclaimed feuds with not just Joe and Sting but Jeff Jarrett and AJ Styles. Overall Angle would hold six TNA World Heavyweight championships main event Bound for Glory three times and in 2013 he was enshrined as a key figure in the company's development when he was inducted into the TNA Hall of Fame. Angle would leave TNA in 2016, 10 years after his initial appearance and now in 2017, he will be acknowledged again as one of the all-time greats, this time in the WWE Hall of Fame.
So, what is the legacy of Kurt Angle?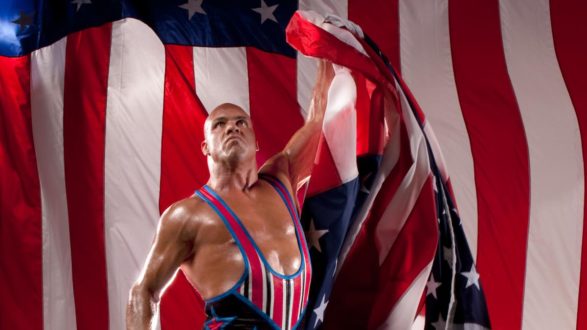 Aside from the brilliant matches that still remain classics to this day, Kurt Angle's overall success in the industry is a story to behold and one that makes him a wrestler to aspire to be, his personal problems aside. In my opinion, he is the perfect combination of wrestling ability and character integration. In wrestling, you can either have ability or character to make yourself over with an audience and achieve success but the best of best have been able to master both: One whose character and charisma attracts fans and makes them want to watch them compete.
While his ability is focused on more than his character by wrestling fans, mainly because his matches are so well received, Angle character is a big part as to why we like him over other former amateur wrestlers that come with ability and no charisma. He can be funny and goofy as the lovable idiot but feared and to be taken seriously as the methodical schemer which makes him not only a reliable source of entertainment for his fans but promoters too. Angle was in WWE and TNA, for the longest time, the constant. The one that their owners and bookers could always rely on to feud with anybody that he needed to feud with, playing the role and service that he needed to play to the absolute best of his ability and achieving the result he is asked of.
But the biggest contribution that Angle brings and the example he sets for wrestlers entering the industry is his biggest intangible: His legitimacy. Being a legitimate athlete before entering into pro wrestling, you already have an advantage due to conditioning and training before going into the whole other game that comes with being trained for the ring. Angle's legitimacy in his success as an amateur wrestler added to his credibility and to his matches as he was able to wrestle people in straight up wrestling matches without any need for gimmicks or bells and whistles. He serves as an example of an amateur wrestler working in today's generation, where he has the ability to put on the matches and the charisma and knowledge of how to work an audience and get them invested in what is, pure wrestling.
His first year in WWE is proof of that. During WWE's hottest era and in one of their most successful years, it was Kurt Angle who was claiming any title he challenged for and winning the WWE Championship in a first year that has arguably never been topped (sorry AJ). When WWE takes an interested in people with amateur backgrounds, like Brock Lesnar, Shelton Benjamin, Jack Swagger and Chad Gable, it because of the amazing success that they enjoyed and obtained from Kurt Angle in my opinion.
And on March 31, 2017 at the Amway Center, we will see that ever long list of accolades gain another point as Kurt Angle enters the WWE Hall of Fame. All with a Broken Freaking Neck.
[Zak Fellows doesn't have a broken freaking neck but thanks for the concern.]
God, its been a while… excuse the rustiness. 
For more news, rumors, videos, podcasts and exclusive articles, follow us on Twitter @PWPNation.