8 years since his tragic death, PWP Nation's Caden Moran looks back on the career of WWE's Samoan Bulldozer, Umaga
On December 4th, 2009, the professional wrestling world lost one of the most underrated superstars of our generation. Eight years ago, we tragically lost the "Samoan Bulldozer" of WWE, Umaga.
Being a part of the legendary Samoan Anoa'i family, Umaga was always destined to become a professional wrestler. Starting his early WWE career alongside his cousin, Matt Anoa'i, as a part of "3-Minute Warning" and being dubbed as Jamal, Jamal took part in many cool moments. Being hired as Eric Bischoff's enforcers, 3-Minute Warning's main purpose was to attack random wrestlers throughout the weeks and even attacked Lilian Garcia, Jimmy Snuka, Mae Young, and The Fabulous Moolah. However, the duo did not last long as Jamal was released by the company after being involved in a bar fight. But, his initial release was a blessing in disguise as Jamal would inevitably return to the company as the man we best know as Umaga.
The Umaga character was very interesting to me. Being depicted as a reckless savage who could only be controlled by his manager, Armando Estrada, Umaga was just a cool looking Samoan badass. Even being what many fans considered to be a stereotypical gimmick for the Samoan, Umaga's commitment and dedication to making the gimmick work was admirable. Many fans and people in the back did not believe in Umaga as much as they should have. But, at the end of the day, Umaga believed in himself and that is all that matters.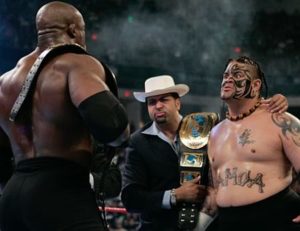 Umaga began his second WWE run with a massive impact. Defeating big names such as Triple H, John Cena, Shawn Michaels, and even Ric Flair, Umaga made his presence felt right away. Umaga, in my opinion, was World Champion material and it is a massive shame that he never got to be recognized as WWE Champion at least once. After failing to capture the WWE Championship on two separate occasions to John Cena, Umaga was still looked at as a big name guy as he received the opportunity to work alongside the holy grail of WWE, Vince McMahon.
After entering an alliance with the boss himself, Umaga had his first taste of WWE gold as he became Intercontinental Champion for the first time in his career. Umaga would go on to have many entertaining moments such as being McMahon's representative in the "Battle of the Billionaires" at WrestleMania 23, losing the Intercontinental title to the debuting Santino Marella, and entering a highly entertaining feud with Jeff Hardy. Despite not being a World Champion, Umaga proved that he was one of the best big guys in the WWE. And, despite what many fans, including myself, think about Umaga's lack of championship success, he showed that he had what it took. It is just a huge shame to see how it all ended after having a promising future.
I remember when I first began watching pro wrestling and I was sitting at home watching an episode of Smackdown and I remember the first time I ever saw Umaga. After CM Punk attempted to cash in his Money In The Bank contract on then World Heavyweight Champion, Edge, Umaga appeared out of nowhere to attack CM Punk. I remember watching this unfold and thinking to myself, "this guy is awesome". It was the first time I ever laid my eyes on the war machine and from that point forward, I was hooked.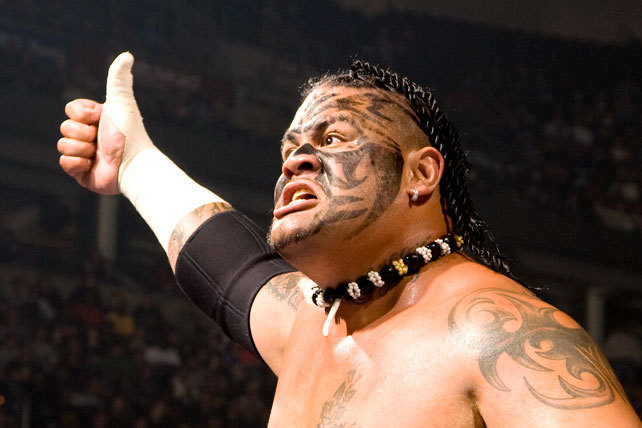 After feuding with CM Punk, Umaga's final match inside a WWE ring was a loss to Punk at Extreme Rules in a "Samoan Strap Match". Umaga was later released from the company for violating the wellness policy for only the second time but refused to enter rehabilitation. Umaga's exit from the company was not an easy one as he clearly left the company on bad terms as proven by WWE's incompetence and failure to acknowledge the passing of Umaga during WWE television. To this day, the lack of appreciation for Umaga in WWE infuriates me. Umaga gave his all for the company. The least they could do is air a graphic before the show.
It was on December 4th, 2009 that the world lost Umaga. After being found unconscious and rushed to a hospital, Umaga was pronounced dead after suffering two heart attacks from drug overdose. Being only 36 years old, Umaga's sudden death shocked the wrestling world and still breaks the heart of many. What makes his death more upsetting and tragic is that just a few months prior, Umaga refused rehabilitation. If Umaga accepted the help, maybe, just maybe, he would still be here.
Umaga's legacy still lives on in the WWE today as his nephews and current Smackdown Tag Team Champions, The Usos, still pay tribute to their uncle almost every time they're in the ring. Despite leaving on bad terms, I hope that one day the WWE can recognize Umaga's legacy. Umaga, without a doubt, deserves to be in the Hall of Fame and I firmly believe that it will happen. I don't know when and I don't know how, but Umaga will have his legacy enshrined and it's simply because Umaga deserves it.
Eight years have passed since you passed away, Eddie. We will never forget you. We miss you, Uce.