PWP Nation's Zack Heydorn talks about his live experience at AT&T Stadium and what the true meaning of WrestleMania is.
The cool air was mixed with fiery rays of sun as wrestling fans from around the world descended upon the Rally Buses of Dallas, Texas for WrestleMania 32. With a box of beer in my arms and good company at my side, I stood, listened, and took it all in as best I could.
Some fans were discussing the Hall of Fame, NXT Takeover, and their hopes for that evening's WrestleMania main event. Others were debating WWE booking decisions, the need for new stars, and the timetable for a Seth Rollins return.
By in large though, fans were simply connecting with one another. Talking wrestling t-shirts, reliving glory days of WrestleMania's past, telling stories of watching wrestling for the first time, and sharing fun tidbits on respective hometowns. After the ride to AT&T Stadium, the beer started flowing and folks started getting to know each other even better. The connecting then became fun in ragging on fans with Roman Reigns posters; community New Day rocks claps, and singing the entrance music for Blue Pants.
Excitement and buzz was everywhere. It was tangible and all around. Obvious right? This is WrestleMania after all.
No.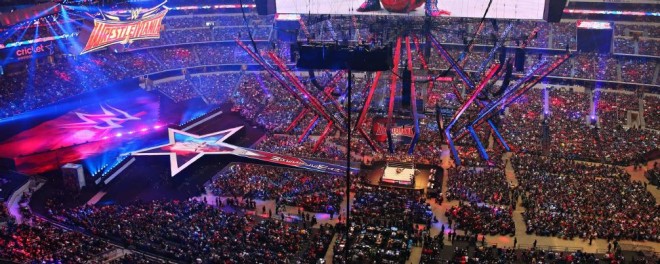 Typically, the buzz and excitement created by an event exists because of the event itself. An NFL football game that pits two first place teams against each other. A showdown between soccer teams both at the top of their standings. Boxing matches featuring two champions pining to be the fighter to unify the belts. UFC fights with an undefeated champion against a challenger looking to make a name. These are all major events in the world that generate excitement and create buzz. The event drives it. Fans are along for the fun ride.
WrestleMania is a different beast. The exact opposite. At WrestleMania, it was crystal clear just from being there in the masses of 100,000 fans that WE create the buzz and excitement that makes our event so great. There is nothing else like that on this planet.
Sure, the WWE books matches and creates the stars that we come to love or hate throughout the year. Yes, it's the stories that the WWE tells in the build to the big event that helps capture our attention. The immediate connection to the event? That is because of the fans. It feeds and leeches off one another until everyone feels something whether they like it or not.
After walking through the turnstiles of the stadium I power-walked my way to the concourse like a hound searching for food to feel the sense of overwhelming joy as I peered out at the masses of people and traditionally awesome WrestleMania 32 set design. It felt as if I was the only one doing so. Once I had my moment of glory, a simple turn to the right or left of me yielded views of all fans entering that gate doing the exact same thing.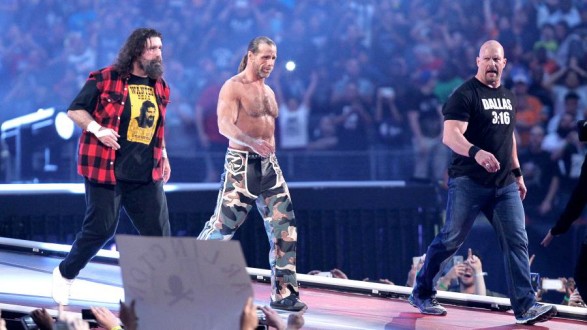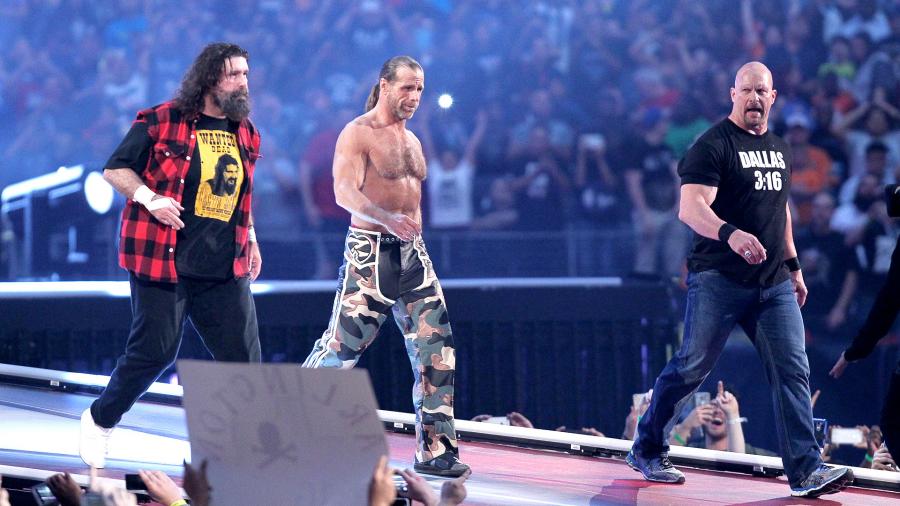 Hurrying to the front with their camera phones in hand ready for a #WrestleMania32 selfie. High fives, laughter, smiles, and yells of "Oh. My. God" were heard in abundance. The WWE lit up AT&T Stadium in a way never seen before and probably won't be seen again. It looked like a palace had landed inside of a football stadium and added to the allure of the event.
At the seats, similar tells of emotion were prevalent on all faces, whether it was 31 year old men like myself or eight year old kids witnessing the WrestleMania spectacle for the first time. After that came more high fives and introductions with those near our seats along with a common recognition that we were all there together and a part of something that was going to be truly special.
When the first bell rang, the matches and stories built throughout the last three to six months played out before all of our very eyes. Be it false finishes like those in the Chris Jericho/AJ Styles match, the death defying Shane McMahon dive off the top of Hell in the Cell, legends of the past returning to old glory, or Roman Reigns being booed out of the building, we all reacted together as one. The reactions may have been different, but they were together to help make the event what we wanted it to be. It was organic and it felt real.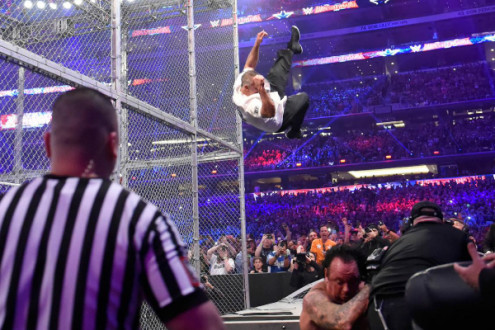 At no point throughout the event did I think the WWE was ruining their biggest event of the year due to the outcomes of their matches. After, when logging onto twitter and interacting with followers was the only point throughout the day that I got the feeling that maybe WrestleMania 32 was actually disliked by some fans. I honestly could not believe it.
For 100,000 people, it couldn't have mattered less. We turned to one another in disbelief at a variety of things and elements that occurred throughout the night, but it was through the lenses of being entertained rather than pointlessly critical.
It was at that moment when I realized what it truly means to attend a WrestleMania. You are unquestionably part of history. History of a company we all love and a business we're all obsessed with. It means we can take part in a one time only phenomenon where we help create the atmosphere we covet. It means we participate in something that no other entertainment avenue can offer.
Most of all though, its means that we can go back and enjoy wrestling the way its supposed to be enjoyed. No worries about who goes over and who doesn't. No discussions about certain superstars getting buried or not pushed. Just simply watching the biggest pro wrestling show of the year and enjoying it with other fans that are doing the same thing. In its pure form, we're celebrating. Celebrating our love for the business, and the fact that people from all across the world can connect around action taking place in a squared circle 20X20.
Walking out of AT&T Stadium, I was thrilled. All 100,000 of us were. Results be damned. We had a blast, together.
That's what its all about.
For more exclusive articles, news and rumors,  follow us on Twitter @PWPNation.