In his first piece in two years, PWP Nation's Todd Rick writes a rebuttal and explains why the Rock is truly the Great One. 
After two long years…two long years. FINALLY! Lord Tricky has come back to writing for PWP Nation! Now, I'm not back to writing just to promote my new podcast, which is called Offended presented by PWP Nation and debuts on July 7th. No, I'm not back for cheap pops or to promote anything like my photo edits on the PWP Nation Instagram page (Go Follow!). I'm back because there is this movement going around. A movement that I don't really understand and it's gaining more and more traction. I don't know if you heard of it or not but it's the "We Hate The Rock Fan Club."
PWP Nation posted an article by JCD on how The Rock is an "Overrated, self-serving, ego maniac." I read the whole thing and while I disagreed with most of it, the article was very well written and delivered his point (highly suggest reading it if you haven't). It gained a lot of traction through the PWP Nation community and sparked outrage about the Great One. One thing that kind of threw me for a loop, were the many reactions towards the article. Instead of combating the article with their love for the Rock, a lot of people just plain rudely bashed the writer. This has inspired me to write an article about the "Most Electrifying Man in Sports Entertainment, the People's Champion," The Rock!
The Rock debuted in 1996 at the Survivor Series PPV in Madison Square Garden. He was greener than goose shit and forgot which end the hard camera was on. But, he still brought this abundance of charisma with him and people still had a great feeling towards the young Rocky Maivia. With Rocky being the true babyface in an era that was transitioning into the Attitude Era, it was no surprise that the crowd quickly turned… "Die Rocky Die"…….We all know the rest of the story.
The Rock became one of the greatest superstars the WWE had ever seen! In November of 1998 at the Survivor Series PPV, a 7 year old me, sat in a seat at Scottrade Center (then Kiel Center) and watched the Rock win his first World Championship. Right there I knew, this was going to be something that I'll never forget. I just knew, he was going to be bigger than Stone Cold Steve Austin down the road.
1999 rolls around and still to this day, is my favorite year ever in the WWE. The Rock main events WrestleMania XV against Stone Cold Steve Austin. The Rock turns face and we have a superstar on our hands. Stone Cold gets neck surgery and The Rock takes the ball and never looks back! SNL host, 2000 Royal Rumble Winner, WrestleMania 2000 main event, & a Summer of the Rock running WWE. Stone Cold comes back and we all knew Rock/Austin 2 was coming. With Austin returning, Hollywood for the Rock comes calling. WrestleMania X-Seven comes by and Rock gets "taken out" the next night on RAW. 1999 rolls around and still to this day, is my favorite year ever in the WWE. The Rock main events WrestleMania XV against Stone Cold Steve Austin. The Rock turns face and we have a superstar on our hands. Stone Cold gets neck surgery and The Rock takes the ball and never looks back! SNL host, 2000 Royal Rumble Winner, WrestleMania 2000 main event, & a Summer of the Rock running WWE. Stone Cold comes back and we all knew Rock/Austin 2 was coming. With Austin returning, Hollywood for the Rock comes calling. WrestleMania X-Seven comes by and Rock gets "taken out" the next night on RAW.
Rock is written off of WWE to go film the "Mummy Returns" and the "Scorpion King." People wondered how Rock was going to do. Would he be another Hulk Hogan? A failed movie star to only go back into wrestling? Not even in the slightest. Along with the "Mummy Returns" and the "Scorpion King," "the Rundown" (my favorite Rock films and in my Top 50 for all-time favorite films) was also number one at the box office! Not bad for a wrestler, huh? "Walking Tall" wasn't number one but it was second at the box office. Rock's track record is looking very strong and movie studios are noticing.  Though the Rock gaining success outside of the WWE is wonderful and all, it made him miss more TV time which caused the fans to turn. 2003 comes and we see "Hollywood" Rock. The fans booed the shit out of him. Signs that read "Go back to Hollywood!"
But it was the build and the match to Rock/Austin 3 that reminded us all why we love the Rock. That final time these two would feud just very well maybe their best. Rock finally beats Austin at Mania and the two share an off-script moment. You could see it in the Rock's eyes that he was emotional for his friend's last match and the crowd started to swing back to Rock's side. Next year rolls around and a documentary about WrestleMania 19 is aired, they show that moment and what Rock said to Austin (highly suggest watching the "Mania of WrestleMania" one of the best documentaries ever). Austin says, "He said he loved me and you have no idea how much he appreciated it and you don't know how much it means to me. And I told him I said I love you too and he meant it and I meant it. In this business you don't have a whole lot of friends. You just don't because that's how the system is. But I consider the Rock a friend and good friend. There is no one else I would have rather have my last match against." How can you hate the Rock?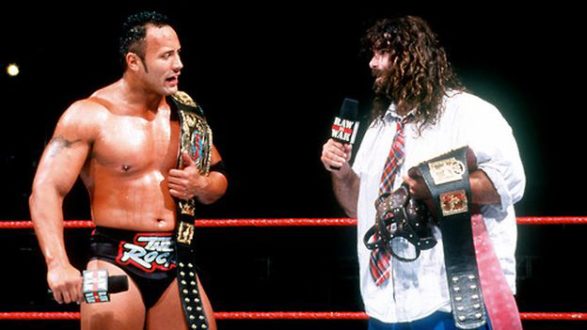 WrestleMania XX is coming around and only two weeks out the Rock makes his return to help his friend Mick Foley against Evolution. To quote JCD on his last article, "Looking back at the build on Raw and even the match itself, he seemed off. He did not seem as into it as he was in the past. To me it seems that he was in a program that he wasn't going over, and was taking off again right after, so it wasn't a top priority to him." But as I am writing this, I'm watching the moment he returns and he was on fire!! Rock was having fun and you could totally tell he was. Little did we know, WrestleMania XX would be the last time we see the Rock wrestle a match for 7 years.
The Rock did not resign his contract and he was off to Hollywood. Trying to stay away from using the name, the Rock, he wanted to see if he could build his own brand with his real name, Dwayne Johnson. Kudo's to him for that honestly because that was a huge risk to do! He wanted to make it on his own. Box Office numbers for Opening Weekend:
Be Cool – #2 at the box office – Rock was praised for his role and was considered the only part of the film that was enjoyable. Many consider this to be the Rock's launch into landing roles since he outshined John Travolta, Uma Thurman, Vince Vaughn, Andre Benjamin, Danny DeVito, James Woods and Harvey Keitel. At the time of its release all of those actors were huge! Rock was critically acclaimed as the best of that cast.
Doom – #1 at the box office
Gridiron Gang – #1 at the box office
The GamePlan – #1 at the box office
Get Smart – #1 at the box office
Race to Witch Mountain – #1 at the box office
Tooth Fairy – #4 at the box office
Faster –  #7 at the box office
Five of those eight in that seven-year time span were number one box office hits. All five number one's were in a row as well. "The Tooth Fairy," amazingly enough, wasn't a bomb! On a $40 million-dollar budget it grossed over $112 million-dollars! And "Faster" was an independent film that cracked into the top ten in its first week! Funny enough, Rock was considered an action star, but none of those were really considered to be an action film. Rock was indeed on top of the entertainment world but he still wasn't really considered an A-List star just yet. Sometime in the middle of those seven years, John Cena made some remarks about Rock, that are pretty laughable now.
"He is a genuinely nice guy and a fantastic human being. What I kind of get peeved about, and this is my Achilles heel, is that I've wanted to do this my whole life. Rock falls into that category. At one point he loved wrestling and wanted to do this all his life. So explain to me why he can't come back. Simply put it's because he wants to be an actor and there's nothing wrong with that. He's very good and very successful. Associating with sports entertainment doesn't do much for his acting career. I get it. Just don't fuck me around and tell me that you love this. That's the only thing that gets me really pissed off. Our fan base have so much admiration for him, he's got to respect that. He doesn't give anything back." – John Cena
2011 comes around and the Rock makes one of the best returns of all time. He said "I'm never leaving again." I knew that he meant he will come back when he can and he won't go away for as long as he did again. It's baffling to me that people took that the wrong way. Why would he just stop making movies that's making his net-worth and profile even bigger outside of wrestling? He then calls out John Cena and the two engage in a yearlong feud with legit heat between the two that culminated at WrestleMania 28. "Once in a Lifetime."
During that year, the film "Fast Five" came out. "Fast & Furious" was a struggling franchise that was on its last leg. However, when the Rock came in, the film skyrocketed to first at the box office worldwide and blew away all grossing numbers of the previous films in the franchise. Many believe, including well known critics, that if the Rock wasn't in it, the film would have bombed. The Rock saved that franchise. Swinging back to wrestling, Rock would defeat Cena and proclaim he would be WWE Champion again. It was reported that after the match Rock & Cena would make amends and blew off any heat they once had.
At RAW 1000, in my hometown, it almost felt full circle for me with the Rock. He referenced winning his first world title in St. Louis and for a moment….time froze. It brought me back to that 7 year old me watching and cheering on the Rock at the Kiel Center. 21 old year old me looking around at the people chanting the Rock's name, "Rocky, Rocky, Rocky!" I grew up with WWE and while I grew up, I watched the Rock's character change and evolve. At that moment, I realized we are coming to the end of the Rock's character evolution. I was sad but grateful I got to witness it all! But on top of all that and more importantly, we also were fortunate enough to see Dwayne Johnson grow as a great human being out side of wrestling. He was my role model. I wanted to be like the Rock on the mic as a wrestler but I wanted to be like Dwayne Johnson as a person. Un-freeze.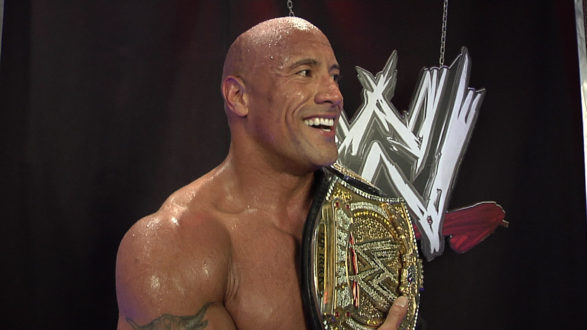 Rock won the WWE Championship for an 8th time at the Royal Rumble against CM Punk in a great match. I was actually pulling for Punk to win as a major swerve and then we could have had Rock win the title at the next PPV. Rock would then have the inevitable rematch against John Cena at WrestleMania 29. In a passing of the torch moment, Rock put over Cena. During the match however, Rock suffered a hernia, a torn adductor and a torn abdominal muscle. The Rock still continued to wrestle and finish the match only to have his muscle continually tearing from his pelvis. Once the match had finished the Rock had both his abdominal and adductor muscle torn completely off his pelvis. This required emergency surgery for the Great One which caused him to miss RAW the next night. Many did not know about the injury and most assumed Rock was not happy about the outcome. Jumping to conclusions and assuming the worst is so dumb when it comes to wrestling fans. If you think his injury was fake to cover up the fact he was pissed he lost to Cena, well then, you're just a stupid idiot.
The injury caused a delay in filming the new "Hercules" film that was getting ready for production. Delaying any film costs the studio a shit-load of money. After this, many movie studios require the Rock to sign a contact stating he cannot wrestle within a certain amount of time before production of their film starts. Do you blame them? Since the "Fast Five", every single movie the Rock has been except one, has been either number one or two at the box office. That one that wasn't was number three. Rock is also the lead on the hit HBO series "Ballers" and was a lead voice in Disney's amazing film, "Moana," which was nominated for an Academy Award. Rock would make sporadic appearances on WWE when he could.
In 2017, the Rock joined the well-respected "Five Timers Club" as the host of the 2017 season finale of Saturday Night Live, a feat that only other 17 people have accomplished. He would also be named People's "Sexiest Man Alive." For two years straight, the Rock has been the highest grossing actor in the world! I think we all can say; the Rock has been solidified as an A-List star in Hollywood. After all of that, a rumor about him running for president went viral and a report came out that showed if the Rock were to actually run against Donald Trump, Rock would win. He truly is the People's Champion.
So, here we are. I sit here after doing research and going through his career, I still can't seem to find the hate towards the Rock. "Rock buried Miz, Truth, Rusev, New Day, Corre, Bryan, Punk, etc, etc." I find that statement laughable. Laughable because all of those guys, even fucking CM Punk admitted that just being in the ring with the Rock was an honor. They just wanted a segment with him. Wins and losses in the WWE doesn't matter! If losses really mattered, then why is Chris Jericho considered the GOAT? He lost all the time during his "List" run. Bryan would always "choke" when it came to championship matches. You can lose every match but if your "over" and selling merchandise, you're going to be main eventing.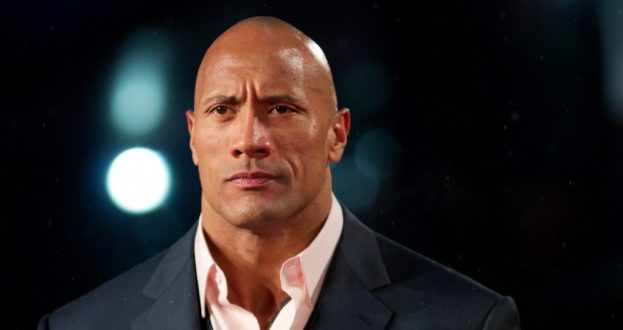 On a business standpoint, who draws more? Rock or any of those wrestlers I named? When the casual fan sees the Rock's name on the card, why do you think that said fan is going to watch? If the biggest gripe to some is that Rock doesn't put over young talent, then what is there to say about Brock Lesnar(Everyone but Goldberg), Undertaker(Wyatt Family), Goldberg(Kevin Owens), Hulk Hogan(WCW)? Or is the gripe that Rock is making movies not being a full time WWE wrestler? But it's funny, because there is a familiar foe of the Rock's, that is doing the same thing.
"I consider what I said back then the stupidest stuff ever. I was looking at it through very blinded eyes and I really wanted The Rock to come back to the WWE and I figured that hitting him where it hurts would get him back to the WWE. And it worked. But I've apologized to him in person, I'm on the web for the world to see – I was wrong, he was right. He's now the highest-paid actor in Hollywood, he has transcended this business and I think anything, any time a Superstar can give what he's given to the WWE, and then transcend the WWE, that's good for all of us." – John Cena.
If the Rock truly didn't care about this business, he would have never had came back in 2011. He loves this business, he just doesn't have the time to do it anymore. And it's obvious his body won't hold up like it used to. Whenever he has a new film out, it helps out the WWE. Just his name alone, may bring in viewership to the WWE because it reminds the fans that once watched were he came from and they tune back in to see how it is now. BTW, John Cena has granted the most wishes for the Make-A-Wish foundation. Do you know who is second on that list? I'll give you a hint, he raises his eyebrow a lot.
Today, I am here as a proud member of the PWP Nation team. One of those reasons is the Rock. The Rock in the sense that he locked me in as a fan. If it wasn't for him, would I be as big of a fan as I am now? Who knows. The Rock has given back so much to the WWE and to his fans I just don't get the hate for one of the most humble and well respected people in the world. John Cena even said while bashing him back in 2007, "He is a genuinely nice guy and a fantastic human being."  I couldn't just sit back and watch a negative article about a man that has accomplished so much just go by without some form of a positive article.
So, to JCD, I want you to know your role and take that article that you wrote, shine it up real nice, turn that son bitch sideways and stick it straight up your candy ass!!! IF YOU SMELLLLLLLLLLLLL WHAT THE ROCK IS COOKIN?!
#TEAMBRINGIT
P.S. I love you, JCD.
P.S.S. DON'T FORGET OFFENDED DEBUTS JULY 7TH!
For more news, rumors, videos, podcasts and exclusive articles, follow us on Twitter @PWPNation.