PWP Nation's CJ Moran gives his thoughts on the rising star in Tessa Blanchard and why she is the inevitable future of WWE's women's division
When it comes to young and promising talent in professional wrestling, we as fans throw the term "future" around like a Cleveland Browns quarterback throws interceptions.
We claim that Kenny Omega is the future of wrestling on the men's side, which is true. But, what about the opposite end with women's wrestling?
There was a point in my life where I claimed that the current RAW Women's Champion, Alexa Bliss, was the undeniable future of the women's division in the WWE. Alexa has proven to be more than the future as she is the face of today's women's wrestling. So who exactly is the future? Sasha Banks? Obviously not. Kairi Sane? Nope. Or what about the undefeated "Empress of Tomorrow", Asuka? Even with Asuka being an arguable choice for the future, there is one woman who stands above the rest.
I am here to claim that Tessa Blanchard is the undisputed and undeniable future of WWE's women's division, and here's why.
At only 22 years old, the daughter of the legendary Tully Blanchard has already made a strong impact on women's wrestling. Becoming one of the most dominant competitors in such a short period of time defines Tessa and her potential. Having only started wrestling in 2014, Tessa has managed to not only become one of the most popular female wrestlers in the world, but also one of the most successful.
Tessa has won numerous championships all over the world in companies such as American Pro Wrestling Alliance, Shimmer, and even the biggest promotion in my home of Austin, Texas, WrestleCircus. At such a young age and not having much experience in the wrestling industry, Tessa Blanchard has defied all odds to become the most promising and strongest female wrestler in the world.
In Tessa's short time in professional wrestling, she has managed to face some of the very best. Having gone up against Alexa Bliss, Carmella, Kairi Sane, Mickie James, and many others, Tessa is no stranger to competition. Tessa is completely aware that if she wants to be the very best women's wrestler in the world, she will have to face the best.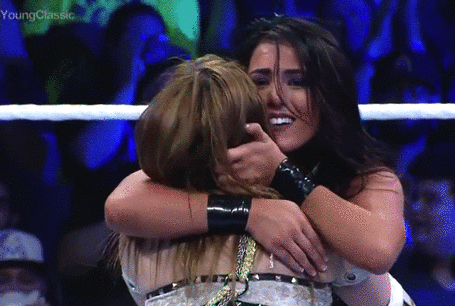 When it comes to being the future, you need to have that mentality. Tessa has it.
I know for a fact that I will get heat for this, but it has to be said. In order to be the face of a company, or in Tessa's case, a division, you need to have the look down. When you look at someone like Alexa Bliss or Sasha Banks, they have that look that defines the "face" of a division. Unfortunately, for women such as Nia Jax or Jessicka Havok, they lack that look. I think you can decipher why that is. Tessa Blanchard is stunningly beautiful and she is in phenomenal shape compared to the other women. Tessa Blanchard defines what the face of the women's division should be when it comes to "the look."
I'll say it outright.
A strong majority of WWE fans are male and from experience, the male demographic loves attractive women. If Lana was able to get over due to her looks, then so will Tessa. I know that is a hard pill to swallow, but swallow it you most certainly will.
Tessa Blanchard is Forever.

At such a young age, her potential and promise is higher than anyone else in the world. Easily being the most impressive woman in the inaugural Mae Young Classic, though she was eliminated in the first round by the over hyped Sane, Tessa proved that she can manage herself in the WWE environment.
And, if you are looking for a reason to get behind Tessa Blanchard, just think of what is a guarantee once she joins the WWE.
Are you familiar with Ricochet?
And did you know that Ricochet and Tessa are in a relationship and live together with good friend and WWE star, Apollo Crews?
It is inevitable.
Tessa's age, insane in-ring ability, and incredible look truly defines her as the future of WWE's women's division.
So, to all female WWE superstars, and even to the men, step aside and look out. Tessa is coming, and once she does, it is game over.