The definitive battle for brand supremacy between RAW & Smackdown Live is officially underway! With WWE TLC clearly in our rear view, Survivor Series is on the horizon. 
We found out that Survivor Series will be the one night of the year when the two brands go to war. With that, WWE has booked the champions from both shows against each other. It will be interesting to see who wins these particular matches as it could be a good indication of who WWE is high on moving forward.
While the card isn't finished yet, I'm going to give you a short creative look into how I would "Book The Finish" to the currently booked matches.
RAW

Women's Champion Alexa Bliss vs.

Smackdown

Women's Champion Natalya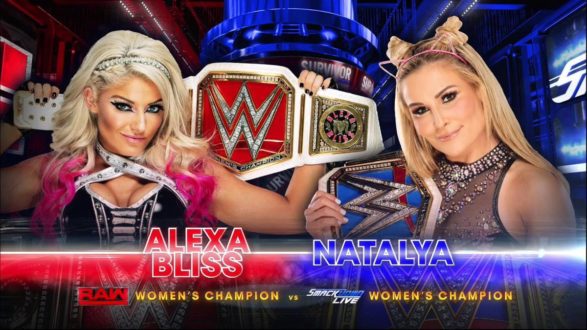 The two champions of the respective women's divisions collide.
With both being on the heel side of the fence, it will be surprising to me if this doesn't quickly turn into some kind of "shmozz" finish.
With Carmella still solidly holding the Money in the Bank briefcase, there's always the possibility that she shocks the world.
If I'm WWE in this situation, I'm taking the opportunity to shake things up a little by having Carmella cash in her briefcase.
The question is: which champion will she choose?
I'm assuming they won't go too far outside of the proverbial box, but how dope would it be if Carmella shocks the world & becomes RAW Women's Champion?
I know. I know. It's a Smackdown Brand briefcase. Who cares, though? This is WWE we're talking about! They could change the rules on the fly!
RAW

Intercontinental Champion The Miz vs.
Smackdown Live

United States Champion Baron Corbin 
Another heel vs. heel collision. The booking of this match is perplexing, but it goes with the theme. I don't see where the heat comes from between Miz & Corbin other than bragging rights.
If my goal is to truly maximize the battle between two midcard champions, I would quickly get the United States Championship off of Baron Corbin & onto "Glorious" Bobby Roode.
That is a match that I want to see. A real dream scenario with two veterans who simultaneously climbed the ranks in WWE & TNA at around the same time. Corbin provides no value in this spot & should be removed for a spot on Team Smackdown in their war against RAW.
So, Bobby Roode vs. The Miz with Roode thwarting the attempt of interference by Curtis Axel only for the returning Bo Dallas to lead The Miz to victory!
RAW

Tag Team Champions Seth Rollins & Dean Ambrose vs.

Smackdown Live

Tag Team Champions The Uso's
This is the early candidate for Match of the Night. While the reuniting of The Shield has been straight 🔥, there isn't a hotter tag team in WWE than The Uso's.
This will be a fantastic match with true bragging rights of WWE's current top tag team on the line. As much as I would love to see The Uso's continue their run of domination, I don't see Seth & Dean losing at Survivor Series.
There are obvious grand plans for this reincarnation of The Shield & a bragging rights loss to the "other" champions won't help them moving forward.
WWE Universal Champion

Brock Lesnar vs.

WWE Champion

Jinder Mahal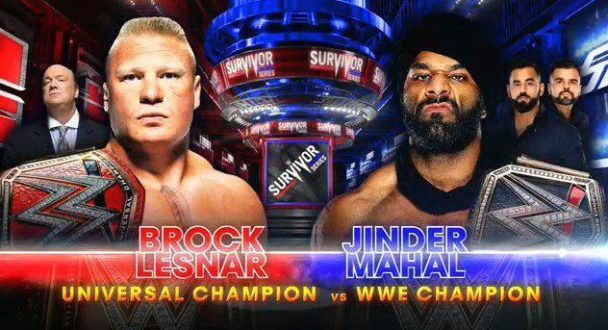 The card for WWE's Survivor Series is still in the works, but there is one huge match that will potentially highlight the event: RAW Universal Champion Brock Lesnar taking on Smackdown WWE World Champion Jinder Mahal in the first inter-promotional matchup between world champions since the latest brand-split era.
Trevor Dueck expert WWE odds-maker at SportsBettingDime.com, is putting the odds at 7/13 (65%) that this match will come to fruition at Survivor Series. Detractors will say that it's anticlimactic since neither title would be on the line.
But I see that as potentially beneficial for the WWE. It would allow the organization to buy time and keep the belt around Jinder Mahal's waist as they make him a focal point in an upcoming tour of India. It would also allow Lesnar to keep his title as the WWE builds towards a likely feud with Roman Reigns heading into Wrestlemania 34.
When it comes to the finish of this contest, as unpopular as it may be, Jinder Mahal needs the win much more than Lesnar does. This would be the biggest of his career by far.
And with rumors of a potential addition to the match, there are many directions this one could go. However, I'm going to go out on a limb and say that we will see the return of The Great Khali to help Jinder win.
You probably think I'm crazy, right? But wouldn't it be cool to see Khali take a trip to 'suplex city?' I would pay to see that!
The distraction causes enough chaos for Mahal to sneak a quick pin on Lesnar, further infuriating the Twitter marks & giving Mahal a career defining WIN on his record.
📝: Jay Alletto
Please visit PWP Nation on Facebook, Instagram, Twitter, Periscope, iTunes, YouTube