PWP Nation's Caden Moran pays tribute to WWE's Corey Graves after Graves announced he is leaving NXT
NXT will always be known as the developmental territory of the WWE. We have seen stars grow before our very eyes since NXT's inception and it has been the ultimate delight to witness.
NXT isn't just home to the development of wrestlers but NXT is also the home of developmental for the voices behind the screen, the NXT commentators. We have seen guys like Tom Phillips and Byron Saxton (yes, even Saxton) grow to become solid announcers, but there is only one that stands above all and that is the Savior of Misbehavior, Corey Graves.
Corey Graves has been the voice of NXT for many years now after his promising in-ring career was cut short due to multiple concussions.
However,
Triple H
saw something in Corey Graves that gave him a second chance in WWE. We as fans knew that Corey had potential doing whatever he was being paid to do in WWE. What we didn't know is that Corey Graves would turn into a phenomenal commentator. Even with his constant and hilarious ribs at Tom Phillips, Byron Saxton, and the fan favorites, a question keeps going through my mind about Corey's in-ring career: What could have been?
As I mentioned before, Corey Graves had a promising in-ring career. With a mixture of Edge, CM Punk, and Jeff Hardy, Graves had all the tools to be a huge star in WWE.
Since day one, Corey Graves has been a apart of NXT and not many WWE fans remember Graves for his in-ring work but I certainty do and I can honestly say, Graves could've been the next "thing" in the entire company. From starting out on the independent scene with Ring of Honor, International Wrestling Cartel, and One Pro Wrestling, Graves had wrestling in his blood. It wasn't until his NXT days where he truly showed all the potential in the world.
Say what you want but Corey Graves was the best talent in NXT to never make it. Period. With his character, his look, and most importantly, the Lucky 13 submission hold, Graves had everything you want in a WWE superstar.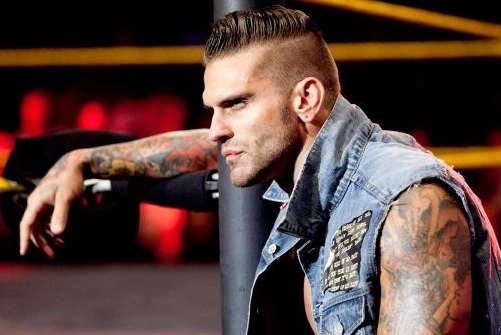 Corey Graves made an immediate impact and truly showcased what he was all about when he went straight after the then NXT Champion, and The Shield member, Seth Rollins. Graves had numerous matches with Rollins and the other two members of The Shield, Dean Ambrose and Roman Reigns and they were all truly incredible. It wasn't until his time spent with Adrian Neville where he claimed his first, and last, championship in WWE.
After teaming with Kassius Ohno & Neville to take on The Wyatt Family, the unlikely duo of "The Savior of Misbehavior" and "The Man That Gravity Forgot" claimed the NXT Tag Team Championships in astonishing fashion.
The pair would go on to hold the titles for nearly three months before eventually dropping them to The Ascension (remember them?). After spending the majority of his NXT career as a babyface, Graves made the brilliant decision to turn on Neville and truly becoming "The Savior of Misbehavior" by turning heel. The heel turn of Corey Graves put him in a feud with Neville that had the potential of being one of the very best, however, the bad luck for Corey Graves began with his first concussion.
That was the beginning of the end of Corey Graves' wrestling career as he would return to NXT to enter a feud with Sami Zayn but just a few months later, Graves would receive the second concussion that not only ended his NXT career, but his wrestling career as a whole.
Corey Graves' wrestling career was finished before it truly began. Graves had all the tools in the world to be a total star in WWE and in my opinion, Corey Graves could have been one of the all time greats. From his incredible look to his microphone work and to his in-ring ability, Corey Graves was going to be a star and in a way, he now is.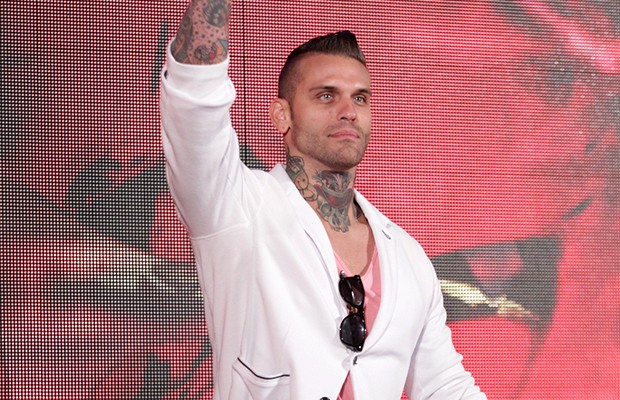 Once Corey retired from in-ring competition, he was offered a contract by Triple H as a commentator and it has certainly paid off. There are not many great wrestling commentators left, however, Corey Graves is proving to be the next great color commentator. His ability to be a heel, yet truly appreciate the art of wrestling, is phenomenal.
Corey Graves may not be a wrestler anymore, but he has turned into an excellent and highly respected commentator that every single fan, especially me, loves.
As Corey Graves gets ready to exit the brand that served him well, we will not forget how amazing it was to witness the growth of Graves as a commentator and a person. And as he prepares to leave the NXT booth, I say thank you, Corey. Thank you for all the great times and matches that you both competed in and called.
As much as Nigel McGuiness is a great replacement for Graves, one thing is for sure. NXT will not be the same without its savior. I can guarantee that.
Check out "Uncensored w/ Caden Moran" on the PWP Nation Network. Download on iTunes (click here) or listen below on Spreaker!
Escucha"Uncensored" en Spreaker.