In his latest, PWP Nation's Caden Moran gives his answer to the dreadful question, is Shinsuke Nakamura a lost cause in WWE? 
Over one year ago, WWE completed one of the biggest blockbuster signings in the companies history when they signed Japanese superstar, Shinsuke Nakamura. Namakura's impact was immediately felt as he began his WWE journey at NXT Takeover: Dallas where he defeated Sami Zayn in one of the best matches of 2016 and one of the best in NXT's history. Over the span of 2016 into 2017, Shinsuke Nakamura has formed an incredible bond with the WWE Universe and is one of the most popular stars in WWE today. Being a two time NXT Champion, Shinsuke has made his mark early. But, one huge question surrounding Shinsuke Nakamura at this point in time is a difficult one: has Shinsuke Nakamura become a lost cause on WWE's main roster?
Ever since his incredible main roster debut during the post-WrestleMania episode of Smackdown Live, Shinsuke has become what we were all afraid of him becoming: a watered down Vince McMahon project. Being branded as "The Artist" and seemingly dropping the "King Of Strong Style" moniker, Shinsuke is no longer what we knew him as during his time in Japan and NXT. With a very limited move set and arsenal, there is nothing that screams "WOW" about Nakamura, and it isn't his fault. Shinsuke clearly wants to do more judging by his body language in the ring, but, WWE style is entirely different, and safer, than Japanese style. The branding and limited arsenal has hurt Shinsuke as he feels like just another guy on the roster. Shinsuke is much more than that and it's time to prove it.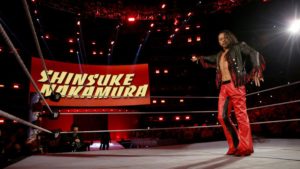 To the fans who know Shinsuke Nakamura, we are all frustrated at how he has been presented. To the casual fans who don't know and aren't familiar enough with Shinsuke, I am sorry. I'm sorry that all the hype and time put into Shinsuke hasn't lived up to expectations.
If you thought Shinsuke Nakamura was nothing special before, Summerslam and Hell In A Cell more than likely did not help change your opinion. We all know that the current WWE Champion, Jinder Mahal, is a bit of en eyesore (albeit he is improving every week), but his title defenses against Shinsuke we're very important not just for Jinder, but for Nakamura himself. Summerslam and Hell In A Cell will go down in history as the two biggest missed opportunities in Shinsuke's entire professional wrestling career. However, I personally felt that Shinsuke should have lost at Summerslam  as it gives Jinder a credible win and it gets the fans to support Nakamura more, which was lacking at that time. Hell In A Cell, however, is a completely different story.
Hell In A Cell 2017 should have been Shinsuke's crowning moment. With a very solid match and a strong story being told with The Singh Bros interference and ejection, Shinsuke's moment should have came then and there. But, in a shocking twist and something I did not see coming, Jinder Mahal defeated the former IWGP Heavyweight Champion clean as a whistle in the middle of the ring. The fans were 100% behind Nakamura for the first time since his call up and he failed to capture the WWE Championship once again. In my opinion, Shinsuke's failure will go down as one of the most confusing and stunning losses in WWE history. I love Shinsuke Nakamura, but this loss will be hard to overcome.
If that wasn't bad enough, Shinsuke has now been thrown in a tag team with the 13 time World champion, Randy Orton. What a time to be alive.
Whether you want to believe this or not, there is till time. There is still time to rescue the "King Of Strong Style" from WWE's leash. I'd like to believe Shinsuke is fairly new to the main roster as it has yet to be a year since his debut, so he still has time left to redeem himself. At this point, there is only one thing WWE can do to save Shinsuke from the deep and dark abyss known as mediocrity and it all begins with "The Phenomenal One", AJ Styles.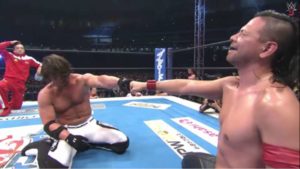 Unless you've been living under a rock for the past year, Shinsuke Nakamura vs AJ Styles for the IWGP Intercontinental Championship at Wrestle Kingdom X is hands down one of the best professional wrestling matches of all time. The match was not only the last big match for both men in New Japan, but it involved two of the very best in the world. Shinsuke vs Styles will happen in the WWE very soon. There is no doubt about that. Believe me, as someone who has followed the career of AJ Styles and has caught up on the career of Shinsuke Nakamura, the inevitable feud and match between the two will be one of the very best in WWE history. Whether it be for the WWE title or not, AJ vs Shinsuke will not only set the world on fire, but it will reinvent and redeem Shinsuke Nakamura.
So, no, Shinsuke is not a lost cause. His loss against Jinder will be hard to overcome, but once he settles into his pending feud with Styles, Shinsuke will be back to normal. Nakamura is one of the very best in the world. Just be patient and the payoff will be immense.
For more news, articles, and updates, check out the rest of PWPNation.com for everything pro wrestling