SHIMMER weekend has officially dawned upon, and now we have a brand new SHIMMER Champion, and it's not who you would expect. It's one of the SHIMMER originals: Mercedes Martinez. I was so shocked as well as excited when I read this result. Here's a woman that was there since Day 1 making her mark when she faced Sara Del Rey in an match that went to a 20 minute draw to headlining shows across the globe.
Mercedes is one of the most talented female wrestlers of all time, and one of the most respected. In fact, she is in the WXW Hall of Fame as well as the Barbwire Blog Hall of Fame.
Nobody would have ever predicted Mercedes walking out of Berwyn, Illinois as the new champion. And what a great twist as she continues her dominance as a heel in SHIMMER. Not only does she deserve this title, it's long overdue.
With a great 3 year reign as WSU Champion and a former NCW Femme Fatales Championship under her belt, Mercedes never had the chance to win what most people call the most prestigious championship in women's wrestling: The SHIMMER Championship. After decimating Madison Eagle's leg, Mercedes Martinez is back and badder than ever.
Standing with her are the Heart of SHIMMER Champion Nicole Savoy and MMA star Shayna Baszler. That is the most dangerous trio you'll find, male or female, in the business. This is a legitimate faction with true dominant presence. All three compliment each other well, and really shake the landscape up in SHIMMER, for better or worse.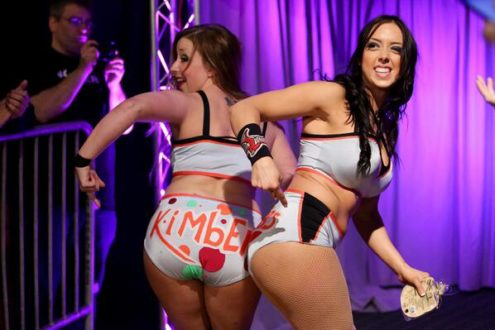 On a positive note, SHIMMER has crowned brand new Tag Team Champions, which was predicted from the get go. I am extremely happy to hear that Evie and Heidi Lovelace now has SHIMMER gold to their resumes. Slap Happy (as Evie & Heidi go by) won a Fatal Four Way Elimination match featuring defending champions the Kimber Bombs (Cherry Bomb & Kimber Lee), Mia Yim & Kay Lee Ray, and KC Spinelli & Xandra Bale. It is so awesome that Evie has gold. Heidi more than deserves gold as well for the competitor she has become over the last few years.
If I said that Evie wasn't SHIMMER ready, I'd be lying to you. In an interview I did with her three years ago, Evie said of the SHIMMER experience,
"It's crazy! I'm so honored to be wrestling alongside these women, and to be a part of SHIMMER…I'm finding it hard to grasp what's actually happened, to be honest! It'll be an amazing experience to say the least and I'm hoping to gain a lot of knowledge from it."
Safe to say she learned a lot from them.
I'm looking forward to Team Slap Happy dominating SHIMMER as the Tag Team Champions. Well deserved for a talented bunch of young guns n this era.
Now the big question is, what's next?
Now that Mercedes Martinez bulldozed her way to the SHIMMER Championship, Kellie Skater still will be next in line for a SHIMMER Championship opportunity. I think they've started setting it up real beautifully to have Skater ultimately dethrone her at any cost, but I don't think it will happen at the WrestleMania weekend iPPV or in the fall, but she will fight her way through obstacles like Nicole Savoy and Shayna Baszler to get the title.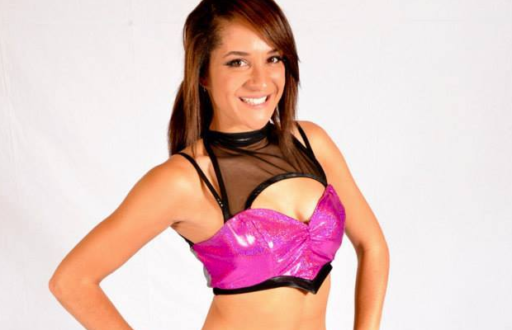 At the same time, she'll have Madison, Evie, and Heidi by her side. That would help in terms of long-term booking.
I also think the idea of the Canadian Ninjas implosion storyline is a good one at that. Just imagine; the look of betrayal on the face of Nicole Matthews as Portia Perez lays her out with a superkick would be the opening shot of a rivalry. Imagine if Portia telling Nicole that she was using her to become a star on her own and Nicole would be betrayed by her former tag team partner?
This would lead to the feud between the Canadian Ninjas, but with Portia no longer a wrestler, she would have to find someone who is willing to listen to Portia's advice. In my mind, I have to say Vanessa Kraven due to the fact that both ladies are Canadian and are good heels in SHIMMER.
Imagine if Portia Perez is in charge of SHIMMER and rid herself of Allison Danger once and for all and Portia calling all the shots.
Not only will it create the Matthews/Perez feud, it also resurrects Portia's long-standing feud with Allison Danger. That's a brilliant storyline to be quite honest.
Also, Cheerleader Melissa was not present this weekend thanks in part of the recent Lucha Underground tapings. I wonder what is her stance on this?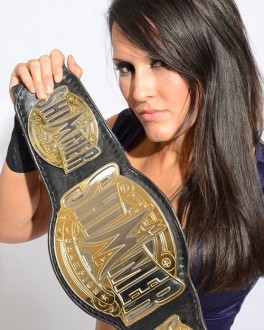 I think SHIMMER needs to give her a face turn once more and utilize her STARDOM persona so she stands up for SHIMMER against the gang mentality of her former ally and fellow original Mercedes Martinez or aligning herself with Nicole Matthews to defend SHIMMER from Portia Perez and Vanessa Kraven.
While the original idea of Melissa going head to head with Nicole Matthews to determine who is the true leader of the locker room is one good idea, as well as a rivalry with Saraya Knight for overstepping the line as a leader will help on the long haul, but the idea of Nicole and Melissa going against Portia and Vanessa really makes sense in the short-term.
But what would happen if she paired up with Nicole to take on Mercedes and her new allies Nicole Savoy and Shayna Baszler?
Not only will this reboot the feud between Melissa and Mercedes, it also gives new life to both the Melissa/Shayna and Nicole/Shayna rivalries as well. I also think Melissa would align herself with former rival Madison Eagles in order to take on Mercedes and Baszler, as this partnership would help in the long term in order to defend SHIMMER against the two.
In order for both Kellie and Madison to get their hands on Mercedes and her new allies, they need to find someone who is not afraid to fight on the front line against Nicole Savoy and Shayna Baszler. And since Melissa faced them both, is no surprise that she will find a way to confront Mercedes and deal with two of SHIMMER's biggest problems.
I think it would be really great if SHIMMER was able to work out a deal with WWE to have a one night appearance for Sara Del Rey or if bring back MsChif to join Melissa, Eagles, Matthews, and Kellie Skater against Martinez, Savoy, Baszler, Tessa Blanchard, and Kraven. That has all the makings of a classic Shimvivor Series match.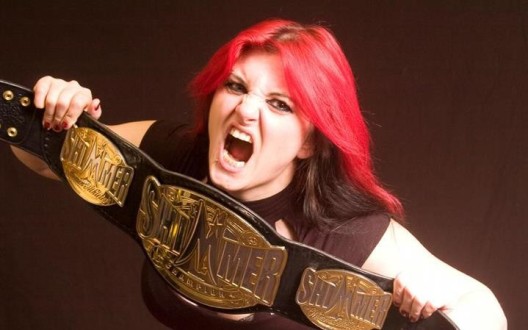 The end game is Skater dethroning Martinez for the title, but there's so many different feuds and matches that can stem off this; such as Melissa continuing her feud with Shayna Baszler or battling Nicole Savoy, Nicole Matthews ridding SHIMMER of Tessa Blanchard or battling Mercedes Martinez, or maybe Madison Eagles cleaning Shayna Baszler's clock once and for all. I like some of the scenarios that are laid out here, I hope they utilize them, and hope for the best.
SHIMMER did a great job this post weekend balancing the moments that make people feel good (Evie & Heidi Lovelace winning the SHIMMER Tag Team Championships) with pure heartbreak and bitter disappointment (Mercedes Martinez, Nicole Savoy, and Shayna Baszler "winning" the SHIMMER Championship from Madison Eagles by breaking her leg and beating the living daylights out of Kellie Skater making her unable to answer the bell).
The balance of face/heel dynamics is a great thing to understand, and it really sets up some really great scenarios like the ones you have read in the past few paragraphs. Skater's chase towards the title is the biggest story going on right now, and I for one can't wait to see what SHIMMER has to offer this coming fall.