If you were busy watching the Floyd Mayweather vs Conor McGregor fight, then you probably missed a huge piece of news and controversy from last night. During AAA Triplemania XXV, Global Force Wrestling star, Rosemary suffered a legitimate injury at the hands of Lucha Underground star, Sexy Star. The injury occurred after Sexy Star forced Rosemary to submit with an arm bar, but refused to let go of the submission hold. Rosemary suffered a "hyperextended or dislocated shoulder" according to Cageside Seats.
However, there is more to the story than just an injury. Sexy Star refused to let go of Rosemary, thus injuring her, because Star and Lady Shani were "legitimately shooting on each other". To make this story clear, Sexy Star wanted to make a point and used Rosemary as an example in the worst way possible. I must make this clear: this was NOT a work and was 100% real.
Fellow professional wrestlers all over the world were outraged by Sexy Star and let her know through social media. People like Joey Ryan, Andrew Everett, Allie, and Ethan Carter III all had something to say regarding the situation: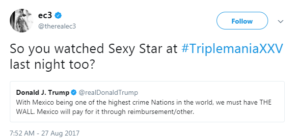 Below you can see a video of the incident:
Footage Of @LuchaElRey's #SexyStar Going Into Business For Herself At #TriplemaniaXXV Injuring @ImpactWrestling's @WeAreRosemary #Disgusting pic.twitter.com/DJ4awpZHCu

— Andre Corbeil (@andre_corbeil) August 27, 2017
The situation clearly goes outside the lines of a work and was unnecessary. We here at PWP Nation wish the very best for Rosemary and wish her speedy recovery. Stay with us for more updates!
UPDATE: The good news is Rosemary's injury isn't quite as severe as it had been originally reported around the internet. PWInsider claims Rosemary may not miss much time at all. (Thanks to Brandon Ewing for sending in this tidbit.)
For more updates on this story, follow PWP Nation on Twitter @PWPNation