PWP Nation's Zak Fellows examines the careers of Robert Gibson and Ricky Morton to see if their career stake up as "Hall of Fame" worthy. 
Both members of the legendary team walked different paths before being unified: Ricky Morton would be trained by his father and Ken Lucas to become a professional wrestler before beginning his career in 1978, wrestling for Mid Southern Wrestling in Memphis, Tennessee. Meanwhile, Robert Gibson began his career the previous year in 1977, after being trained by his brother Ricky, and would begin his career teaming with his brother in the Southern Independent scene.
However in 1983 and by the actions of then head booker Jerry "The King" Lawler, Morton and Gibson would come together to form the team for which they are now known throughout the industry: The Rock N Roll Express.
Inspired by the Glam Metal scene of that decade, Gibson and Morton would make their way to Mid-South wrestling where they would shortly begin a long standing feud with the Midnight Express, managed by Jim Cornette, over the Mid-South Tag Team Championships, which they would go on to win for the first time of three on May 2nd, 1984.  They would soon enter into Jim Crockett Promotions, making their debut quickly and successfully, defeating Ivan Koloff and Krusher Khrushchev for the NWA World Tag Team Championships on July 9, 1985. The Rock N Roll Express would continue to experience success with JCP, holding the NWA's top prize for tag teams four times, including a victory at Starrcade 1985 from Ivan and Nikita Koloff and a resurgence of their feud with the Midnight Express, before engaging in a feud with Arn Anderson and Tully Blanchard of the Four Horsemen.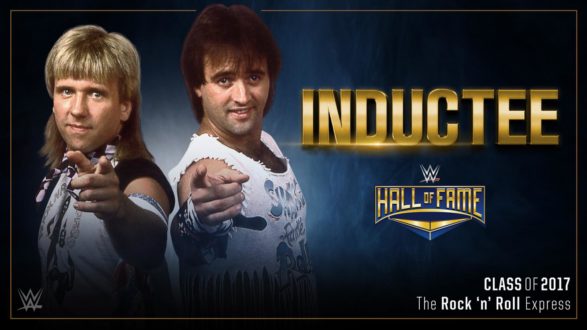 After short stints with the AWA, whom they would notably face the Midnight Rockers, and with an ill-advised break up in the NWA, Morton and Gibson would reunite in Smoky Mountain Wrestling, where they would achieve arguably the most success, beginning a feud with the Heavenly Bodies, comprising Stan Lane and Tom Prichard, and capturing their first of 10 SMW Tag Team Championships on November 13, 1992. The feud with the bodies would see the usage of many extreme matches a Fall Counts Anywhere, Texas Deathmatch, a Street fight and a barb wired steel cage match and would even cross over into other promotions as the two teams faced each other at both WCW Superbrawl III and at WWE's Survivor Series 1993.
Even after the feud with the Heavenly Bodies had ended, The Rock N Roll Express would remain a fixture in Smoky Mountain's tag team scene up until the promotion went defunct in November 1995, going on to a brief stint with WCW which included a match with then WCW Tag Team Champions Harlem Heat. They would re-emerge as part of the NWA Invasion storyline in the WWE, as the NWA World Tag Team Champions becoming part of history when they lost the titles to the Head bangers as the first time the NWA World Tag Team Titles changed hands in the WWE.
After stints with TNA Wrestling, that would include a recent appearance for the promotion in a TNA World Tag Team Titles against Matt and Jeff Hardy, and continued appearances and matches for independent promotions throughout the United States, Robert Gibson and Ricky Morton are still active, have been acknowledged as one of the all-time great tag teams and now will be once again, this time as the newest member of the WWE Hall of Fame.
So, what is the Rock N Roll Express' legacy?
The Rock N Roll Express has seemingly achieved tag team titles and accolades in any promotion they have set their mind to. While they may be considered something of a sign of the time they were wrestling, wrestling fans still acknowledge them as one of the all-time greats and legends despite their relative lack of more broad promotion exposure. Their times in the bigger companies such as the WWE, WCW during the Monday Night Wars are short but they nonetheless had impressions on them and the industry as a whole that makes them an act that aspiring wrestlers can look towards.
The Rock N Roll Express was based on Glam Metal, a popular music genre when they initially formed in 1983 which immediately set them up with a good image that complimented their style. Wrestling has shown that it achieves their success in characters and storylines when it is being reflected and influenced by the culture and world surrounding it. Some stories and archetypes are timeless, they go back to the days of the campfire, and wrestling is no exception in its inevitable foreign villains, narcissists and David Vs Goliath but in today you make it relevant to the times and you get Rusev, Tyler Breeze and Sami Zayn Vs Braun Strowman. The Rock N Roll Express was based on a culture that died down in the turn of the 90's and yet they are still well revered despite that culture no longer being a thing.
Their biggest contribution, however, remains in the style of tag match they would name and popularise to promotions. Despite the two being of similar builds, in their matches, Ricky Morton would play the victim to be beaten up by the heels only to get a tag to Robert Gibson who would proceed to tip the scales back in the Rock N Roll Expresses favour. Nowadays, this is known as "Playing Ricky Morton"…when a booking tactic for structuring matches is named after you; you know you've made it.
And it is for their contributions to tag team wrestling and their successful image and accolades that they will join the ranks of wrestling elites when they join the WWE Hall of Fame. That was Rock and/or Roll.
[Zak Fellows is a regular Reverend Lovejoy.]
So, who's next?
For more news, rumors, videos, podcasts and exclusive articles, follow us on Twitter @PWPNation.