I was 6 years old in 1993. I remember watching the first episode of Monday Night Raw. It was something different. Instead of Saturday at noon, I got wrestling on Monday nights. This was not a talk show like Prime Time Wrestling. This was action and it was raw!
Latest episode of the @WrestlingWrealm, Breakout Superstars ! #TooSweet
Subscribe to our YouTube Channel
Part 1 – WWE – https://t.co/XsMF4pseAF
Part 2 – NJPW – https://t.co/3VxckqThvf
Part 3 – Global, Tag Team, Women – https://t.co/kwffsypAhG pic.twitter.com/hDP60Lp88V

— Brian H. Waters (@brianhwaters) December 17, 2017
The 25th Anniversary of Monday Night Raw is right around the corner. Everyone has their favorite moments or most memorable moments. I do too, but I am pretty sure I have a list or some audio out there about mine. Instead, I am going to list moments that I remember like it was yesterday and paint you a picture of where I was when they happened.
1. Brutus Beefcake's Return, Thus Leading to the Return of Hulk Hogan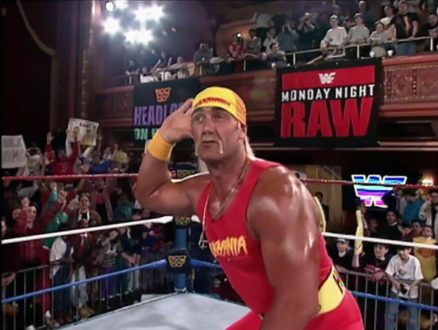 Everyone who knows me knows that Hulk Hogan is one of my favorite wrestlers to ever lace up a pair boots. It wasn't until Daniel Bryan came and took the title that he and Bret Hart shared number 1. But let's talk about his first appearance on Raw.
A couple of weeks prior to his debut, his best friend Brutus The Barber Beefcake made his return to the squared-circle in a match with The Million Dollar Man Ted Dibiase.
After the match, Dibiase and Irwin R Schyster hit Beefcake in the face with a briefcase, damaging his surgically repaired face suffered from a parasailing accident.
So on February 22, 1993 I am standing in my sister's room (she had the cable box, while I had the Super Nintendo), the Immortal Hulk Hogan returned and let the world know that he was back. This night also brought us the duo that we would see in and out of the ring for the next 20 years of Hulk Hogan and Jimmy Hart. The MegaManiacs was born and Jimmy Hart was the manager.
2. The Hart Foundation Reunites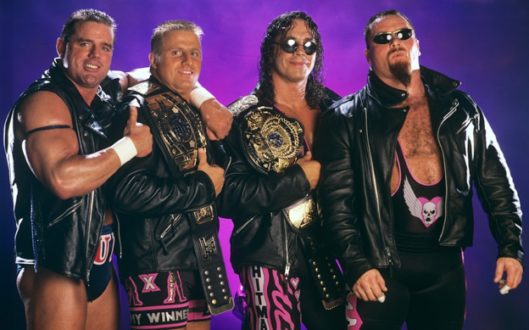 "Look what they've done to you and me."
Bret Hart said these words to Owen Hart. As I stated earlier, I am a huge Bret fan. In fact, I did not like Shawn Michaels for the majority for the mid-2000s.
On this night, here I am again in my sister's room watching Raw and I see Owen and Davey Boy Smith attempting to hit each other with a chair and as Davey is about to lay Owen out, Bret comes to the rescue…or did he.
After using the chair to hold down Davey, while keeping preventing Owen from attacking him. Now, this looked confusing at first (I was 10 by now). I thought Bret was helping his little brother, but what he was doing was telling them to stop. He blamed Americans for separating them. Now this moment, I have to make a decision.
Do I continue being a Bret fan, or do I jump ship and boo him? After all, he is dissing my country. But of course wrestling ran my life, and I chose Bret.
3. Kane Drops Blood on Stone Cold Steve Austin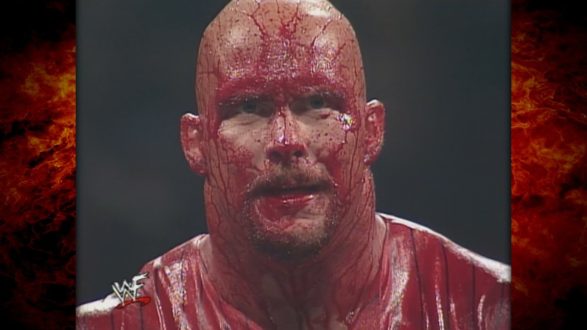 One Saturday in June of 1998, I discovered Shotgun Saturday Night.
When it first debuted, I could never find it for some reason. So when I found it, it ended my year hiatus from live wrestling. (My parents got rid of cable in June 1997) I would hear about this guy named Kane that was The Undertaker's brother, but I never got a chance to watch him.
So after finding wrestling again and not being stuck to the old tapes from the New Generation era, I was back. My first major storyline, Stone Cold Steve Austin defending the World Wrestling Federation Championship against Kane in a First Blood match at the King of the Ring. Now I was able to watch the go-home show since I was spending the night at my grandmother's house.
As the show in concluding, I remember sitting in my grandmother's room as Kane comes from the back and stands at the top of the ramp and suddenly blood drops down and rains on Austin. And then he grabs the microphone and says, "On Sunday, the blood on you will be for real!"
4. The Miz Wins The WWE Championship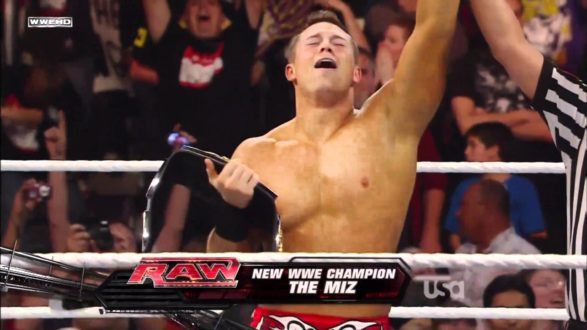 When The Miz finally changed his gear and dropped those stupid capris, I became a fan. Sometimes a wardrobe change is all it takes.
My co-host on The Wrestling Wrealm, The Real Dwayne Allen said it on our Survivor Series Preview episode about Elias.
So after watching Randy Orton successfully defend his title, I was ready to leave the basement and go to my room and sleep, suddenly I hear "AWESOME!" It was the Miz's music.
Yes, he was cashing in his Money in the Bank contract. After he connected with the Skull Crushing Finale, it was over and The Miz was WWE Champion. I was happy, jumping up and down. To the point I went on YouTube and did a live reaction, sorta like our CEO of PWP Nation, Jay does, but I was not that cool.
5. Kevin Owens Wins the Universal Title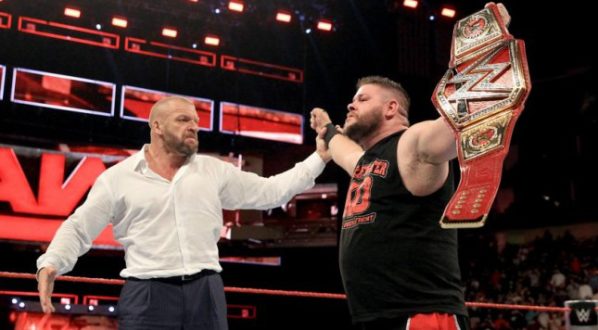 Truth be told, I was not a fan of Finn Balor winning the Universal Title at Summerslam. With that being said, I was disappointed that he got hurt because once he won it, I was excited for the ride.
Instead, there was another match to crown a champion. Out of the four participants, Kevin Owens, Roman Reigns, Seth Rollins, and Big Cass, it was no doubt that I was rooting for Owens.
I watched his journey live to the Ring of Honor Championship and I was excited that my guy had an opportunity to win the big belt (yes Vince, they're belts) in WWE. Now I'm sure you watch the match, if not you know where to find it.
But there I was in my living room as Triple H got in the ring and looked as if he was going to hand the win to Rollins and my spidey senses told me, he's going to give it to Owens, and before you know it Triple H pedigreed Rollins and Owens got the 1-2-3. What a moment. Unlike the previous 4, I immediately downloaded this clip to my phone and watched it over and over again.
5 Moments I was Watching, but Missed!
I saw a lot of iconic moments during my time watching Monday Night Raw, but there are also moments I missed because I was in the wrong place at the wrong time.
1. 1-2-3 Kid win over Razor Ramon
The night 1-2-3 kid shocked the world me and my sister was watching Raw when I decided to go downstairs to get some water during the commercial break. For some reason, it took me awhile to come upstairs. And as I come upstairs my sister said, the Kid beat Razor Ramon. I thought she was lying until I saw the replay.
2. Mark Henry's Retirement
The night Mark Henry had every in tears before he ripped their hearts out by beating up John Cena I actually fell asleep in the middle of Raw. It must have been a long day, but I remember watching it at my girlfriend (now wife) house when I kind of remember hearing Henry talk but I dozed off again. When I woke up, I checked Twitter only to see I missed that Henry had fooled us all.
3. Big E's Debut
When Big E debuted I was actually in the restroom. Clearly, I must not have been interested in the Main Event for me to walk away from the tv. Then I go back and my girlfriend says, some guy named Big E just debuted. Now I had Hulu strictly for NXT so I was familiar with him, but I didn't think he was coming to the main roster anytime soon. I guess I should have waited until Raw was over.
4. Curtis Axel's Debut
Mr. Perfect is one of my favorite wrestlers of all-time. So when his son came to WWE, he caught my attention. Maybe it was because Perfect was taken from us too soon. I was disappointed that they decided to put him in the Nexus under the name Michael McGillicutty. What? That didn't work. Fast forward to the summer of 2013 he was repackaged. Where was I that night? At the freaking Baltimore Orioles game. The game was good, I believe it was the night they beat the Washington Nationals, but I did not see it.
5. Bret Hart wins the United States Championship
The night Bret won the US Title, I was actually helping my friend Tashia move from her college dorm to her apartment. The things you do for your family. After moving, we decided to grab some food when my cousin called. He told me Bret was the US Champion. Now, this may not mean a lot to anyone else, but Bret is one of my All-time favorites so it sucked not seeing that live.
Brian Waters
@brianhwaters