PWP Nation's Eron Ramadanov gives his thoughts and predictions on tonight's latest special event for WWE's developmental system, NXT Takeover: San Antonio
We are just hours away from NXT Takeover: San Antonio, where the superstars of tomorrow are getting ready to showcase their talents to the WWE universe. Tonight, we'll see all NXT titles defended and up for grabs, as this new wave of talent looks to make their mark a night before the 2017 Royal Rumble pay-per-view.
If I'm being completely honest with the loyal readers of PWP Nation, I'm not as excited for this event as I usually am for past Takeover events. As a diehard fan of NXT, I can honestly say that the build up for this show has lacked in some areas and it's clear that NXT is waiting for WrestleMania 33 weekend to bring out the big guns.

Nonetheless, this show still has a bunch of interesting elements and moving parts that are sure to excite wrestling fans. Tonight, we'll see Shinsuke Nakamura defend his NXT Championship against the "GLORIOUS" Bobby Roode in the main event. Additionally, NXT Women's Champion Asuka puts her title on the line against three others competitors in Nikki Cross, Peyton Royce and Billie Kay.
Lower down the card, we'll see DIY (Tomasso Ciampa & Johnny Gargano) defend their NXT Tag Team Championships against the winners of the 2016 Dusty Rhodes Tag Team Classic, the Authors of Pain. And to round out the matches for this evening is Roderick Strong vs. Andrade "Cien" Almas and Tye Dillinger vs. Eric Young.
So, let's get into some picks and preview these matches:
Tye Dillinger vs. Eric Young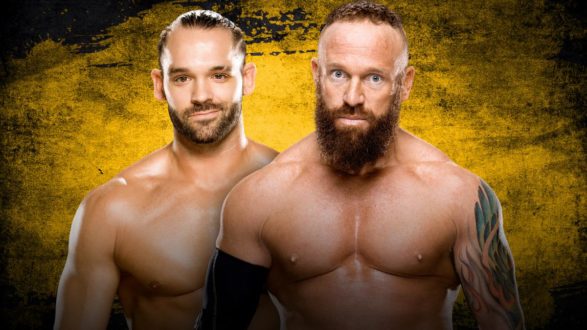 The outcome of this match will foreshadow what's to come for the Perfect 10, Tye Dillinger. Many, including myself, believe that Tye Dillinger is a virtual lock for the 2017 Royal Rumble match tomorrow night, which is why I don't expect Dillinger to win. I expect Eric Young to take the victory here. I know that Dillinger has been in quite a slump lately, but I think EY needs a win here to legitimatize not only himself, but his newly created group.
As for a finish, this match can go either way. If Tye loses, that could be his last match under the NXT-umbrella, but it's very possible that due to the lack of strong babyfaces on the NXT roster, if Dillinger gets a win, it could lead to a string of wins, which would eventually put Dillinger into the NXT Title picture. I believe Tye is more than ready for the main roster, but it's possible that the main roster isn't ready for Tye and Triple H might want to keep Dillinger a little while longer.
Prediction: Eric Young wins with some outside help from Sanity. 
Roderick Strong vs. Andrade "Cien" Almas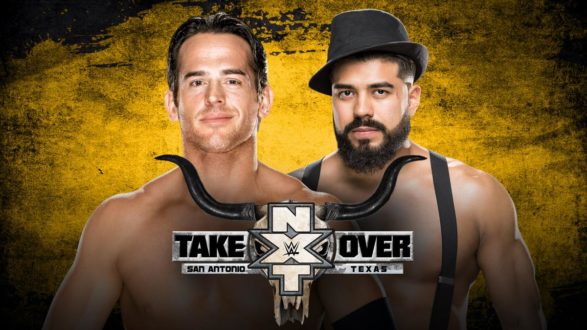 This match is a toss-up. Almas is still finding his footing with his character's attitude change, which in my opinion, has suited him much better than the white-meat, happy-go-lucky babyface. The fans just haven't connected with Almas yet, but this new persona has definitely helped soften that blow and Andrade seems to be gaining confidence in his new role. As for his in-ring work, it's almost flawless. He's a natural and has all the tools (in-ring) to be a top level star in NXT.
Cien's opponent at Takeover has a similar story. Roddy is in the same boat, as he's trying to find his footing in NXT and has yet to be overwhelmingly welcomed into the NXT family. By my ears, it sounds like the Full Sail fans in Orlando haven't really embraced Strong yet. They like him. They'll cheer for him. But they haven't connected with him yet. There's something missing, for sure. I'm sure Roderick will find his way in NXT and I suspect he'll be the next big star of the brand, but until then, they need to keep him on that course. And the only way of doing that is with a big win at Takeover.
Prediction: Roderick Strong wins clean via pinfall.
NXT Tag Team Championships:
DIY (c) vs. Authors of Pain w/Paul Ellering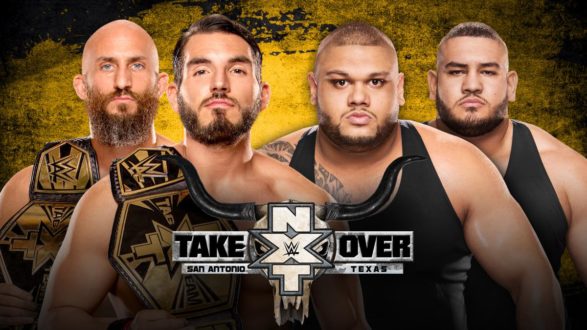 What can I say about the Authors of Pain? Well, they're dangerous, sloppy and green. They have very little ring presence and haven't really uttered a word on the microphone. I get it, though. I understand where NXT officials are going with the AOP and why. They're that old school, destructive, big tag team that just kills everyone. And if anyone can make them look good, it's Johnny Gargano and Tommaso Ciampa.
As for the booking of the match, I suspect that Scott Dawson and Dash Wilder are going to be involved in one way or another. I think this match will be just good enough to get 10-12 minutes out of. At the finish, the Revival come to the ring and attack DIY, which will lead to a DQ finish. It protects the AOP from taking a pin and keeps the titles on DIY.
I don't feel too great about this pick because of Triple H's history of taking the titles off of babyfaces duos very quickly. Triple H has been quoted many times saying, "the chase is always better than the title reign." He's right in a sense, which makes me think that the Authors of Pain could walk out as the new NXT Tag Team Champions.
P.S. If DIY drops the titles tonight, let the Ciampa vs. Gargano feud begin!
Prediction: Authors of Pain wins (DIY retains via DQ due to outside interference). 
NXT Women's Championship:
Asuka (c) vs. Nikki Cross vs. Peyton Royce vs. Billie Kay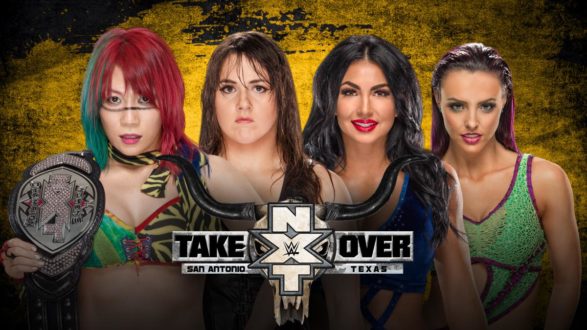 Out of all the feuds leading into tonight, this match by far has the most moving parts.
Billie Kay and Peyton Royce, this duo has grown into a nice little heel faction that reminds me a lot of what NXT did with Dana Brooke and Emma. Both Kay and Royce are still somewhat green and are learning every single day, but they've come along nicely as a group and I'm excited to see what comes of their teamwork in the future.
As for Nikki Cross, I've heard good things about her in-ring work from diehard women's wrestling fans. I'll be honest that I haven't seen her wrestle outside of NXT, so she is still very new to me. I find that she is working into her role within Sanity nicely, and seems to be getting more and more comfortable with the character she's playing. I expect big things for her in 2017.
And now the champion. Asuka has remained undefeated and it's going to stay that way for a little while longer. Some have called Asuka's title run in NXT lackluster, but I couldn't disagree more. Asuka has been a dominant champion for NXT and is so easy to like. We haven't see a female superstar like here in NXT (or many WWE in general). Her character, persona and work in NXT has hit on all cylinders and I expect this to continue.
There's only one person taking that title off of Asuka… and that person is Ember Moon.
The match itself will be interesting, no doubt. But Fatal 4-Way matches are hard to book and choreograph, easily with talent who haven't really worked with each other for an extended period of time. I'm excited to see what these women can bring to the table in the post-Four Horsewomen era.
Prediction: Asuka wins via submission on Peyton Royce. 
NXT Championship:
Shinsuke Nakamura (c) vs. Bobby Roode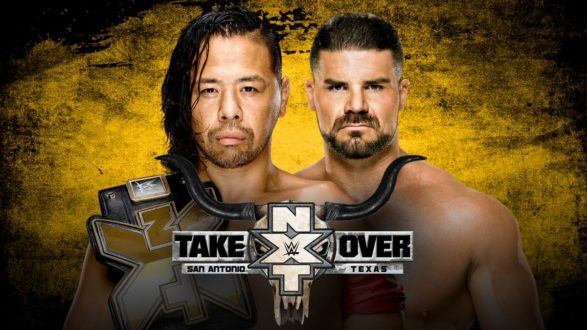 The story for this match is simple. William Regal, the NXT general manager, put this match together because these are the two biggest stars in NXT, hands down. That's it. That's the story… and I love it. I don't think WWE does this enough. Take two megastars, who ooze charisma and personality, and put them in the ring together.
There's obviously a personal aspect of this feud that has been front and foremost, but don't be mistaken. This is all about the title and who is the bigger star. Since entering NXT, Bobby Roode has connected with the fans in record time. Roode's music has been the catalyst for that, but that music would be nothing without the greatness of Roode behind it. Roode is without question being groomed for that top spot in NXT, but the question is: when?
For Nakamura, he has been everything you want in a world champion. He connects on all aspects of professional wrestling and makes everyone around him better. His feud with Samoa Joe, even though it died toward the end, was an incredible showcase for both men, especially Nakamura.
As for the finish of this match, I expect Nakamura to retain his title, UNLESS WWE is ready to bring him up to the main roster tomorrow night at the Royal Rumble. I think the chances of that are slim, but they are possible. I believe these two will get plenty of time to do their match, their way. Roode and Nakamura have complementary styles, so I see this match being a classic.
Prediction: Shinsuke Nakamura wins and retains via pinfall.
Thanks for reading, everyone. Be sure to stay tuned to everything PWP Nation this weekend, as we'll have full coverage of NXT Takeover: San Antonio and Royal Rumble on our Twitter account (@PWPNation) and on Facebook! Enjoy the show!