Well, it's only been 4 months since my last appearance in a column for PWP, so, suffice it to say that I am making my Anticipated return! This time Bill and I are locking horns over the great weekend of wrestling ahead of us. If I learned anything from our last column, it's that we're not so different in the way we see things-most of the time.
First I'll take a look at the way NXT Takeover:War Games Shakes out.
---
I'd like to go on record and say how pissed I am that Gargano/Dunne is dark match. With what could be a match of the night, sure, why the Heck would you want to broadcast that?! I get it, it'll likely be NXT TV. But still, I think, it's a miss for a * Fairly* weak card. Let's be real-its top heavy. Take out the War Games and the Women's title match and you're not left with much. This match would have made the card a solid card.
Crazy Bill(CB)– Show me a man who doesn't think Black/Dream would be MOTY, and I'll show you a fool. When you have the crowning of the new NXT Woman's champion and the first ever WarGames with the company, why put Dunne/Gargano on to steal the spotlight from that?  It sucks, but I completely get it.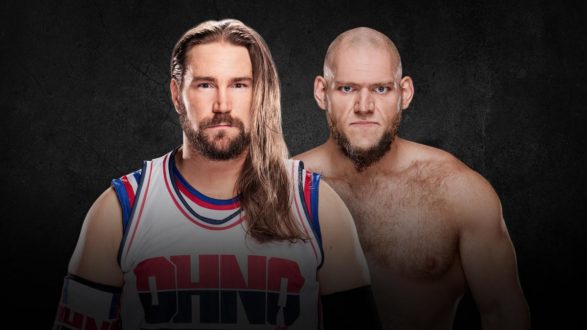 Kassius Ohno vs. Lars Sullivan.
Beef– I still haven't quite figured out Lars' role in NXT, and I think he's going to be fairly similar to Elias, where he is kind of a way ward straggler in NXT, but will be a main roster star. That said, I figure Ohno goes over here. I think 1 KO on the main roster is enough for now, and Kassius is staying put, readying himself for the challenge of eventual champion of Adam Cole. Anyway, KO wins.
Winner: Kassius Ohno.
CB– This is Lars all the way. Ohno isn't a superstar to NXT. He isn't future NXT Champion. He's there to build everyone else. He has one match a month? Yeah, can you imagine what he's teaching everyone else in the performance center each day?  Ohno doesn't need a win. He just needs to push Lars in the ring to show what Lars has got.
Winner: Lars Sullivan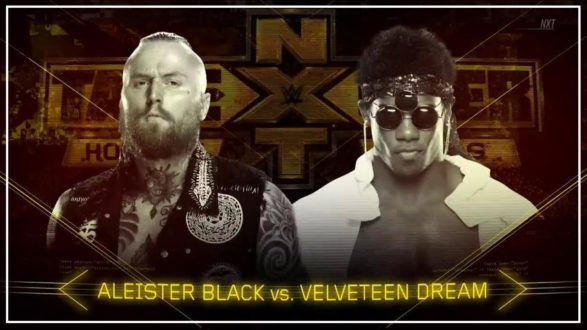 Aleister Black vs. Velveteen Dream.
Beef– I like this build up. It makes Dream a believable opponent for Black. But make no mistake, Black is a star in the making. If he has creative behind him, there's no heights he cant reach. I love the character, I love the theme, and he has talent in the ring. Im still not sold on the finisher, but it's okay. Black wins here. I think it will be a good back and forth, but Black ultimately wins.
Winner: Aleister Black
CB– I agree. This could be Match of the Night and certainly one of the top 3 matches of the year. Dream has made such an impact, as has Black. I can see Dream picking up a win here so that Black is forced to show more depth to his character.
Winner: Velveteen Dream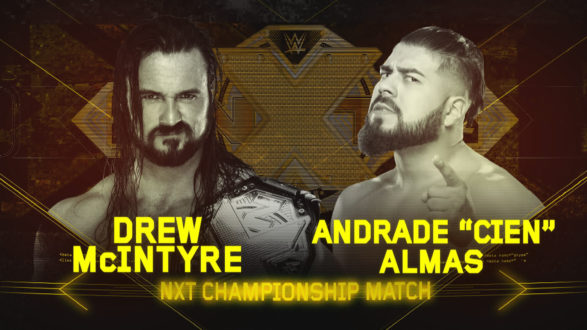 Drew McIntyre vs Andrade 'Cien' Almas (NXT Championship)
Beef– I'm still not sure how Andrade got here. I feel like I blinked and he was suddenly a main eventer. I dunno man. I guess Zelina has made an impact, but I mean…I still feel like it's a lot of Sizzle and very little steak. And feel like he should definitely still be La Sombra. There's no way he should have beat Gargano, at the last Takeover. I don't think he should be here. I think he's a product of having the rest of the upper carders either in the Main Roster or in War Games. So of course, I'm picking Almas…
PSYCHE. (do people still do that?) No, McIntyre wins. Strong. Placeholder for Cole, and eventual main roster call up, and guy who gets a mega push on Smackdown…again.
Winner: Drew McIntyre.
CB– I like Almas, but Drew is just playing fuck around gang until he gets a real challenger. If tonight plays out like I expect, Drew wins so he can go toe to toe with Strong. Almas will lose, but he'll look like the million bucks he is.
Winner: Drew McIntyre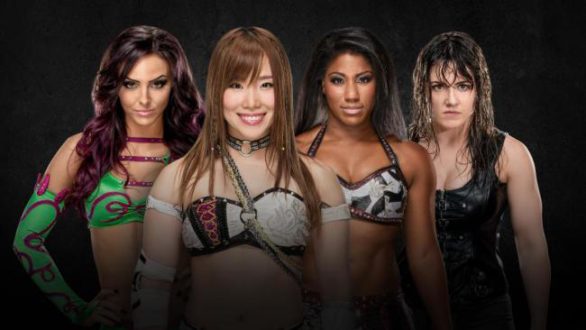 Kairi Sane vs. Peyton Royce vs. Nikki Cross vs. Ember Moon. ((NXT Women's championship)
Beef– On paper this match looks great. But I am fearful because NXT Multi-women matches have traditionally been pretty bad to okay. I feel like if Sane was going to win the title, she would have been awarded it after the Mae Young Classic (which wasnt quite a classic). I like her, but I think the gimmick is kind of fringe (and a little Whack), and again, not sold on her finisher. Ember's opportunity at the title has…eclipsed. Again, big fan of Ember, but Asuka should have 100% put her over. Now it's like "Yeah, Ember won the title..but had to wait for it to be vacated first". Honestly, I'm kind of pulling for Peyton Royce. Shes got a great look, shes not bad in the ring, has a great gimmick, and I think her and Billie Kay can make a run at a really great heel reign. Cross is the x factor, Sometimes I feel like Sanity is undervalued, and then they win the tag team titles. I think this could easily go Cross's way, and make Sanity a Unified front with the belts, leaving EY to contend for the NXT title. All being said, I get the feeling that Iconic screws Sane (giggity) and Ember Moon gets the strap. Sane goes on to feud with Iconic and Moon and Cross probably go back and forth for the title.
Winner: Ember Moon.
CB– I can't argue. Royce is ok, I think Sane is overrated, Moon couldn't get the title when it was needed for her most, and Cross is so insanely over right now that they'll probably give her the "Face chase" after the title.
Winner: Ember Moon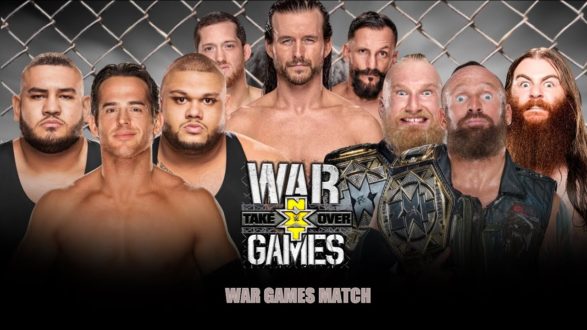 War Games: Undisputed vs Sanity vs. Authors of Pain & Roderick Strong.
Beef– I want so bad just to pick AOP/Strong just to piss Bill off. But I cant do it. I think this is AOP's swan song, so I dont think they win. I also don't think the much-anticipated heel turn of Strong happens either. I think Undisputed gets the early advantage, but Sanity comes back to win it in the end. Plus, it adds more fire to Fish and O'Rielly taking the titles off of Sanity. Undisputed gets their time, but it ain't at War Games.
Winner: SAnitY
CB– This could go either way. It's either Undisputed or Sanity. AoP are going to be the "HOLY SHIT" big, tough guys, just like every MITB match has one. I feel certain that this will be Strong's heel turn and join Undisputed. It's stupid to go any other way, but they sure did screw that guy over when they gave the title to Drew.  Do they repent for their sin, or does Sanity win clean? Undisputed has been built well so far. They can't suffer this loss.
Winner: Undisputed
Only time will tell, and we're not far from finding out!  Good luck to the other man and we'll see who wins!  We'll be back with our Survivor Series predictions!