StubHub has two front row tickets for the Floyd Mayweather vs. Conor McGregor Superfight on August 26th listed for $324,500.
Paul Heyman has responded to this, stating that it will be the second biggest superfight of the summer: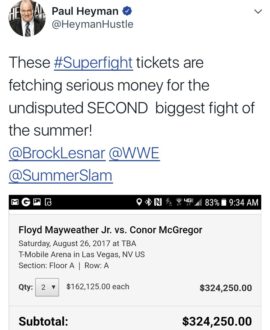 What do you think? Is #SummerSlam a bigger Superfight than Mayweather vs. McGregor?
Let us know @PWPNation on Twitter!