On the surface, Killing The Town may not be the most glamorous podcast amongst the sea of other wrestling-based ones that exist. Steve Austin, Chris Jericho, and Jim Ross, all significant and popular names in the business, are just a few who host their own.
Killing The Town is hosted by long-time friends Lance Storm and Don Callis (also known as Cyrus, a moniker he had during his days in ECW). And though their names may not carry the same weight as some of the other wrestling podcast hosts, they are two of the most knowledgeable and intelligent people to have been in the business.
New episodes drop every Tuesday as a part of the Jericho Podcast Network on PodcastOne. You can also find the show on other podcast apps such as PodBean.
Storm and Callis tell stories about their days on the road in the business, share insight into what is currently happening in wrestling and playfully joke around with each other.
They are never afraid to give their blunt opinions about what is happening in wrestling today. For instance, recently, many praised NXT War Games, and some matches even received medium-to-high star ratings from Dave Meltzer. This included the main event: the War Games match.
On the November 21st, 2017 episode, Cyrus in particular is very critical of the show including the main event. He, Storm, and special guest Paul Lazenby made some really intuitive and valid criticisms that others overlooked. For instance, they discussed the lack of psychology of having Adam Cole climb to the top of the cage when the new match rules state a team would be eliminated if anyone escaped the cage.
To hear more specifics, check out the episode here!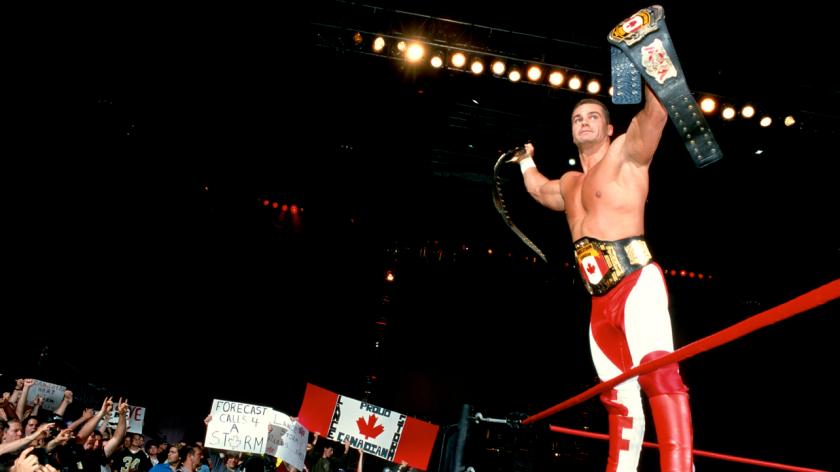 It is nice to hear their unique take on things, such as the recent "30 for 30" covering the life and career of the legendary Ric Flair. Both Callis and Storm are big fans of Flair, especially Callis. They discussed how they weren't completely pleased with the ESPN special because it couldn't cover Flair's entire extensive career. They also criticized the format of the storytelling, which was all over the place, lacking focus. Before listening to their review of it, I also felt the special wasn't as good as it could have been, but could not pin point why. I enjoyed their points because not many others in the business were coming out and bluntly critiquing the special.
I may not agree with their opinions all of the time, but I always find their takes to be interesting and informative. I really enjoy what they have to say, and their opinions are backed by their knowledge and experience gained from years on the road in the wrestling industry.
Oftentimes, I learn things I wouldn't have discovered on other popular wrestling podcasts.
For instance, because Don Callis has joined the English commentary team alongside Kevin Kelly for New Japan Pro Wrestling's (NJPW) big shows, Killing The Town discusses New Japan in greater depth than many of the other podcasts. In doing so, I was able to learn more about one of my favorite wrestlers Minoru Suzuki. They talk about him quite regularly, and joke about how psychotic and scary he actually is. They even brought Lazenby, who trained under Suzuki, on the show to discuss some specifics about what it was like to work with Suzuki, a pioneer in the world of MMA and a master at shoot wrestling.
Not only is Killing The Town exceptional at adding to the listeners' wrestling knowledge and to their understanding of in-ring psychology, but the show also supplies a lot of laughs.
Don Callis naturally plays the part of the quick-witted heel alongside the more serious Lance Storm, creating a perfect dichotomy for the show. You can tell they have been friends for a while because the back-and-forth and light ribbing of each other is so natural, genuine and funny to listen to. They have an undeniable chemistry, and their road stories are priceless as well.
Another aspect of the show that is ESPECIALLY enjoyable is when they both poke fun at Disco Inferno (or more accurately: Callis insults Disco while Storm "snickers"). Disco is a part of another podcast on the Chris Jericho Network: "Keepin it 100 with Konnan."
Storm and Callis often call him out for saying ridiculous things on social media or on Konnan's podcast, and their reactions to him are usually quite hilarious.
So if you're looking for a distinctive, honest take on what's happening in the wrestling world, learning more about the history of the business and the intricacies of wrestling psychology, all the while being entertained by funny and interesting stories, then you may want to give the podcast a chance.
During the show, Cyrus likes to insult some wrestling fans by calling them "marks." And though I am but a mark, in my humble opinion, Killing the Town is the best wrestling podcast that you may not even know about. If you aren't listening to it, you should be!