PWP Nation's Eron Ramadanov marvels at the greatness that is Kazuchika Okada.
When surveying the landscape of professional wrestling in mid-2017, it's not hard to find something for every wrestling fan on the planet.
If you want over-the-top production value and larger-than-life superstars, WWE can provide that. If you're looking for great story-telling and great bell-to-bell action, NXT has the dose for you. Or if you're looking for hard-hitting, old-school strong style professional wrestling, New Japan Pro-Wrestling is like a tropical paradise. But there is only one promotion that has the IWGP Heavyweight Champion, Kazuchika Okada… or as I like to call him, the most dominant world champion in professional wrestling today.
If you were to comb through every wrestling promotion in the world today, it's hard to find someone like Okada at the top of a wrestling company. With world-class athleticism and a look that can be plastered on any poster or billboard, Kazuchika Okada is what championship material is made of.
Not only does Okada have the look and body for the world championship, he also backs every ounce of his hype in the ring. Okada has now gone over a year as the IWGP Heavyweight Champion, since defeating Testuya Naito in June of 2016 and his reign continues as he was successful in his title defense against the "American Nightmare," Cody Rhodes at the G1 US Special this past weekend.
Okada's reign has been stuffed with world class performances and top level competition with the likes of Kenny Omega, Minoru Suzuki, Katsuyori Shibata and many others. In professional wrestling today, matches get praised to the point where they're referred to as "best match ever" or "classic," and most of the time, it's not true. But with Kazuchika Okada, it's a fact. Okada has been responsible for three of the greatest matches I've ever seen and ironically, those three matches have taken my heart as the three best matches of 2017. The last thing I want to do is discredit anything Kenny Omega has done in the ring with Okada, but when watching those matches and the rest of Okada's year of greatness, it has become very clear: Kazuchika Okada is the best wrestler in the world today.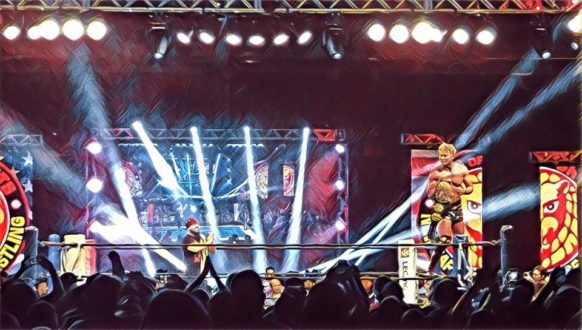 If we turn back time and look back at this current reign, it proves my point overwhelmingly. His matches in the G1 Climax tournament were out of this world, with hard-hitting, devastating matches with the likes of Tomohiro Ishii and Hiroshi Tanahashi. Interesting enough, Okada's reign after the G1 Climax was already hitting record levels of work-rate and many who follow New Japan Pro-Wrestling closely understand that Okada is making history. But something would propel his title reign to another level and that would be the introduction of Okada vs. Omega.
The masterpiece created twice, which was rated 6 and 6.25 stars by wrestling journalist and historian Dave Meltzer, are now being called the best matches of all time. In professional wrestling, it's incredibly hard to get a consensus from fans on a certain match or opinion. But in this case, many who have seen the matches would agree that they're instant classics.
Yes, Okada can have great matches with other great performers like Omega, but what makes Okada the best in in the world is his ability to have a great match with anyone. After being battered and brutalized in his previous matches, Okada would go on to wrestle Bad Luck Fale, who is the heavy for the Bullet Club. Fale isn't exactly known for his 5-star matches. But when he stepped in the ring with Kazuchika Okada, it produced the best match in Bad Luck Fale's career.
There's a pattern here, folks.
Fast forward to this past weekend, Kazuchika Okada successfully defended his IWGP Heavyweight Championship against Cody Rhodes and put on a hell of a performance in the process. Now, I will admit that I'm not the biggest Cody Rhodes fan, but he without question held his own in this match, but after the match, all I could talk and think about was Kazuchika Okada. There is something about Okada, especially in the last five minutes of a match, where he is able to pace the match to where it always reaches a perfect crescendo. Small, subtle movements that separates Okada from the rest, which is why I have come to the conclusion of Okada as the best in the world today.
That doesn't mean that I think any less of other contenders for that label like Kenny Omega, AJ Styles, Shinsuke Nakamura, but one thing Okada has done is surpass all of them in his work-rate, his in-ring ability, his promo ability and every other aspect of professional wrestling.
Finally, another aspect that many fans aren't thinking about is in modern professional wrestling, I'm not sure if anyone else in the world can keep my interest for this long on a single title reign. A year, in wrestling terms, is a really long time. To put it in perspective for you, the WWE Championship has changed hands since the start of the year a total of 5 times so far. Okada has had a hold of his title since June of 2016 and is expected to carry it into 2018. Sadly, Okada will never get the praise of most fans due to where he calls home, but hopefully, as New Japan Pro-Wrestling gets more spotlight, Okada will become the consensus as the best wrestler in the world today and the most dominant World Champion in the business.
For more news, rumors, videos, podcasts and exclusive articles, follow us on Twitter @PWPNation.