PWP Nation's Caden "CJ" Moran gives his opinion on how much value Rusev truly has now that he has returned to WWE.
On July 4th, 2017, the "Bulgarian Brute", Rusev finally made his return to the WWE after being sidelined with an injury that put him out of action for many weeks. And on July 23rd at the Smackdown Live exclusive event, Battleground, Rusev will get his chance to shine against the also recently returning John Cena in a Flag Match. Now, this wasn't the original plan for Rusev and his return. For a brief moment, WWE was hinting at a massive Rusev push and for him to go after the WWE Championship claiming in many videos posted to WWE's social media that if he did not receive a title match, he would not show up to the blue brand. Well, that clearly did not happen which leads to one evry simple question: how undervalued is Rusev? 
Answer: Rusev is criminally undervalued.
For years, Rusev has proven to be one of the strongest and most athletic guys the WWE has on their roster. Mix that with his charisma and character and you get one giant star. Even with all the characteristics Rusev holds, he has yet to be given that moment to shine. With two impressive United States Championship runs already under his belt, it is a crime that Rusev hasn't hit the next level when we all know that he is more than capable of holding his own and impressing the people backstage. But let's stop talking about championships and accolades (no pun intended) and let's start focusing on the little things that prove just how truly undervalued Rusev is.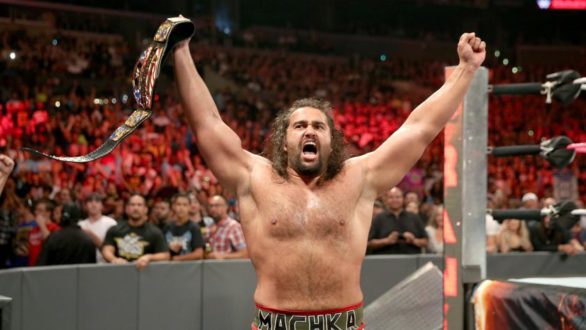 For example, John Cena. Every single time John Cena announces his return to the WWE, the company feels the need to air tons of hype videos and upload past highlights to their social media. Now granted, John Cena is arguably the greatest WWE star of all time and deserves all the recognition and hype. However, I can't help but feel the WWE is too focused on the past and not looking to the future. Now that may just be me and my biased opinion because it isn't like Brock Lesnar is Universal Champion while Randy Orton is still in the WWE Championship picture. 2017 people. My point is, the WWE is always talking about the "new era" and how the WWE is pushing toward younger and new guys to take over.
Well, why the hell is Rusev (and many others let me assure you) not being focused on while John Cena still is? How are we as WWE fans supposed to believe this "new era" bullshit if the older guys who have nothing left to give still get the time, hype and attention while the younger, fresher, and more talented take a backseat while being told to "keep the hope" and "be patient, your time will come?" In my opinion, it is ridiculous that talented and charismatic guys like Rusev get title pushes dropped while guys like John Cena and even Roman Reigns can demand a title match when they haven't earned it. New era my ass.
If that isn't bad enough, I'll give you some more reason to believe Rusev is undervalued. Rusev has been on the WWE main roster since 2014 when he debuted in the Royal Rumble match while having a very impressive showing. Should have been a sign of things to come, right? Wrong.
Rusev's wife, the "Ravishing Russian" Lana is not a wrestler. Lana is nothing more than a manager. And in the very short time Lana has been wrestling on the main roster, she has been given three Smackdown Women's title matches against Naomi. THREE! Now granted, two of the three matches were very short but I think you get the idea. The fact that Lana has received three title matches for the brands top women's title within the span of a month when Rusev hasn't received one world title match in his three years on the main roster is pathetic. The fact that the zero star match machine, Lana, has been given more chances than Rusev is criminal.
Rusev is not only underused, underrated but he is truly undervalued. Point made.
For more news, rumors, videos, podcasts and exclusive articles, follow us on Twitter @PWPNation.