PWP Nation's Marc Madison puts pen to paper in a rebuttal piece, on Caden Moran's article, in which he states that this isn't Itami's last chance in WWE, but his best. 
One of our fellow writers here at PWPNation.com Caden Moran shared his very well thought out belief that Hideo Itami's opportunity to succeed on 205 Live is his last opportunity. It was an interesting take, but one I would have to respectfully disagree with. Like Caden mentioned, Itami has suffered a number of painful setbacks during his time with WWE's NXT brand. Since arriving in the company a few years ago, Itami has been hampered by a number of major injuries that have stalled his professional career. However, injuries don't define the talent that suffers them. All they should do is motivate them to return with a new sense of purpose. Similarly, 205 Live should provide a new sense of purpose, and this is Itami's best opportunity to succeed in WWE.
As many may know, Itami achieved a great deal of career success in his native Japan. He was known as Kenta, and he succeeded because he was capable of being liked just as much as he was disliked. When he made the decision to transition to America and join WWE, it was a risk. For anyone, leaving your comfort zone and charting into unknown waters means it will take time to adjust. He had to adjust to lifestyle, social norms, language, and essentially life in North America. However, he was also faced with injuries that could have led him to give up and return to Japan.
It shows as well; the injuries to his neck and shoulder affected his ability to maintain the same conditioning that he visibly had prior to the injuries. Building strength to develop a full physical range, and doing it in order to regain muscle and maintain a well-conditioned physique is quite different. It appears Itami was pushing himself to look the part and regain the look fans had been accustomed to.
What has happened since his return from his second major injury, this one to his neck is that he was thrust into the spotlight in a feud with, then NXT champion, Bobby Roode. His loss to Roode is what led to a change in character, and his becoming a heel. He then briefly feuded with his friend Kassius Ohno. While the initial goal when he was signed may have been to have Itami to capture the NXT championship, plans change. Does that mean he wasn't good enough, or his time had passed him by? Neither, actually. Booking decisions change all the time, and now the decision has been made that, instead of putting others over in NXT, he will be part of the Raw brand. Yes, he is moving to 205 Live, but ultimately that means being elevated to the Raw roster.
Itami is world class athlete that has been all over the world, and rather than have him simply help the cement the future of Aleister Black in NXT, it appears that he could be the name value the 205 Live roster needs. This is a case where a former champion is being brought into the brand not because the rest of the roster isn't as talented, but to have a name as a focal point of the brand. His addition to 205 Live should not be seen as relegated to something less. Some may feel that way, what with how 205 Live has seen such weak numbers and lacks attention. Clearly it isn't as highly regarded as it should be.
His addition to the 205 Live roster lends itself to some interesting scenarios, match-ups, and rivalries. Shinsuke Nakamura and Finn Balor have come out of Japan and secured spots on the two other major brands. Having Itami as part of 205 Live provides a notable star from Japan that the division can also lean on. Based on the vignettes signaling his arrival, it appears his addition is being treated as something quite meaningful, much like that of Asuka.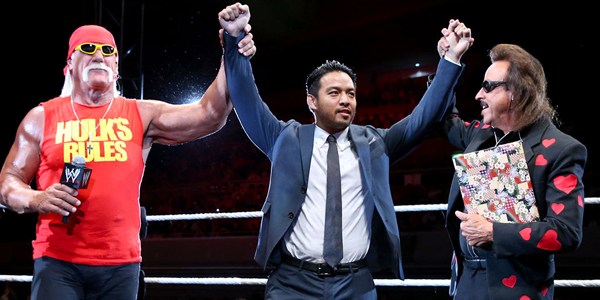 And rather than treat him like the rest of the roster, where everyone is booked evenly, this is an opportunity have them replicate something along the lines of how Neville was booked, where there is a hard-hitting and technically sound star leading the division.
Itami adds value, knowledge, history, and the ability to tell a story like few in the division. While injuries can happen to anyone, any future injury shouldn't prevent him from still being a valued part of the division when he returns. There is no question that while Enzo Amore certainly has the gift to gab, he currently faces little to no challengers, as he has a cast of characters that surround and support him, preventing him from facing any just desserts. Itami is a star, and everyone that has either faced him or knows of his career accomplishments know just what he is capable of doing in the ring. Itami has the striking ability to come into a match and not only wipe out Enzo Amore, but the entire Zo Train, and make them all…go to sleep.
For more news, rumors, videos, podcasts and exclusive articles, follow us on Twitter @PWPNation.