"Hart Murmurs" Edition #91
By Bruce Hart
Seasons greetings!
Like many of the listeners to my Hart Beat Radio podcast, I was perplexed with the contrived and illogical storyline for the main event of last weekend's WWE Clash of Champions pay-per-view between Kevin Owens and Sami Zayn against and Randy Orton & Shinsuke Nakamura, with guest referees – Shane McMahon & Daniel Bryan, which stipulated that if Owens and Zayn lost, they'd be kicked out of the WWE.
Given that all four guys are decent workers and the addition of Shane and Daniel should have enhanced things, I figured this had the potential to be a hell of a match, but that turned out to be anything but the case.
If you were fortunate enough to have missed it, the match never really seemed to get off the ground, as there wasn't much synergy from the get go between any of the combatants. Beyond that, the storyline, which had Shane and Daniel – both of whom were faces but were constantly at odds and were going out of their way to contradict and obstruct each other, served only to detract and confuse, rather than enhance things.
On the finish, Daniel, for no perceptible reason, suddenly turned heel and rendered a quick pin count, thereby enabling the heels – Owens and Zayn to win the match and thereby be allowed to remain in the WWE (as if anybody actually thought they were going to be leaving, in the first place) none of which made much sense.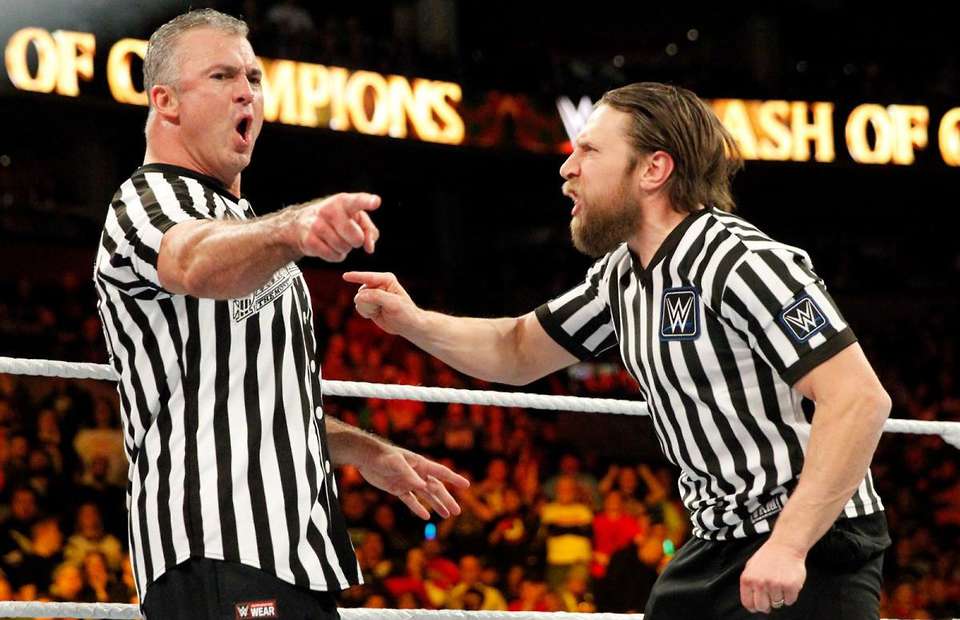 I'm honestly not sure what reaction those responsible for orchestrating the schematics of this ill-conceived fiasco were seeking – presumably, it was to get heat on Daniel, Kevin and Sami, in order to apparently set up some kind of triple tag return against Shane, Nakamura and Orton, but at the end, all the marks were cheering "yes! yes! yes!" as if Daniel was still a face – which, reflected how ass-backward the whole thing proved to be and how the WWE writers had miscalculated the whims and mindset of the fans – which ain't, as the enigmatic Paul Levesque is so fond of equivocating, "what's best for business."
With the decidedly lame reaction from the so-called WWE universe, I'm not sure whether the powers that be in the WWE will persist and try to shove Daniel down the fans' throats as a heel or if they'll recognize the fact that the fans weren't buying what they were selling and admit their error and go in a different direction.
Time will tell, I suppose, but this is just another example of the questionable and illogical flinging shit against the wall and hoping something will stick type of booking that seems to have all too common in the WWE as of late and sure as hell isn't "what's best for business."
Need I remind them that no matter what story Iines or angles you're endeavoring to propagate, there needs to be a justifiable reason or, as my dad used to say, there needs to be a method to the madness.  I hate to be dumping a proverbial lump of coal in the WWE's stocking at Christmas, as "tis the season to be jolly," but those responsible for perpetrating illicit, ill-conceived crap like this deserve to be censored, because the fans and the wrestlers deserve a lot better.
On that note, I'll call this a wrap. Joy to the world, peace on earth and hope you all have a Merry Christmas!
For more news, rumors, videos, podcasts and exclusive articles, follow us on Twitter @PWPNation.