Greetings.
This week we'll preview the upcoming Clash of Champions pay per view from top to bottom.  The card seems to have changed several times in the past few weeks, but as far as I know, it will be going along these lines.
The main event pits WWE world heavyweight champion A.J. Styles against Jinder Mahal.  I'm a big fan of both of these guys, as both are solid team players, have a great work ethic and do whatever's asked of them.  Having said that, there doesn't seem to be much buzz leading up to this clash, as the last time they worked, A. J., the face, went over pretty straightforward and as far as I can tell there's no great demand to see Jinder, the heel, get a chance to avenge his defeat.  The fault for that lies not with either of these guys, but with the WWE's creative department, who haven't really whet anybody's appetite's for a re-match.  All things considered, it's a good bet that A.J. will go over here, hopefully with no East Indian dwarfs or maybe the Great Khali, masquerading as the Grinch, interfering.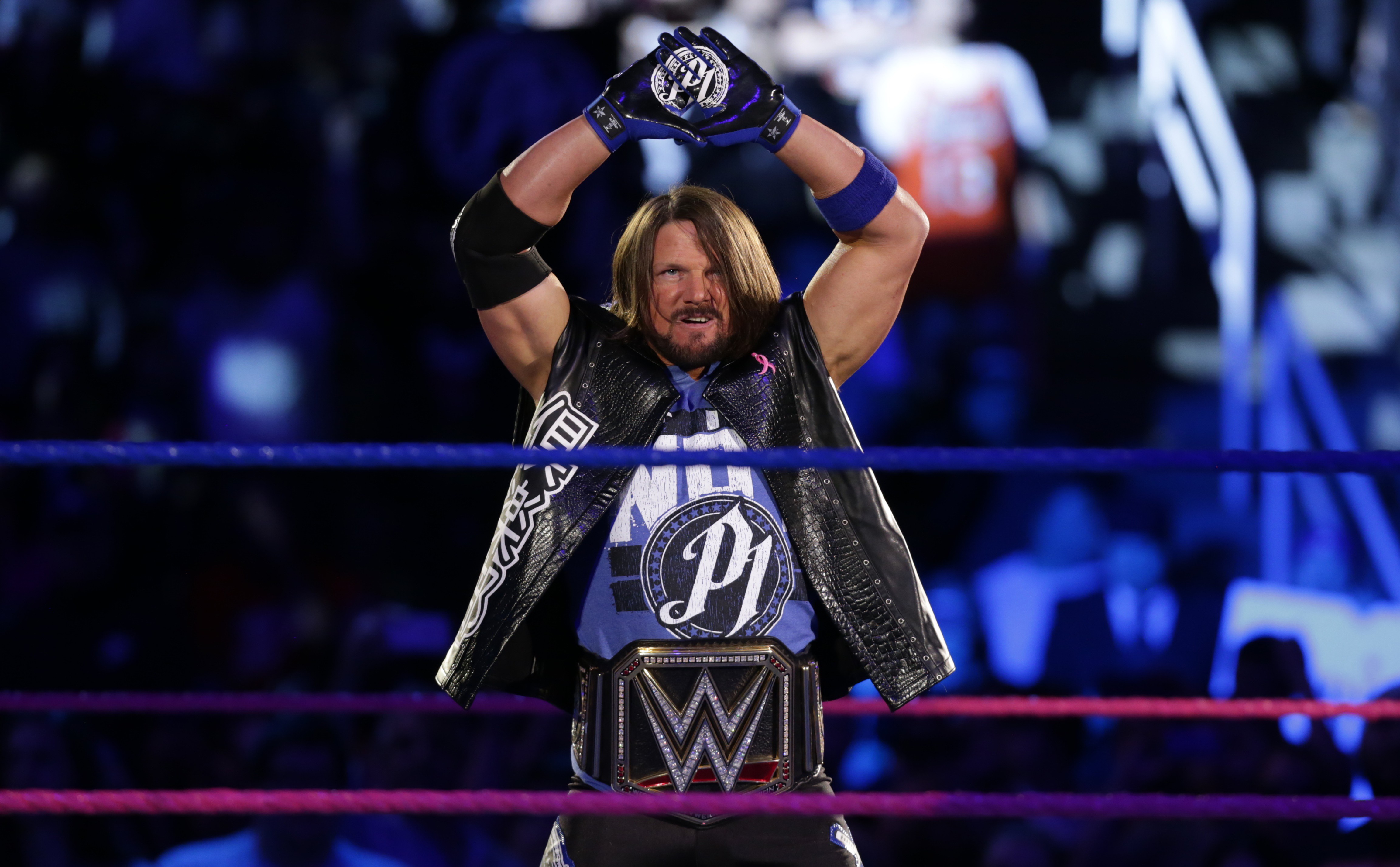 The featured Divas match has SmackDown women's champion Charlotte Flair defending her belt against former champ, Natalya, in a Lumberjack match, with a bunch of other so-called divas surrounding the ring.  Given that the WWE has been trying to showcase the NXT trio of Ruby Riott, Sarah Logan and Liv Morgan, I wouldn't be surprised to see any or all of them get involved, which might set up some kind of tag match, with Charlotte and Natalia teaming up, perhaps with another SmackDown colleague, to take on the NXT girls.
The next major title match on the card is a Triple Threat affair, which has recently crowned United States champion, Baron Corbin putting up his strap against Bobby Roode and Dolph Ziggler.  While all three of these guys are solid workers, the build up to this match has been pretty lame, with no particularly compelling angles or storylines put in place to set the table.  Making matters worse, all three are heels, so there's nobody for the fans to really get behind.   Even so, all three are pretty good workers who are capable of rising to the occasion.  As for the finish, I'd be surprised if Corbin doesn't retain his strap in this one.
One of the most intriguing matches on the card will see Kevin Owens and Sami Zayn taking on the dynamic duo of Randy Orton and Shinsuke Nakamura, with Shane O'Mac as the guest referee and the stipulation that if they lose, Owens and Zayn will be kicked out of the WWE.  My anticipation for the finish on this one is that SmackDown general manager, Daniel Bryan – who's been increasingly at odds with the McMahons as of late has been manifesting more and more heel characteristics, might perpetrate some kind of surprise skullduggery on behalf of Owens and Zayn – which could lead to him doing some kind of heel turn, probably as a manager and perhaps feuding with Shane.  All things considered, I could see some potential in that storyline, as all the individuals are good workers and should have great synergy.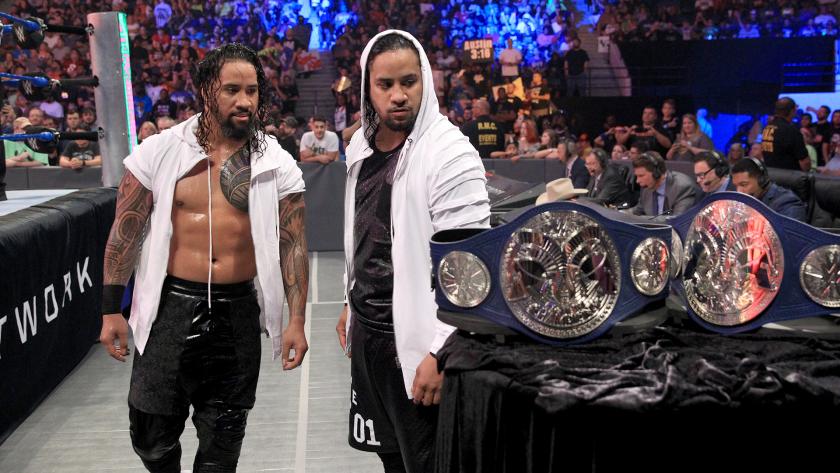 The next major match on the card is a Fatal Fourway tag team title match which will see the Usos putting their SmackDown tag straps up against former champions, the New Day and two recently formed teams – Chad Gable & Shelton Benjamin and Aiden English and Rusev.  It seems likely that the Usos will retain their straps in this one, but I'm not really expecting it to steal the show or anything like that.  For whatever reason, this futile fourway doesn't really excite me.  All things considered, it's a pretty good bet that Jimmy and Jay will retain their straps in this one, hopefully pretty straightforward with no contingencies or contrived bullshit.
The last time I checked, there were two other matches on the card – first, a Divas triple tag team match, pitting the not particularly awe inspiring threesome of Tamina Snuka, Carmella and Naomi against the brazen NXT trio of Ruby Riot, Sarah Logan and Liv Morgan; and yet another tag match, which will see the Bludgeon Brothers (Luke Harper and Erick Rowan) taking on the motley tandem of Tyler Breeze and Fandango.  In the Divas tag match, I'm expecting Tamina, who rarely gets her hand raised, to be doing the job, in order to get the NXT bitches over so they can fight the likes of Charlotte, Natalya and Sasha.  In the other tag,  Harper and Rowan will probably be going over, strong, which might make them viable contenders for the tag team belts down the road against the Usos.
I should note that the card is subject to change, but that about sums it up, for now.  I'll look forward to catching up with you next time to offer my perspectives on what I'm hoping will be a pretty hot show.
For more news, rumors, videos, podcasts and exclusive articles, follow us on Twitter @PWPNation.