Greetings.
I'm intrigued with the looming showdown between Universal champion, Brock Lesnar, and WWE World Heavyweight champion, Jinder Mahal, which is being hyped as the main event for the upcoming Survivor Series pay-per-view.
For years I've been advocating that the WWE unify their two major titles, the Universal and World, into one penultimate belt – about like the NFL and the AFL, back in the day, when they morphed their respective league championships into the iconic Super Bowl.  When I first heard that the WWE was planning to have Brock and Jinder clash, I was pumped and pleased that Vinnie Mac and Hunter had finally heeded my advice and would be following suit and had no doubts that it would prove to be "what's best for business."
Subsequent to that however I learned that Brock and Jinder's heavily hyped clash was going to now be a non-title affair, which tends to make the whole thing pretty anti-climactic – about like having last year's two Super Bowl teams meeting in a meaningless pre-season exhibition game.
Not to be casting aspersions upon the WWE's creative department, but championship belts, such as the Universal and World, are essentially just props to build storylines around, so one would have figured they would have seen fit to add to the magnitude by having the belts on the line., as that would have served to ostensible purpose.   Putting it another way, if, back in the day, Don King had announced that he was presenting the long awaited showdown between the true ultimate warriors – Muhammad Ali and Smokin' Joe Frazier, but then added, "oh, by the way, it's a non-title match", it not would have been met with cries of derision and protest?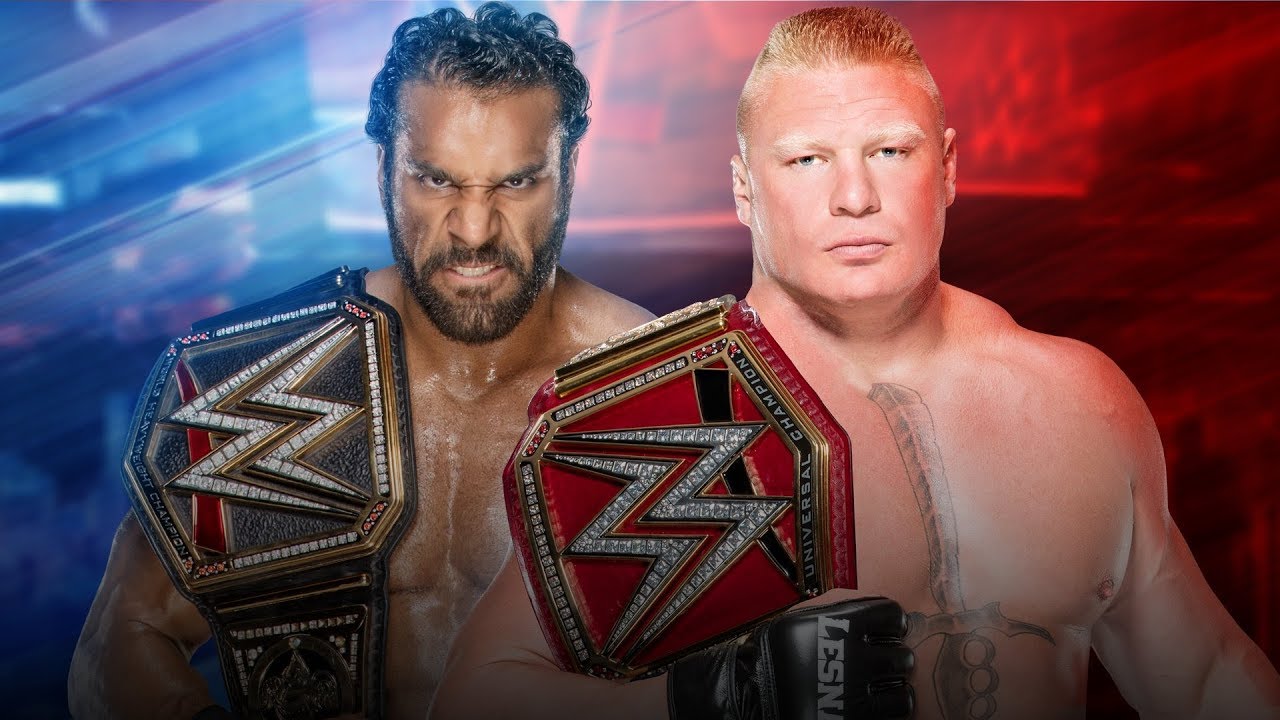 Making matters worse is the fact that there are no discernible pre-existing conflicts between the Beast and the Modern Day Maharajah.  Beyond that, since both guys have been cast as arrogant, rule-breaking heel types, there's little or no reason for the fans to get behind either one of them – which seems like pretty counter-productive booking to me.
If I was one of the poor, bedraggled marks out there who comprise the so-called WWE Universe and are expected to invest their emotions (and money) into these often ill-considered charades, I'd be pissed off, because the implication is that they (the fans) are too naive or gullible to realize that they're being given a "bill of goods", so to speak, and will swallow whatever the hell the WWE spin doctors choose to shove down their throats.
I implore the WWE brain trust to re-consider their present plan and to announce that, due to overwhelming public demand, the epic Brock/Jinder showdown will now be "a battle for the belts".  In my humble estimation, that would be "what's best for business."
Failing that, perhaps they could give us some valid reason as to why the penultimate main event at a major pay per view such as Survivor Series between the WWE's two top dogs is not a damn title match.  I'd love to hear your explanation, Vinnie or Paul, but can't say that I'm holding my breath awaiting a reply.
Anyway, on that note, I'll call this a wrap, but will look forward to catching up with you all next week for more straight from the Hart murmurs.
For more news, rumors, videos, podcasts and exclusive articles, follow us on Twitter @PWPNation.