Greetings.
The big event in the WWE this past weekend was the Tables, Ladders and Chairs (TLC) pay-per-view from Detroit, with most of the focus on the supposedly epic showdown between the reunited Shield (Roman Reigns, Dean Ambrose and Seth Rollins) and the formidable five-some of Brawn Strowman, Sheamus, Cesaro, Kane and the Miz.  Unfortunately, Roman took sick just before the match and was replaced by Olympic gold medalist and present RAW general manager – Kurt Angle.
On paper, I would have figured that the match should have been a compelling ass-kicker, as most of the participants are good workers who know how to bring out the best in each other. That unfortunately didn't prove to be the case however and, instead, it turned out to be one of least entertaining, most disappointing main events on a major show that I can recall.
As a rule, having a special stipulation such as the tables, ladders and chairs proviso generally should serve to make a match even more compelling and entertaining, with the TLC proviso serving as a means for the combatants to resolve their longstanding issues.  That, unfortunately, didn't prove to be the case with this ill-conceived fiasco, as there was little or no wrestling and about all the various participants did was smash and bash each other with blunt force objects without even attempting to pin, cop a submission, render a knockout  or whatever else.
After about twenty or more minutes of watching that low brow orgy of excess, I found myself shaking my head and wondering exactly what the point of the whole illicit endeavor even was.  Perhaps the most disappointing and egregious shortcoming of the abortive fiasco was the fact that in his supposedly triumphant return to the ring, Kurt Angle – the only Olympic wrestling gold medalist in WWE history, did no wrestling whatsoever, and, instead, did nothing but repeatedly  smash and bash his opponents (and not particularly well, I might add), with chairs and whatever other props he could find.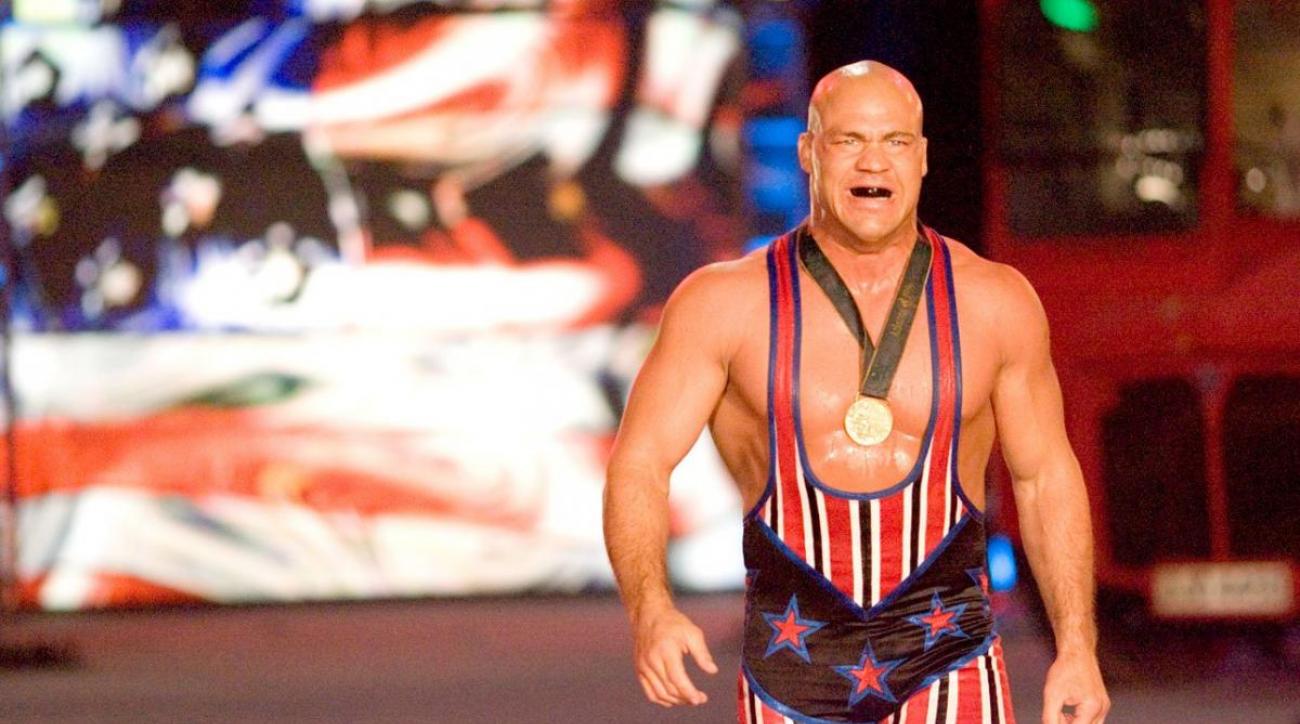 Not that I should be having to point it out to the powers that be in the WWE, but it requires absolutely no wrestling or athletic acumen to be assaulting somebody with weapons and whatnot  – in fact, that's usually what criminals and low-life street thugs, and not Olympic wrestling champions, do on a regular basis.
To my way of thinking, having an All-American wrestling icon, like Angle engage in such a sleazy fiasco as this, is about the equivalent of having a legendary race horse, like Secretariat or Seattle Slew, pull a f**k**g garbage wagon – a demeaning insult to who he is and what he represents.
One of the most important elements of being successful in the wrestling business or, for that matter, most other walks of life, is to maximize the potential of whatever you have at your disposal.  That includes, in this case, maximizing the potential of the wrestlers, taking advantage of their athletic ability, charisma and whatever else – in such a way that it serves to compel the fans and capture their imaginations.
That sure as hell wasn't the case on this occasion and those responsible for having perpetrated an abomination such as this should be ashamed of themselves for wasting the respective talents of the wrestlers, not giving the fans anywhere near their money's worth and, once again, inviting derision and ridicule upon our sport. Raise the bar, my friends and stop bullshitting yourselves and everybody else that this is the best you can do.
On that note, I'll wind up this diatribe, but will look forward to catching up with you all next time.
Happy Halloween!
For more news, rumors, videos, podcasts and exclusive articles, follow us on Twitter @PWPNation.