Greetings.
This week I'll render my candid perspectives on this past weekend's big WWE Hell in a Cell pay-per-view, starting from the top.
Kevin Owens vs. Shane McMahon
Falls Count Anywhere Hell in a Cell Match
This was the big ticket match on the card and it more than delivered, with both guys rising to the occasion in a riveting and memorable classic. I've been around the wrestling scene for decades and have seen a lot of pretty wild stuff, but even I was holding my breath when Kevin and Shane were engaged in their exceedingly dangerous brawl on the top of that cage.
After that perilous preamble, Kevin began his precarious descent down the side of the cage but Shane caught up to him and knocked him off the side, where Owens took an awesome bump, crashing through the announcer's table.  Subsequent to that, Shane O'Mac ascended to the top of the cage again and launched himself toward Owens as he lay prone on the table.
In an unexpected swerve though, Sami Zayn pulled Kevin out of the way at the last second – which resulted in Shane crashing through the table from twenty feet up, in one of the most incredible bumps I've ever seen.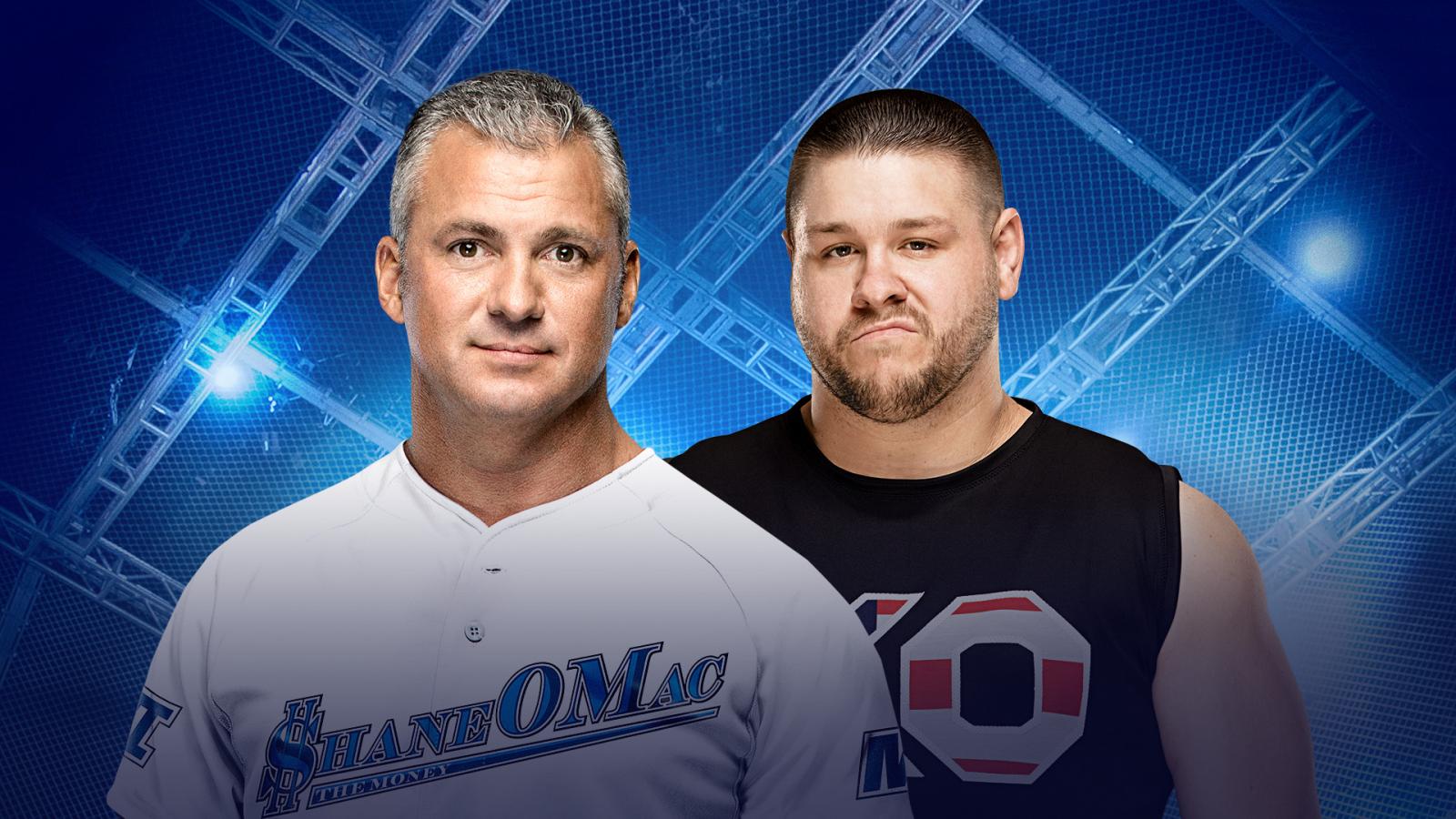 Initially, like many of you, I was concerned about Shane's health and welfare afterward, but have since been told that he's okay.  I hope that's the case and give both him and Kevin props for an epic ass-kicker of a performance.
Not to be raining on anybody's parade, but even though Shane and Kevin rendered an awe inspiring, one for the ages high spot fest, the outcome, which saw Shane being carried out by paramedics on a stretcher, should have delivered a better result.
To my way of thinking, with Sami Zayn and Kevin having perpetrated such a heinous transgression, it would have made sense to have had Triple H and/or Vince come out to avenge what had happened to Shane, thereby setting  the stage for some kind of exceedingly hot return match.
That didn't happen though and there was no discernible angle shot at all – which tended to make the whole endeavor somewhat fruitless and caused me to wonder why the hell would they go to the inordinate lengths that they did, seemingly for nothing?  We shall see what happens, I suppose.
Jinder Mahal (c) vs. Shinsuke Nakamura
WWE Championship Match
While this match tended to pale in comparison to Shane and Kevin, I still thought it was pretty decent – with both combatants working hard and giving it their best. Beyond all else, I was pleased that it was pretty straight forward and relatively devoid of the usual illicit bullshit, such as the Singh brothers interfering and all of that.
Ultimately, Mahal went over, which should set the stage for a re-match with former champion, Randy Orton, on the upcoming tour of India – which should likely draw some mega gates.
Natalya (c) vs. Charlotte Flair
WWE SmackDown LIVE Women's Championship Match
Like many of you, I was surprised to see Natalya retain her belt, as it had widely speculated that she'd be dropping it to Charlotte. Charlotte, in fact, did go over, but since it was a disqualification the belt didn't change hands.  I'm not a huge fan of invoking technicalities, like DQ's, as a pretext for keeping belts very often, but in this case it probably wasn't a bad idea, as it would have been premature for Nattie – who has only had the strap for a short while, to be dropping it, while Charlotte, on the other hand, is just in the process of being turned face and it will probably serve to get her over more if she has to go through some trials and tribulations before she returns to the promised land.
In any case, I commend both girls for a great performance.
New Day (c) vs. The Usos
Hell in a Cell for the WWE SmackDown LIVE Tag Team Championships
This match, all things considered, was probably the biggest disappointment on the whole card, as there was little or no wrestling in the match and no method to the madness, either – just a senseless orgy of both teams bludgeoning and battering each other with kendo sticks, chairs, chains, handcuffs and even a damn trombone, none of which was very entertaining or served any perceptible purpose.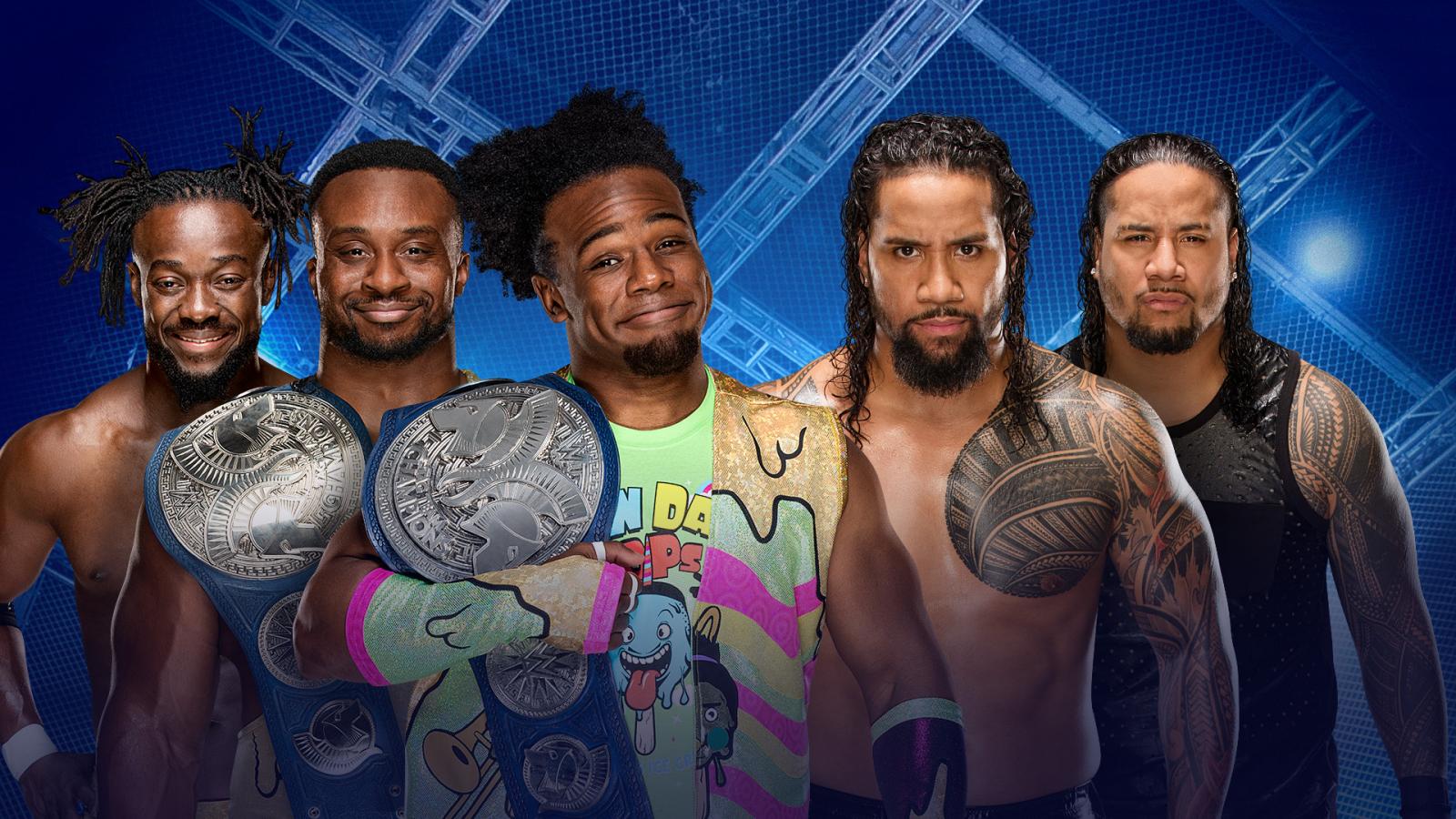 I shouldn't be having to point this out to those orchestrating the schematics in WWE head office, but it takes virtually no athletic or artistic acumen for guys to be smashing and bashing each other with blunt force objects, like these guys did.  In fact, damn near any marginally talented misfit can engage in illicit bullshit like that – which is standard fare on many of the illicit indy shows I've seen.
As for the outcome, the Usos ended up winning the match and regaining the tag belts, but about all it served to accomplish was to only further diminish the once proud image of the tag team titles in the WWE, which seems somewhat counterproductive.
I might add that with the loss, it's been speculated that the New Day might be broken up – with Big E perhaps becoming a contender for some of the singles belts, such as the World or Universal title. While I enjoyed their work as a tag team, I don't think that's necessarily a bad idea, as Big E has the talent and charisma to be a pretty hot baby face contender, particularly against imposing big heels such as Lesnar, Strowman, Corbin and Big Cass, among others.  As for Kofi, I think he could be a viable opponent for heels like the Miz, Roode, Ziggler or, perhaps, Neville.
A.J. Styles (c) vs. Baron Corbin vs. Tye Dillinger
WWE United States Championship Match
This match was originally billed as a title showdown between Styles and Corbin, but just before the match, SmackDown general manager, Daniel Bryan, inexplicably announced that it would instead be a triple threat match with Dillinger also included – which was hard to justify or make sense of.
The subsequent triple threat match wasn't bad, but nothing great, either.  In the end, Corbin, who not that long ago seemed like he might be on his way down the ladder, or perhaps out of the WWE altogether, pulled off a major upset to capture the United States title.   At this stage, it's uncertain whether Baron's going to keep the belt or if A. J. is slated to regain it in short order, but if nothing else, it served to re-establish Corbin as a top heel again, which is good.
Bobby Roode vs. Dolph Ziggler
This match, all things considered, may have been the best match on the card – a well paced, well executed old school classic that had the crowd engaged from start to finish.  In the end, Roode emerged victorious, which wasn't surprising, given that he's just been added to the main roster and probably needed the win more than Dolph.   Even though he did the job, the loss should do nothing but re-affirm Dolph's status as a one of the WWE's most talented, underrated performers.
On that affirmative note, I'll call this a wrap, but shall look forward to catching up with you all next week for more candid commentary on what's hot and what's not in the WWE.
For more news, rumors, videos, podcasts and exclusive articles, follow us on Twitter @PWPNation.