Greetings.  Back in the 80's, just after I had defeated the legendary Dynamite Kid to win the coveted world mid-heavyweight championship, I was contracted by NWA promoter Steve Rickard to defend the title in New Zealand, Australia, Singapore and South East Asia.  In addition to having me defend my world mid-heavyweight championship on the tour, Rickard had also signed newly crowned NWA world heavyweight champion – Nature Boy Ric Flair, who would be defending his title against former champion, the legendary King Harley Race, on the tour, which was to be billed as the "world series of wrestling".  The trip proved to be one of the most memorable and fulfilling experiences of my career.
Aside from having the opportunity to work every night with some of the best junior heavyweights in the world at the time, it was a highlight for me to have the opportunity to work on the same card and to interact with two of the greatest champions of that, or any other era, Ric Flair and Harley Race – both of whom were in their primes at that time.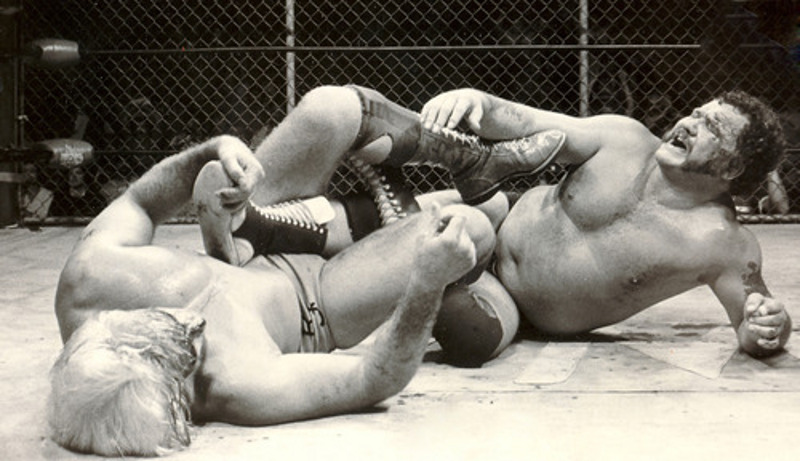 I can still vividly recall how, on each and every night of the tour, they would engage in these classic old school style matches – many of which went an hour, with the capacity crowds captivated by the intensity and the back and forth drama. If my memory serves me correctly, Ric and Harley switched the NWA title a few times on the tour – which was a really big deal, back then and added even more to the magnitude of their legendary rivalry.
Aside from having the opportunity to watch two of wrestling's all-time great champions battle tooth and nail every night, I also had the chance, to hang out with and to share perspectives with Ric and Harley and that tour and get schooled on the various elements of ring psychology, crowd interaction and whatnot,which was an invaluable learning experience and something I was able to later impart to young guys I trained later on, including my brother Owen, my brother-in-law Davey Boy, my friend Brian Pillman and others, such as Jushin Liger, Chris Benoit, Hiroshi Hase, Shinya Hashimoto and my nephew Harry Smith – all of whom would put it to good use.
I might note that both Ric and Harley also had a profound impact, themselves, on a whole generation of up and coming young superstars, including guys like Shawn Michaels, Arn Anderson, Barry Windham, Tully Blanchard, Steve Austin, Randy Orton and the Undertaker – all of whom have have acknowledged the profound influence Ric and Harley had on their careers.  I should also note that Ric's daughter Charlotte – who, in my humble opinion, just might be the best woman wrestler on the scene today, is also testimony to Ric's greatness.
As many of you are no doubt aware, both Ric and Harley have been dealing with some serious health issues as of late.  There's an old say though, that "when the going gets tough, the tough get going" and there are very few who are tougher or more resilient that the Nature Boy and the King .    I'm pleased to report that, as we got to print, both of my old running mates appear to be on the road to recovery, although by no means, are either one of them out of the woods, just yet.
I'd like to take this opportunity to, on behalf of the wrestling community, to extend my very best wishes to both of them and to also thank them both for the monumental contributions they have made to the wrestling landscape over the past few decades.   May the force be with you, Naitch and King Harley!
On that note, I'll call it a wrap for now, but shall look forward to catching up with you all next week for more ruminations on the wrestling scene. Until then, stay cool and keep the faith!
For more news, rumors, videos, podcasts and exclusive articles, follow us on Twitter @PWPNation.