Greetings.
I had as my guest this past week on my Hart Beat Radio podcast, legendary former NWA star from the 80's, the Russian Nightmare, Nikita Koloff.  Nikita, (real name Scott Simpson), originally began his career back in the 80's in his native Minnesota, after having been trained by my old friend, Eddie Sharkey.  Sharkey, I might add, was also responsible for having trained the likes of the Ravishing Rick Rude, the Road Warriors, Bob Backlund, Barry Darsow (Repo Man) and Lethal Larry Cameron – a most impressive contingent.
Nikita's big break occurred in 1986, when he ventured to the Carolinas to work for the Crockett promotion and the booker, Dusty Rhodes, paired him up with another former WWWF world champion, Ivan Koloff, and renamed him Nikita Koloff.   Nikita subsequently would go on to become a major singles star, having memorable feuds with the likes of Ric Flair, Tully Blanchard, Ricky Steamboat and Magnum TA, before his career was unfortunately cut short in the early 90's by a serious neck injury incurred at the hands of Leon White (Vader).
Since his retirement from wrestling, Nikita became an ordained minister and has written several critically acclaimed self-help books.  While Nikita was guesting on Hart Beat Radio, I was delighted that two of his old cronies from his glory days in the NWA – Magnum TA (Terry Allen) and J. J. Dillon, the irrepressible manager of the legendary Four Horsemen, saw fit to call in.  Magnum, J. J. and Nikita engaged in a fascinating trip down memory lane, reminiscing about their celebrated run in Carolina – which was one of the hottest rivalries in the history of the business.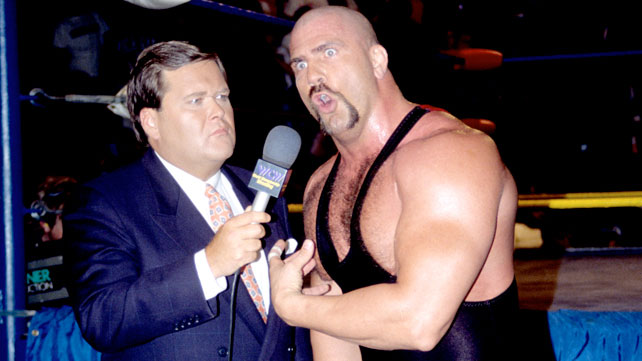 Nikita and friends also paid a touching tribute to their old cohort – the late, great American Dream, Dusty Rhodes, which was nice to see.   All too often, egocentricity being what it is, a lot of so-called superstars seem to forget people like Dusty, Eddie Sharkey, the Funks, Paul Boesch, Eddie Graham and Stu Hart, to name just a few, who were the ones who paved the way for their success, so it was nice to hear Nikita, Magnum and J. J., giving credit where it was due.
Not to be casting aspersions upon today's crop of wrestlers, but there just doesn't seem to be anywhere near as many comparably colorful and compelling characters like Dusty, J. J., Magnum and Nikita on the scene these days.  In any case, I'd like to thank Nikita and friends for sharing their memories and perspectives on the business with me and my listeners – it was an honor and a pleasure.
Not to digress, but the last time I checked, neither Magnum, Dillon or either of the Koloffs (Nikita or Ivan) – all of whom were not only mega stars in the ring, but were also highly respected behind the scenes by their peers, have been deemed worthy of induction into the WWE Hall of Fame, which seems like an egregious oversight to me.  I realize that most of their careers were spent outside of the WWE, but since the WWE has seen fit in the past to induct other non-WWE types, such as Mike and Chris von Erich, Jimmy Garvin and Michael Hayes, Magnum and company certainly should merit serious consideration.  I'd like to throw down the gauntlet, here and now, to Vinnie Mac, Stephanie, Hunter or whomever the hell else, to give them serious consideration as candidates for the WWE Hall of Fame, class of 2018.
On that note, I'll call this a wrap for now, but will look forward to catching up with you next week for my Summer Scam picks and pans. Until then…
For more news, rumors, videos, podcasts and exclusive articles, follow us on Twitter @PWPNation.