Hart Murmurs # 71
by Bruce Hart
This past week I took in the annual Lou Thesz/George Tragos Awards Banquet in Iowa, which was hosted by 1972 Olympic gold medallist, the legendary Dan Gable, who's considered by many to have been the greatest amateur wrestler of all time.
The master of ceremonies for the gala event was iconic WWE commentator Jim Ross, who did a terrific job, including a moving tribute to his late wife Jan, who tragically died in a car wreck earlier this year.
Among the highlights were: the presentation of the Lou Thesz Inspiration Award to Magnum T A (Terry Allen); the Frank Gotch Meritorious Service Award to Stan Hansen; the Man of the Year Award to former WWF superstar Paul "Mr. Wonderful" Orndorff; the James Melby Journalism Award (posthumously) to Scottie Williams; and the Tragos Award to former UFC star Mick van Arsdale. Also honored was former WCW and WWF star, the American Dream Dusty Rhodes.
In addition to the awards banquet was a twenty five match day long tournament featuring the up and coming stars from Troy Peterson's Impact Pro Wrestling promotion, which, as Journey used to sing, went "on and on and on and on . . ."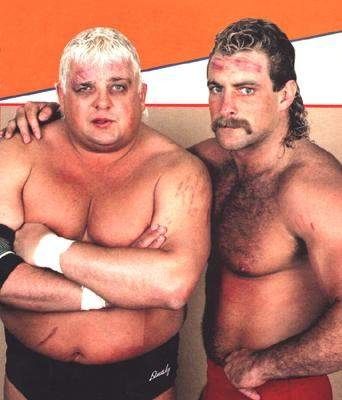 Without doubt, the highlight of the event for me was Magnum T A's emotion charged acceptance speech.
For those of you unfamiliar with Magnum T A, he was one of the most dynamic up and coming superstars for WCW wrestling back in the 80's, when his career was tragically cut short by a car accident which left him a quadriplegic. Since then, he's been an eloquent spokesperson and role model for those with disabilities. Magnum's acceptance speech was inspiring and compelling and had many in the audience moved to tears.
Congratulations on a terrific job, my friend and keep up the great work!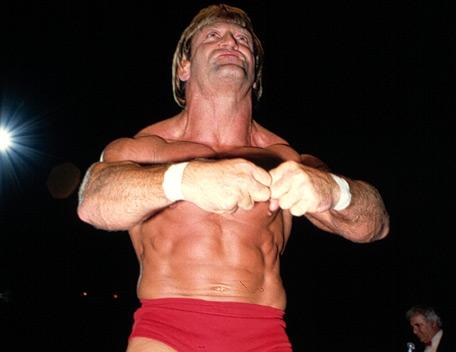 Another truly uplifting and moving speech was the one by my old friend Paul Orndorff. Paul, who has been battling cancer and other serious health issues – which made it difficult for him to speak, took the stage to accept the award with assistance from his old friend, former Killer Bee – Brian Blair. Paul's courage and fortitude in overcoming adversity has been remarkable and a testimony to his strength and fortitude. I commend him and wish him well.
Jim Ross accepted the late Dusty Rhodes' award on his behalf and rendered a very poignant and respectful tribute to the American Dream – which elicited a rousing ovation from the audience. I'm not sure why, but Dusty's sons – Cody and Dustin ("Gold Dust") were not in attendance or even mentioned during the ceremony, which certainly would have added a lot to his award.
Beyond the nice tributes to those guys, there was also an impressive list of iconic wrestling royalty types on hand, including: Barbara Goodish, Linda Vachon and Charlie Thesz (the wives of the legendary Bruiser Brody, Mad Dog Vachon and Lou Thesz; Jumping Jim Brunzell, B. Brian Blair, Four Horsemen manager J. J. Dillon, WWE agent Gerald Brisco (and his son, Wes), Larry "the Axe"Hennig (father of Curt and grandfather of Joe), AWA legend Baron von Raschke', former WWE star Shelton Benjamin, as well as the great Dan Gable, himself, who put in a brief, cameo appearance.
I'm pleased to relate that, through the persistence of my old friend, Bob Johnson – who went to great lengths to line them up, I was able to conduct a number of illuminating interviews with many of those legends, which will be heard on upcoming editions of my syndicated Hart Beat Radio podcast.
I urge you to check them out, as some of the comments and insights on the wrestling scene – past and present are fascinating and illuminating.
In closing, even though the Thesz/Tragos Awards ceremony was a first class event, with a star-studded cast of legends and superstars from wrestling's glorious past and present, for whatever reason, the attendance was down considerably from last year, so much so that Jim Ross, during his opening comments, reproached wrestling fans for the poor turnout and beckoned those in attendance to each bring a friend with them next time, otherwise the event might go the way of the WCW or the XFL and cease to exist, which would be a shame, as it's a marvelous tribute to wrestling's glorious history and a reminder (to Vince, Hunter, Stephanie and others) of what pro wrestling once was and still should be.
On that somewhat disheartening note, I'll call this a wrap, but will look forward to catching up with you all next time for more news and views on the wrestling scene. Take care and stay safe!