Greetings.  This past week we bid farewell to my brother Smith – who passed away on July 2, with a celebration of his life here in Calgary, which was attended by friends and family.  There were a number of moving and poignant tributes paid to Smith, including speeches by my brothers Ross and Bret, my sisters Ellie and Alison and  touching eulogies by my nephew Harry (David Hart Smith) and nieces Tobi and Tania.
Smitty was a kind, compassionate fun loving individual who truly loved life and endeavored to live it to the fullest.  He also had one of the most innovative and creative minds for the wrestling business that I've ever seen and it's a shame he never had a chance to hook up with Vince McMahon, as I have no doubt that he would have been a great fit for the WWE.  In any case, I'd like to take this opportunity to thank all those who came out to show their love and support for Smith, as well as all the sentiments expressed by wrestling fans from around the world – it was extremely gratifying and nice to see the family coming together out of love and respect for him. God bless and rest in peace, bro.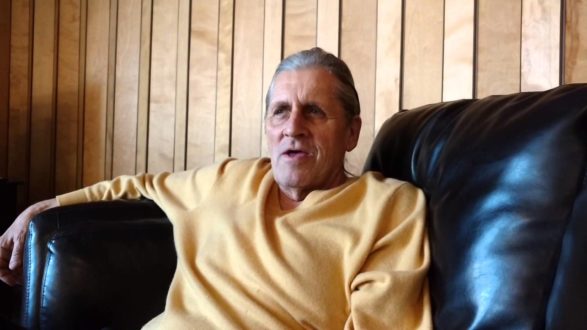 Sadly, the wrestling fraternity also lost two other family members this past week, with the passing of Diane von Hoffman and Buddy Wolfe.  Diane was a guest on my Hart Beat Radio podcast and a gracious, classy ambassador for women's wrestling.  Buddy, who was married to women's wrestling superstar, the late great, Vivian Vachon (sister of Mad Dog and Paul the Butcher Vachon), was a multi times tag team champion in Verne Gagne's iconic AWA wrestling promotion back in the day, and one of the genuine nice guys in the business.  I had the pleasure of meeting him at one of the Cauliflower Alley reunions in Las Vegas a few years back and was greatly impressed with his passion and respect for the sport.  My condolences to the families of Diane and Buddy.
Going from the sublime to the ridiculous, like many of you, I've been watching, with intrigue and sardonic amusement, the hype and hoopla surrounding the upcoming showdown between boxer Floyd "Money" Mayweather and UFC champ, Connor McGregor.   In the past, when they were hyping some big boxing showdown, such as perhaps Ali and Frazier, Tyson and Holyfield or Sugar Ray Leonard and Marvin Hagler, Don King and company only needed one press conference to ignite the proverbial fuse, but for some reason Dana White and whomever else have been doing these contrived, F bomb laden charades in a different city every day, which has been comical overkill.
Some of the so-called sports purists out there tend to sneer derisively at pro wrestling for being contrived and illegitimate sports entertainment, while, on the other hand, they bend over backwards to treat illicit charades like Mayweather and McGregor as if it's an epic encounter for the ages.   Forgive my cynicism, but from my enlightened, or should I say, jaundiced, perspective, I find it hard to take Floyd and Connor's over hyped showdown any more seriously than Floyd's fiasco with Big Show, a few years ago at Wrestlemania.
All things considered, Dana White and company should be consulting with the master of disaster, himself, Vince McMahon, about how to unload this thing.  Given that the match is supposed to be a boxing only match, with no mixed martial arts or grappling allowed, which almost guarantees Mayweather will go over, I'm not sure why the hell anybody would want to watch it in the first place.   About all I can hope is that they find a way to unload it better than that ill-conceived boxer vs. wrestler  match back in the day between Muhammad Ali and Japanese wrestler Antonio Inoki – which was an unadulterated abortion which tarnished the image of both pro boxing and pro wrestling.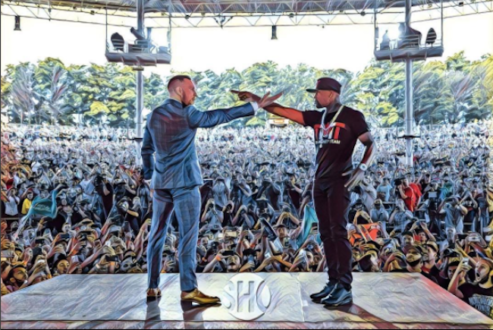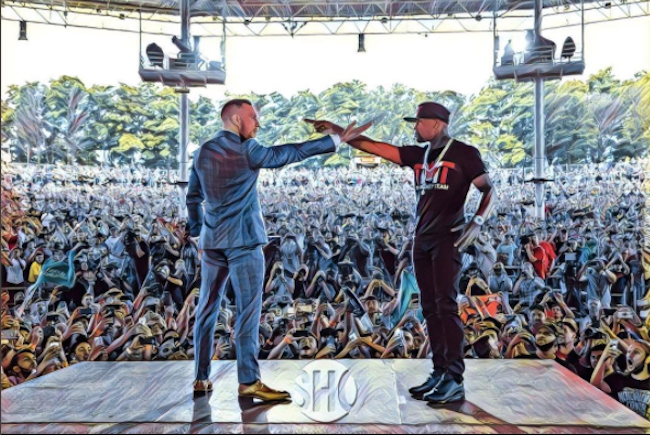 In winding up here, I'll be heading to Waterloo, Iowa next weekend with my old pal Bob Johnson to participate in the annual Lou Thesz/George Tragos Hall of Fame induction ceremony, which is hosted by Olympic gold medallist – the legendary Dan Gable.  In the past, they have honored my father, my brother Bret and iconic former amateur wrestlers who transcended to stardom as professionals, including Luther Lindsey, George Gordienko, Strangler Lewis, Frank Gotch, Dick Hutton, Billy Robinson and Jack Brisco.
This year, the honorees will include Magnum TA, Stan Hansen, Jim Ross and the late, great Dusty Rhodes.  Also making guest appearances, I'm told, will be the legendary Baron von Raschke, Jerry Brisco, Sabu and the legendary Dan Gable, among others.  It promises to be a great weekend.  I'd like to thank event organizers Kyle Klingman and Troy Peterson for their tireless efforts to preserve and perpetuate old school wrestling's proud and glorious history.   I look forward to seeing some of you down there.
In the meantime and in between time, as my old buddy Ed Whalen used to say, I'll call it a wrap for this week, but will look forward to catching up with you all next time.
For more news, rumors, videos, podcasts and exclusive articles, follow us on Twitter @PWPNation.