Greetings. This weekend the WWE's big ticket event is the Money in the Bank VIII pay per view, which takes place this Sunday in St. Louis. As we go to press, the card looks something like this:
————————————————————————————————————————WWE World Championship
Jinder Mahal (Champion) vs. Randy Orton
————————————————————————————————————————Money in the Bank Ladder Match
(Winner Gets to Challenge For World Title)
Dolph Ziggler, Baron Corbin, Kevin Owens, AJ Styles, Sami Zayn and Shinsuke Nakamura
————————————————————————————————————————Women's Money in the Bank Ladder Match
Natalya, Becky Lynch, Carmella, Tamina Snuka and Charlotte Flair
————————————————————————————————————————SmackDown Tag Team Title Match
The USO's (Champions) vs. the New Day (Big E and Kofi)
————————————————————————————————————————SmackDown Women's Title Match
Naomi (Champion) vs. Lana
————————————————————————————————————————Jabroney Tag Team Match
Mojo Rawley & Zack Ryder vs. Primo and Epico Colon
# 1 – Rawley and Ryder vs. the Colons
We'll review the card from the bottom to the top. For whatever it's worth, the opening tag match between the so-called Hype Brothers (whatever the hell that means) Rawley and Ryder and the Colons should be short and devoid of contingencies and whatnot. Although neither team is likely to steal the show as they say, this should be an okay warm-up match – which is the sole purpose of even having it on the card. Not that anybody really cares, including the participants, I'd anticipate the Colons to go over here.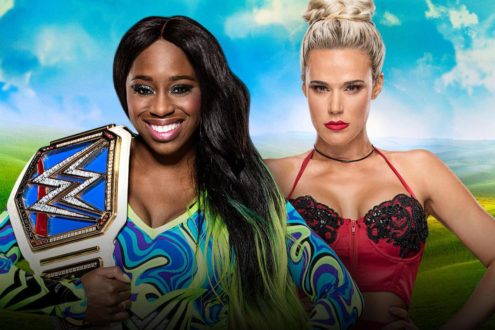 # 2 – SmackDown Women's Title
Naomi vs. Lana
As with the opening match, I'm not really expecting this to be a five star, steal the show type encounter, especially since both girls are pretty inexperienced – especially Lana and neither one is really capable of carrying the other. It's kind of funny that Lana – who, to the best of my knowledge, has never won a match in her life, is being given a shot at the women's title in a pay per view, while, on the other hand, all these other supposedly top contenders, such as Charlotte, Becky and Natalya are having to earn a shot at the title by winning the supposedly gruelling Money in the Bank showdown later on the card. It doesn't make a whole hell of a lot of sense to me, although quite a few of the things the enlightened geniuses in the WWE head office do, doesn't make a whole hell of a lot of sense. In any case, I'm anticipating that Naomi will win here, if only because Lana's inexperience. I'd expect this one to be pretty short and probably so over choreographed and rehearsed that it will probably be pretty sterile.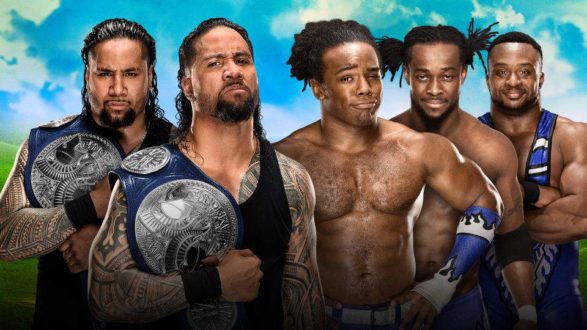 # 3 – SmackDown Tag Team Title Match
The USO's (Champions) vs. The New Day (Kofi and Big E)
For assorted reasons that I've alluded to already in the past, the SmackDown tag straps have become increasingly meaningless and don't really have a hell of a lot of cachet any more. As such, this match doesn't really entice me much and will probably be more about the pre-match promenade to the ring and a lot of cartoonish contrivances, including trombone playing, booty-O's, unicorn horns and whatnot. Given that the USO's don't really seem to have set the world or the WWE universe on fire thus far, as tag champions, I wouldn't be surprised to see Kofi and Big E regain the belts in this one – hopefully with not too much farcical slapstick fare, which would only further diminish the already diminished image of the once proud tag team titles.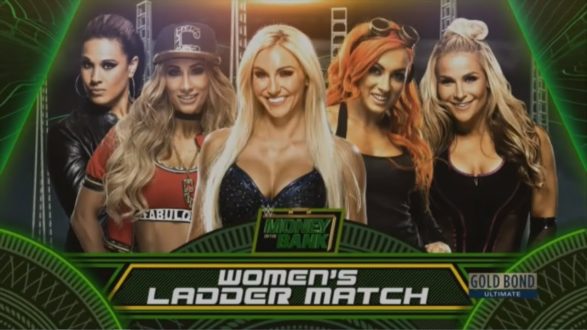 #4 – Women's Money in the Bank Ladder Match
(Winner Gets a Match with winner of Lana and Naomi)
Natalya, Carmella, Becky Lynch, Charlotte and Tamina
I don't really have great vibes about this match, as most of the girls, from what I've seen, don't have the same propensity for doing extremism as the guys do and, as such, are probably likely to get injured trying to do things they're not capable of. I'd be pretty surprised if Charlotte or Becky didn't go over here – hopefully with a minimum of over the top and dangerous pseudo holy shit type spots.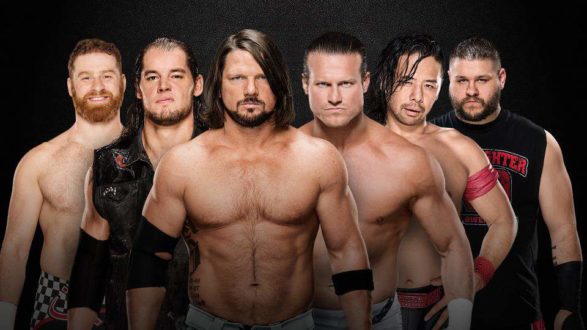 #5 – Men's Money in the Bank Ladder Match
(Winner Gets a WWE World Title Match Whenever They Wish)
Dolph Ziggler, Kevin Owens, Sami Zayn, Shinsuke Nakamura
A J Styles and Baron Corbin
This match has the potential to be a match of the year candidate, as all six of these guys are terrific workers, with different styles that should bring out the best in each other. I have no idea whom the WWE brass is intending to put over here, but since the winner will be fighting the winner of Orton and Mahal, I wouldn't mind seeing a dark horse contender, such as Nakamura or Corbin go over, in what should be an awesome, ass-kicker of a match.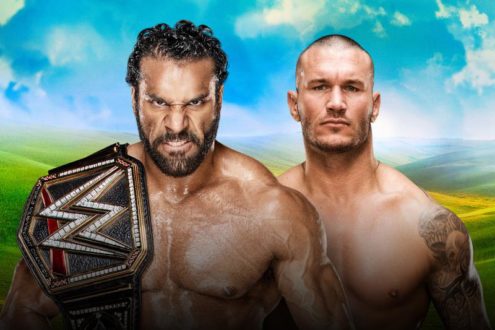 WWE World Championship Match
Jinder Mahal (Champion) vs. Randy Orton
Even though Mahal only just won the title a few short weeks ago, the prevailing scuttlebutt is that he'll be dropping the strap back to the Viper, which doesn't make much sense, given that the WWE is touring India in August and it would have made sense for Mahal to still be the champion at that time. I, nonetheless, expect a decent match here, as Orton's one of those type of guys who can have a great match with damn near anyone, while Mahal has improved by leaps and bounds in recent months.
On that note, I'll call this a wrap but would like to thank all the fans who have been sending their well wishes to my ailing brother Smith here in Calgary , it's much appreciated. Hang in there, Smitty and God bless.