Greetings.
Back in the day when the WWE staged a pay per view it usually had most of the biggest stars and was the culmination of the hottest storylines – which, of course, served to entice the fans and capture their imaginations.   Not to be raining on anybody's parade, but I'm hard pressed to find much on next weekend's Backlash pay per view that's all that enticing or really captures my imagination.
As we go to print, the following matches have been announced: WWE Title Match – Orton and Mahal; Tag Title Match Usos and Breezango; U.S. Title Match – Owens and Styles; women's triple tag; and Ziggler vs. Nakamura.  Not to be cynical, but I've probably seen more star studded lineups on most editions of RAW or SmackDown – which begs the question, why is this even being billed as a pay per view?
In any case, I'll endeavor to give you my takes on what might transpire next weekend, for whatever the hell it's worth.
WWE World Title Match – Randy Orton vs. Jinder Mahal; Even though he just re-captured the WWE world title, the Viper seems to be mired in a slump, as of late.  His recent abortive program with Bray Wyatt – which had him become a member of the Wyatt Family, followed by their subsequent contrived falling out and the House of Horrors fiasco at Payback was an unmitigated disaster – and didn't do anything to enhance his image or merketability,.  It did, however, nonetheless serve as the  impetus for this week's title clash – as Mahal and his East Indian cohorts interfered in that abortion – thereby setting the stage for next weekend's supposedly penultimate showdown.
I like Jinder and Randy – both of whom are stand up guys who take pride in their craft, but since they're both heels, with no prevailing issues between them and their styles don't really seem to bring out the best in each other, there's not really a whole hell of a lot to get excited about.  Beyond that, because, prior to his recent push, Jinder had been mired in the undercard for so long that most fans have trouble perceiving  him to be anything more than an undercard retread .  That's certainly not his fault, but that of the WWE  – who, at the very least, should have had him squash (go over) some viable contenders before they thrust him into contending for the WWE world title on a major pay per view. – correct me if I'm off base, here.
I'm told that Mahal's being pushed because the WWE soon plans to tour India, so giving him a push, because he's the only East Indian wrestler on the roster makes sense – even though he's, somewhat counter productively, still perceived to be a heel.  If such is the case, it would have made sense to, as my dad used to say, get your ducks in a row beforehand – which certainly hasn't been the case here.  All things considered, this has the makings of a not bad match, because both are decent worker who should be able to bring out the best in each other.   I have justifiable apprehensions however, that the same writers who orchestrated the aberration with Randy and Bray might figure they're on a roll and will render some equally far-fetched fiasco at Backlash.
I hope that won't prove to be the case, as they shouldn't be compromising the propriety of the iconic world title with too much gimmickry and horse shit.  That said,  I'd be pretty surprised if the Viper didn't retain his title this one, – hopefully with  a relatively straight finish and devoid of sheep heads or  turban clad midgets, masquerading as a genies, putting a spell on the Viper or anything along those lines.
United States Title Match – Kevin Owens vs. A. J. Styles – I'm also a big fan of both Kevin and A. J. – both of whom are consummate old school throwbacks who are take pride in their craft and are committed, unlike some of the other mail it in mercenaries in the WWE, to giving the fans their money's worth, night in and night out.
Having said that, as was the case with the Mahal and Orton world title tilt, there's been no plausible build-up for this match that I know of and, since both of these guys are heels, there's no perceptible reason for the fans to be inclined to invest their emotions into it – which, back in the day used to be one of the main premises of the whole endeavor.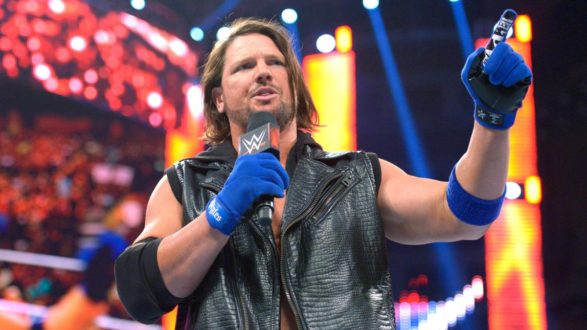 I have no idea as to who might be going over here – as Kevin seems to be the WWE's jobber of choice lately (even though he did just regain the U. S. title, from the departed Chris Jericho).   A. J., on the other hand, also seems to have been on the downhill slide lately as well – mostly due to poor storylines.  Even so, this should still be a decent match.  I'm anticipating that Kevin will be keeping his belt for the time being – if only because he's only had it for a few weeks and it probably wouldn't serve any great purpose for him to lose it again, so soon, but you never know.
Not to digress, but if I were orchestrating the schematics in the crass menagerie that is the WWE, I'd be seriously considering turning A. J. into a face, as he seems to have run his course as a main level heel.  Not only that, but he's been a great baby face in the past, and, as such, knows that side of things implicitly, including having an innate ability to relate to the fans and to make them relate to him – something most of the great faces seem to implicitly understand.
If it was orchestrated the right way, I could see A. J. doing a face turn and getting over in much the same manner as guys like Daniel Bryan and C. M. Punk – both of whom were also spinning their wheels as half-assed heels before they were transformed into face of the franchise type baby faces.  Turning A. J. face, however, might be too logical or make too much sense for the movers and shakers in Titan Tower, so I'm not expecting that to be happening anytime soon.
SmackDown Tag Team Title Match – Jimmy and Jey Uso (Champions) vs. Tyler Breeze and Fandango (aka Breezango).  As was the case for the other title matches on the card, there are no prevailing reasons that I know of to justify having these two not particularly compelling teams to be working with each other – much less colliding in a title match on a major pay per view.
Just like Mahal, Breeze and Fandango have been essentially mired in the preliminary matches for as far back as I can remember and from what I've seen, they haven't done anything to warrant being suddenly elevated to top contender status.  Beyond that, once again, it's a heel vs. heel match up, so, there's no real reason for the fans to want to cheer for either of these two mismatched tandems.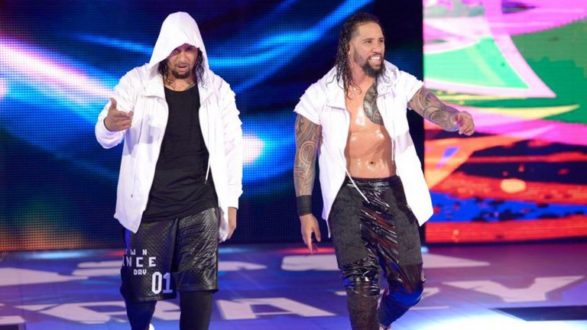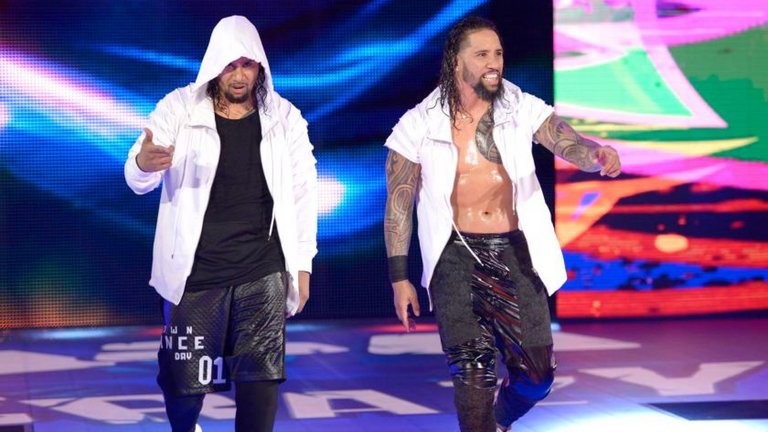 Not to digress, but I'd be interested to hear why the hell the creative geniuses in the WWE's war room have seen fit to have damn near every match on this card pitting heels against heels.   Do they think they've re-invented the wheel or have come up with some brilliant, heretofore never been done before, cutting edge new concept that nobody's ever conceived of before?  Given their megalomaniacal egocentricity, they probably do.
Anyway, not that anybody, other than perhaps – wives, girl (or, perhaps, boy) friends and immediate family members, gives a rat's ass about the outcome of this match, I'd be pretty surprised if the USO's didn't go over in this one.
Women's Triple Tag Team Match – Charlotte Flair, Becky Lynch and Naomi vs. Carmella, Natalya and Tamina Snuka.  Not to be cynical, but I'm no more excited about this dog's breakfast of a match than I am about the aforementioned USO/Breezango cluster f**k.  As far as I'm concerned, it would have made a lot more sense and probably would have served a better purpose to simply have had Charlotte go against one of the other girls in a singles match rather than compromising her propriety with a potential dud, like this.
In any case, forgive my cynicism.  All things considered, It's a good bet that Charlotte and company will go over here, although I see Charlotte double cross Becky, or perhaps vice versa – which might lead to some kind of potentially viable program between those two,  whom I rate among the best female workers in the business right now.
Dolph Ziggler vs. Shinsuke Nakamura:  Even though this isn't a title match, nor has there been much build up or any particularly compelling storylines leading up to it, this bout is, nonetheless, pretty intriguing, as both guys are terrific workers, with contrasting styles and neither of them has been over-exposed or been made a fool of, as of late, either.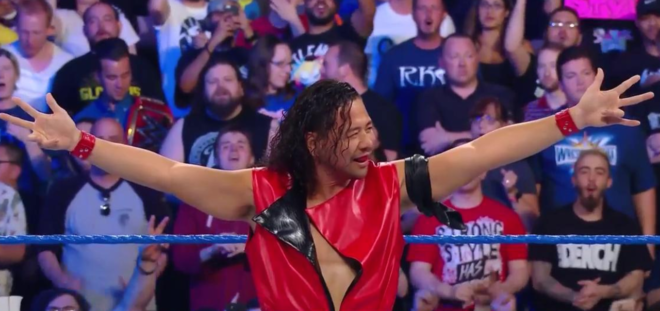 At the very least, I'm pleased to see that we have, in this one . . . (drum roll, please). . . a discernible heel (Ziggler) and an actual baby face (Nakamura) squaring off with each other.  Holy shit,(as the mindless smart mark morons are apt to chant), isn't that a radical, new concept?  Geez, I wish to hell I'd thought of that.   If nothing else, that should make this match more compelling than some of the other convoluted crap on the card.
As for the ostensible outcome, I'm anticipating that Nakamura – who's just cracked the main roster and probably needs the win more than Dolph does, will go over.  Regardless of who gets their hand raised, this has the potential to be exceptional and – dare I say, might even be worth the price of admission, alone.
On that disingenuous note, I'll call this a wrap but will look forward to catching up with you all next week for my picks and pans from Backlash (which I sincerely hope I'm not having to refer to as Backwash), and whatever else is newsworthy on the wrestling scene.
Until then…
For more news, rumors, videos, podcasts and exclusive articles, follow us on Twitter @PWPNation.