Greetings.
For the second time this month, the WWE is having another heavily hyped pay-per-view, this one being Payback, on April 29 in San Jose. Some would say that the WWE is going to the proverbial well too often insofar as pay per views goes, but if the marks are still buying into having a pay per view seemingly every few weeks, then who the hell am I to be casting aspersions?
In any case, I'll endeavor to size up the card for this weekend's extravaganza. The last time I checked the lineup was as follows:
Main Event: "House of Horrors" – Randy Orton vs. Bray Wyatt
RAW Tag Team Title Match – The Hardy Boyz (c) vs. Cesaro and Sheamus
WWE United States Title Match – Kevin Owen (c) vs. Chris Jericho
RAW Women's Title Match – Bayley (c) vs. Alexa Bliss
WWE Cruiserweight Title Match – Neville (c) vs. Austin Aries
Grudge Match – Seth Rollins vs. Samoa Joe
From the bottom to the top, here are my predictions and perspectives:
Seth Rollins vs. Samoa Joe – Even though this match, somewhat surprisingly,has been billed as one of the preliminary or undercard matches, there's, nonetheless, a lot of interest in it, as Rollins is still one of the WWE's rising stars (as evidenced by his conquest of the Game earlier this month at WrestleMania). Joe, on the other hand, has benefited significantly from having been cast as Triple H's vengeful henchman. Having said that, I can't really say that I'm expecting a five star barn burner here – as their styles aren't all that compatible and neither one has shown much propensity for being able to get anybody over but themselves.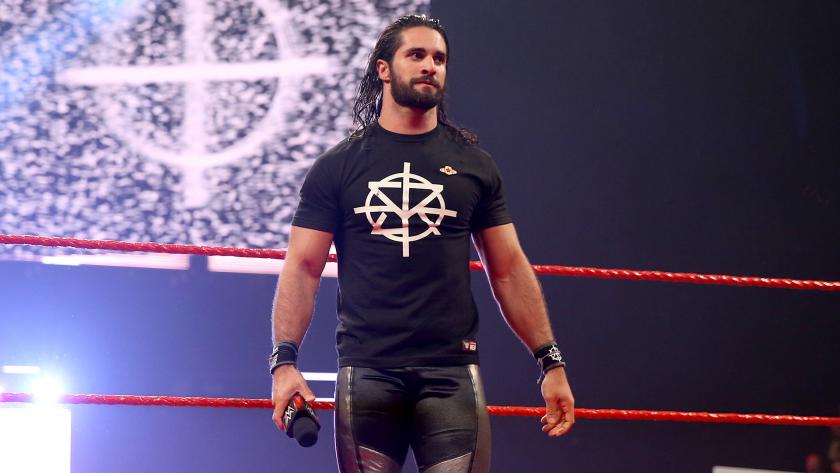 To my way of thinking, if they really wanted to sustain the momentum of Rollins' recent reversion to a sympathetic face type, as well as take advantage of the supposed injuries he suffered at the hands of Triple H, it wouldn't be a bad idea for him to do the job here, perhaps with Hunter being complicit in the outcome – which could conceivably set the stage for a hot return with Hunter, maybe at SummerSlam.
Roman Reigns vs. Brawn Strowman – Ordinarily, I'd probably be looking forward to this match, if only because both of these guys are big, imposing ass-kicker types, who haven't worked with each other that much, either.  The lead-up however, including the bogus charade with the ambulance being turned on its side and all the other has been so contrived and excessive that it's been tough to take the whole angle very seriously.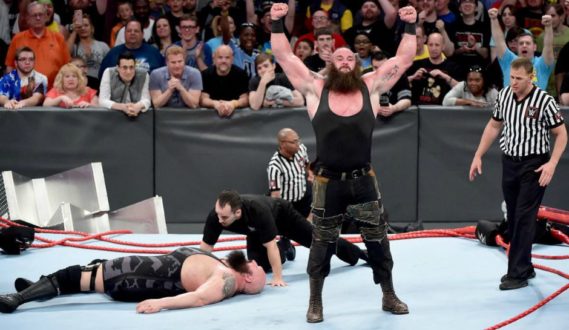 As far as I'm concerned, it's an insult to anyone's intelligence, after all he's supposedly been through, for Roman to be even out of the hospital, much less be going into battle with a supposed one-man wrecking crew like Strowman.
Having said all of that, probably the best course of action would be for Roman to just sell his ass off and, after a gallant effort, finally be no longer able to continue – which would probably garner him some much needed sympathy (which is something he's in dire need of) and, on the flip side, it might also serve to reinforce Strowman's status as a legitimate monster heel – something that he, too, seems to be lacking thus far, as well.
RAW Women's Title Match – Bayley (Champion) vs. Alexa Bliss – Bayley's been making great strides lately, as the dogged but determined underdog who keeps rising above adversity – much like a female version of Daniel Bryan.   Not to be raining on their parade though, but as far as I can there's not really been much to justify this match even taking place, as Bayley has no real issues that I can discern with Alexa and should probably be working with Charlotte or perhaps Nia – both of whom she does have abiding issues with.
Even so, these two should still have a good match, although I hope they don't inflict too many of the usual over-choreographed diva high spots and what not upon the fans.   As for the finish, I'm looking for Bayley to go over, right in the middle- as she deserves to.
WWE Cruiserweight Title Match – Neville (Champion) vs. Austin Aries – This match could well steal the show, as both of these guys are electrifying performers who have great interactive chemistry.  Unfortunately, cruiserweights in the WWE tend to be the equivalent of the opening act at a Rolling Stones concert however – as you may recall, at Wrestlemania, when Neville's title match wasn't even deemed worthy of being on the main card and was relegated to the pre-card warm-up.
It's been widely speculated that Neville will be dropping the strap here to Aries.  I have no problem with that, as Austin's a more than worthy candidate, but to my way of thinking, Neville's just starting to really establish himself with the belt and it would make more sense to leave the title on him for a while, especially when there's a wealth of dynamic babyface contenders for him to work with
RAW Tag Team Title Match – The Hardy Boyz vs. Sheamus and Cesaro – I've long been a fan of Matt and Jeff – both of whom are dynamic, risk taking performers who go out of their way to give the fans their money's worth, night in and night out.  As well, both are stand up guys who are greatly respected by their peers.  Cesaro and Sheamus are also dedicated pros who take pride in their work, as well.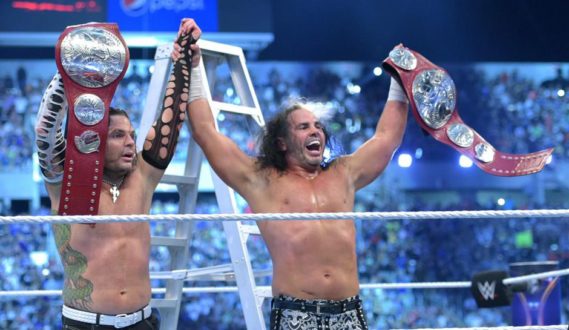 Having said that, there's no discernible pretext for even having this match though – as both teams are faces, who have absolutely no prevailing conflicts or issues with each other.  Beyond that, their styles don't complement each other whatsoever, either.  Even so, they should still have a pretty decent match, as long as they keep it pretty basic and don't risk life and limb endeavoring to oblige the "holy shit" moron marks.
As for the outcome, I'd be quite surprised if the Matt and Jeff didn't go over here – if only because they've just been crowned the tag champions and it would be kind of pointless to them to be dropping them in their first title defense – although stranger things have certainly happened in the WWE, I have to admit.
Main Event – "House of Horrors" Format: Randy Orton (Champion) vs. Bray Wyatt – I've said it before and will reiterate it here and now that, regardless of whether wrestling's perceived to be sport or entertainment, it's still critical for the powers that be to protect the perceptible legitimacy of the world title, because it's pro wrestling's equivalent of the Super Bowl, Stanley Cup or World Series – the thing that hope, dreams and memories are based upon.  By that token, those pulling the strings in Titan Tower need to be more judicious about orchestrating relatively straight, plausible and contingency free finishes in world title matches, such as this one.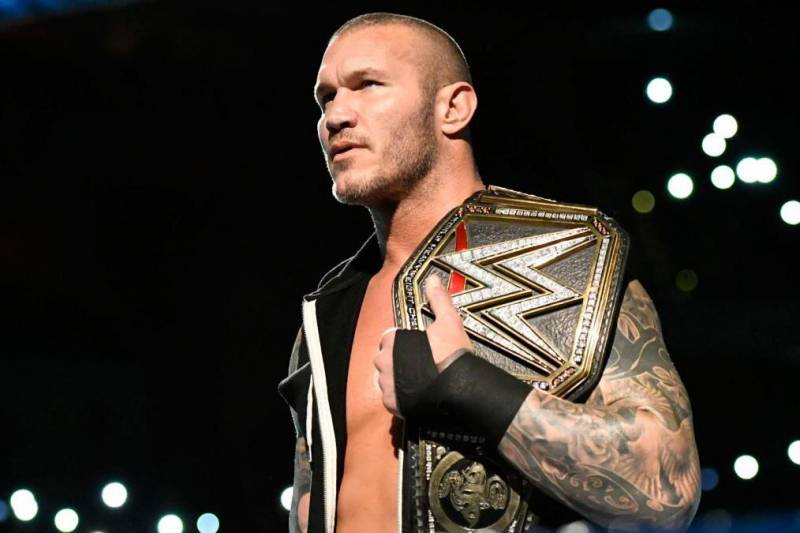 Having said that, the House of Horrors (or should I say the House of Whores) format seems pretty hokey and doesn't seem to be conducive to upholding the ostensible propriety of the WWE's most vaunted title.  Forgive my ignorance, but I'm not even sure what the hell the House of Horrors stipulation entails – I assume there will be an overdose of the usual esoteric bullshit, including a host of jabroneys wearing sheep heads and some other hokey special effects, but hopefully those orchestrating the schematics will refrain from going overboard on all the bullshit and let Bray and Randy – both of whom are decent enough workers, have a relatively plausible, conventional match that re-establishes the perceptible legitimacy and legacy of the iconic WWE world title. Anything less would not be what's "best for business" – correct me if I'm wrong, Paul.
All things considered, I'm expecting the Viper to go over here, if only because he, too, just won the strap, and, aside from that, he's probably better suited than Wyatt to work with a variety of different, viable contenders, down the road.
On that note, I'll call this a wrap but will look forward to catching up with you all next time for postmortems on Payback and whatever else.
For more news, rumors, videos, podcasts and exclusive articles, follow us on Twitter @PWPNation.