PWP Nation's Bruce Hart gives his thoughts on WrestleMania 33.
Greetings.
Another WrestleMania is in the books – one filled with some exciting and riveting highlights, but also more than a few low lights.   The match that seemed to capture the fans' imagination more than any other was the epic showdown between Roman Reigns and the Undertaker.  Even though Reigns wasn't really cast as the heel, he was nonetheless showered with boos from the outset and any lingering doubt about him remaining a face seems to have evaporated – which is probably better for him and everyone else.
As for 'Taker, in what was likely his farewell to arms, even though he lost, he went out in style,  rendering one last command performance for his fans and cementing his reputation as one of the WWE's all-time greats. He'll no doubt be a first ballot WWE Hall of Fame inductee, class of 2018.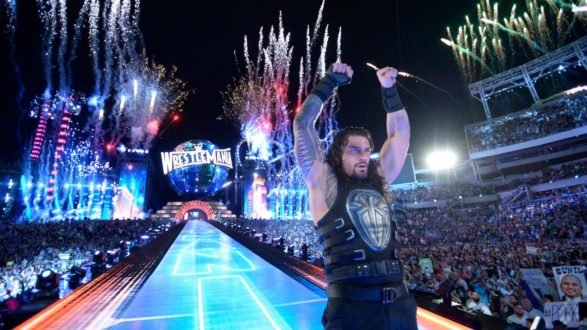 Now that the proverbial torch has been passed to Reigns, it's incumbent that he seize the day and show all the skeptics that he's worthy of the honor.  I'm confident that he can, but he needs to re-consider his ascent on the stairway to heaven, so to speak, otherwise he may find himself heading in the opposite direction.
Another match that seemed to really capture the imagination of the fans was the Seth Rollins vs. Triple H slugfest, which had Seth going over, after having absorbed a hellacious ass-kicking, courtesy of the Game.   This match was a bit too back and forth for my liking, with Seth repeatedly selling to the point where it looked like he would never walk again, then suddenly making a miraculous comeback and then a big sell and so on and so forth– to the point where it started to wear thin and stretch the bounds of credibility.
To my way of thinking and not to denigrate his effort, but  Seth would have been far better off – given that he was operating on a bad leg to begin with, just selling his ass off from the get go and garnering all the sympathy he could – before finally snatching victory from the jaws of defeat on some miraculous turnaround.  Even so, he still got a hell of a pop at the end and could become the franchise baby face that the WWE has been looking for since Daniel Bryan's premature retirement. If he does, he needs to better grasp the basic babyface ring psychology about selling your ass off and coming back with fire.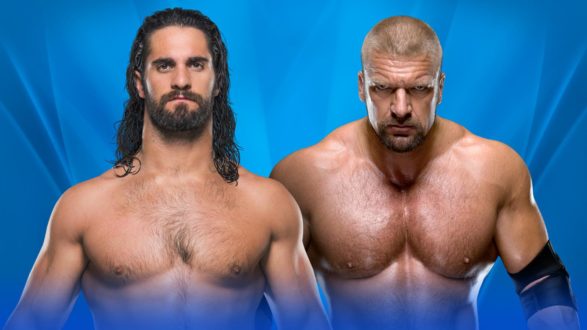 Giving credit where credit is due, both Hunter and Stephanie McMahon did superb jobs of generating heat throughout and Stephanie's bump through the table at the end was great – good on them.
Another main event that garnered a lot of attention was the WWE World Heavyweight Title match between Bray Wyatt and Randy Orton.  When Bray won the title a few months back, not many figured he'd hold it very long and that proved to be the case, as he lost it in his first defense against his former partner and cohort, Orton.  Orton's held the belt in the past on a number of occasions, but has never really set the world on fire with it – most of which, I should add, hasn't necessarily been his fault. Hopefully, he'll raise the bar this time around.
The other match that was hyped as a main event was the clash of the Titans, Brock Lesnar and Bill Goldberg and for Goldberg's Universal title. While this match was pushed perhaps more than any other match at WrestleMania, it never really seemed to live up to the hype.  On the finish, Lesnar gave Goldberg ten of his signature suplexes before finally beating him with an F5, which I thought was  counter productive over kill.  Put it this way, if the Undertaker had to give ten of hi supposedly vaunted Tombstone piledrivers, or if Triple H had to administer ten of his signature pedigrees, before either of them were finally able to vanquish their opponents, it kill the perceived image of those supposedly devastating  finishes, not to mention, bore the hell out of the fans as well. I found that to be the case in this match as well and would venture to say that just one suplex for the pin would have been more effective.
Perhaps the biggest surprise on the card was the re-appearance of the Hardy Brothers – Matt and Jeff, who returned from exile to partake in the Fatal Fourway tag team title match against Gallows & Anderson, Cass & Enzo and Sheamus & Cesaro. In the end, the Hardys emerged as the new tag champions, which, in its own way reflects the WWE's lack of confidence in the whole tag division and can also be viewed as a compliment to TNA.
While it tended to take a back seat to the world and universal title matches, I, nonetheless, thought that the United States title bout between my fellow Canadians – Chris Jericho and Kevin Owens more than lived up to expectations, as both brought their A games.  In the end, Jericho did the honors but remains one of the most respected performers on the roster. As for Owens, this serves, I suppose, as consolation for him having lost his Universal title a while back to Goldberg, but, more importantly, signifies that he's still one of the WWE's up and coming mainstays.
Another feature match that garnered a lot of buzz was the clash between the Phenomenal AJ Styles and Shane McMahon, and it certainly didn't disappoint.  While AJ to nobody's surprise, emerged victorious, Shane O'Mac stil gave an awe-inspiring performance, pulling off several of his signature death defying leaps of faith and also was surprisingly solid as far as good old fashioned ass-kicking goes.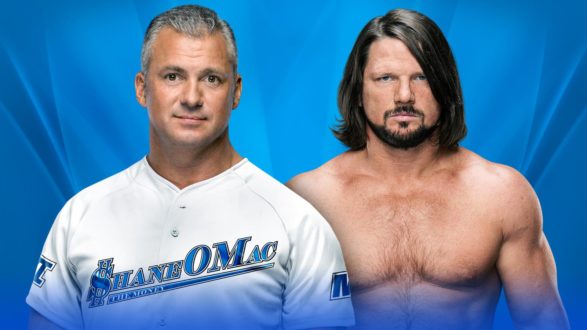 I'm not sure what the plan is for A. J., going forward, but to my way of thinking, he's still being miscast as a heel and would be far more marketable as a face – that's something the WWE brass should give some serious consideration.
I was also extremely impressed with the Fatal Fourway match between Bayley, Charlotte, Nia Jax and Sasha Banks for the WWE women's world title.  Although Jax was eliminated early, she still was dominant and reinforced her standing as a force to be reckoned with in the women's division.   Ultimately, Bayley ended up retaining her title, but all four girls deserve credit for a job well done.
There was another match on the card that garnered a lot of mainstream media attention – the mixed tag match between John Cena & Nikkie Bella against the Miz and his wife Maryse.  From an athletic or artistic perspective, the match between John Cena & Nikki Bella and the Miz and Maryse was nothing to write home about, but garnered a lot of mainstream media coverage afterward because Cena, at long last, proposed to Nikki, in a scene reminiscent of one of those cheesy Hollywood romances.   I'm not sure if the WWE is planning to have a big wedding on an upcoming pay per view – similar to the Randy Savage and Elizabeth charade a few decades back, but I wouldn't be surprised.
The other match that really rocked was the Cruiserweight title match between Neville and Austin Aries, but since it was relegated to the pre-show, it was almost a waste of their blood, sweat and whatever else.
The rest of the card included: the Andre the Giant Battle Royal – the highlight of which was the cameo appearance of New England Patriots star Rob Gronkowski; an Intercontinental title match between Ambrose and Corbin (which saw Ambrose go over); and another women's title match (as if they needed one), plus interminably long entrance promenades and far too many contrived between match interviews – all of which made for a long, drawn out event.   All things considered, it probably would have been better to have saved most of those undercard matches for another pay per view or simply crap them altogether – addition by subtraction.
On that note, I'll call this a wrap, but will look forward to catching up with you all next time for more wrestling news and views. Until then.
For more news, rumors, videos, podcasts and exclusive articles, follow us on Twitter @PWPNation.