It's WrestleMania week and PWP Nation's Bruce Hart is here to go through all the sights and sounds heading into this year's WWE Hall of Fame Class.
Greetings.
One of my favorite traditions of the WrestleMania extravaganza is their annual WWE Hall of Fame inductions- which have become a major part of the annual celebration.  This year's class is one of the best in years, including: Kurt Angle, Ravishing Rick Rude, Diamond Dallas Page, Ricky Morton and Robert Gibson (the Rock n' Roll Express), Beth Phoenix, Theodore Long and Eric Le Grand (recipient of the Warrior Award).
While I'm not a huge fan of some aspects of the whole WrestleMania charade, much of which smacks of hyperbolic overkill, I've had the pleasure of participating in the WWE Hall of Fame induction ceremony in the past and, giving credit where it's due, they do it first class, all the way and it's a fitting way to honor those who've dedicated their hearts and souls to our business.
This week, I'd like to pay due respect to the inductees to the Hall of Fame class of 2017 – a most esteemed and deserving aggregation.   Without question, a most worthy honoree, from a purely wrestling perspective is Kurt Angle – the only Olympic wrestling gold medalist to become a WWE champion.
Kurt's list of accomplishments in both professional and amateur wrestling is second to none.  In addition to winning Olympic gold  in 1996, he was twice NCAA champion and world amateur champion; subsequent to that, during his illustrious professional career, he was six times WWE world champion and also was a top star in Japan and TNA.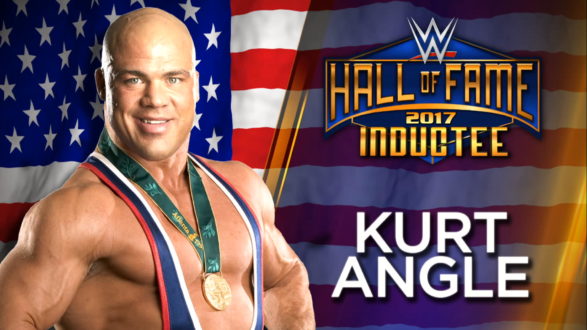 Within the wrestling fraternity, Kurt remains one of the most respected and admired athletes in the history of our sport – not just for his wrestling exploits, but for having repeatedly overcoming tremendous adversity, including:  suffering a near crippling broken neck (just before the '96 Olympics); the devastating murder of his coach and mentor – Dave Schultz, by John Du Pont (also just before the Olympics); and several other taxing trials and tribulations during his professional career.
Congratulations to Kurt.
The Rock n' Roll Express – Ricky Morton and Robert Gibson, who began their careers in Tennessee back in the early 80's under the tutelage of Jerry Lawler, would go on to become one of the great 'face teams of their era, especially during the 90's in WCW and other promotions, mainly in the southern states. Their feuds with the likes of the Midnight Express, the Poffos and the Four Horsemen became the stuff of legends.
While, for whatever reason, they never worked for the WWE, their list of accomplishments is, nonetheless, the stuff of legend,  While I've never really crossed paths with Gibson, I've had the pleasure of having Ricky on my Hart Beat Radio program on a number of occasions and he's a good friend and a great ambassador for our sport.
Ravishing Rick Rude – Rick, like several other wrestling legends, was trained in his native Minnesota by my old friend Eddie Sharkey and began his career in 1982.  After breaking in in Florida for Eddie Graham's promotion, he made the rounds, including stints in Texas (for the von Erich's) and the Carolinas, before hitting the big time in the WWF in 1987, where he would engage in memorable feuds with the likes of Jake Roberts, Junk Yard Dog and Ultimate Warrior during the so-called Golden Age of the WWE.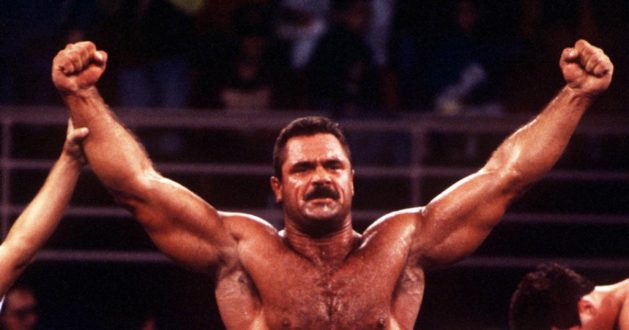 Rick, who was a close friend of my brothers Bret and Owen, was a cutting edge heel and one of those guys whom you never heard anyone say anything bad about.  He was "one of the boys", in the best sense of the word and I'm pleased to see him being justifiably honored.
Diamond Dallas Page – Diamond Dallas broke into the wrestling business in 1988, initially as a manager in Verne Gagne's Minneapolis promotion at the relatively venerable age of 33. He would later evolve into a wrestler a few years later.  Despite having started his career relatively late, he, nonetheless would carve out a successful wrestling career – engaging in high profile feuds with the likes of Hulk Hogan, Randy Savage and Ric Flair, among others.
Perhaps his most noteworthy match was for the WCW promotion in the 90's, when he tag teamed with Tonight show host, Jay Leno against "Hollywood" Hulk Hogan and Eric Bischoff.  Following his wrestling career, Diamond Dallas would go on to become a highly regarded motivational speaker and a testimony to persistence paying off.
Beth Phoenix (aka; the Glamazon) was born in 1980 and had a stellar amateur wrestling career in high school in her native upstate New York.  In 2001, she married wrestler Joe Carolan, who had trained in the Hart Dungeon, under the tutelage of my dad, myself and my brother Owen and that would lead to her embarking on a career in professional wrestling.   Beth would make her way to the WWF in 2004, originally training in their Ohio Valley developmental promotion and she quickly rose through the ranks, making her WWE debut a couple of years later and becoming WWE women's champion in 2007.
Unfortunately, her career was cut short by injury, but during her tenure as the WWE women's champion, she raised the bar considerably and remains one of the most highly regarded women's wrestling icons of all time.  In my opinion, to paraphrase my brother Bret – she's the best there is, the best there was and the best there ever will be, as far as woman wrestlers go. Now re-married to fellow WWE Hall of Famer, Adam Copeland (Edge), Beth is a most worthy inductee and has always been a class act and a credit to our business.  Congratulations to her and Adam.
Theodore Rufus "Teddy" Long – Being inducted into the WWE Hall of Fame is the culmination of a long and illustrious career in professional wrestling for Teddy Long.  Teddy, like many others in our sport, initially began his career as a fan and because of his friendship with wrestlers, such as Abdullah the Butcher and Tommy Rich, he was able to eventually get his foot in the proverbial door – initially, as a referee – where he became one of the best refs in the business for several NWA promotions back in the 80's.
He would later evolve into becoming a heel manager – initially managing my old friend Mike Shaw (Norman the Lunatic) in the WCW.  In 1999, Teddy made his way to the WWF, as a referee and, sadly, was slated to referee my brother Owen's match in Kansas City in May, 1999, the night he was tragically killed.  Teddy, later, would assume several different roles for the WWE, including heel manager and later, so-called manager of RAW and SmackDown.  Teddy has been a consummate professional and a dedicated and loyal team player.  He's a most worthy inductee into the Hall of Fame – congratulations Player!
To their credit, the WWE has also chosen to honor, with the Warrior Award, former standout Rutgers football player, Eric LeGrand – who, unfortunately, suffered a broken neck while playing football, which left him a paraplegic.  Eric has overcome a great deal of adversity, but has gone on to become a motivational speaker and source of inspiration to millions with his ongoing profile in courage – kudos to him.
I would like to take this opportunity to congratulate and commend all the Hall of Fame inductees, class of 2017.  Thanks for your monumental contributions to our sport. In closing, I'd like to extend my deepest condolences to WWE icon Jim Ross, on the untimely passing of his wife Jan due to a motor vehicle accident.  Our thoughts and prayers are with you, J.R. I'll call this a wrap for now, but will look forward to catching up with you next week for our annual pre-WrestleMania special.
For more news, rumors, videos, podcasts and exclusive articles, follow us on Twitter @PWPNation.