In his first piece with PWP Nation, Sahid Conteh explains why he believes John Cena vs. CM Punk is the defining match of the PG Era. 
I've been watching wrestling for many years now and one thing I've come to noticed is that with each coming time there's one match that comes to define an Era. It seems that every era of WWE seems to have that one contest that lives up to immortal status. Bret Hart vs. Shawn Michaels in an Iron Man match defined the wave for the New Era, Stone Cold Steve Austin vs. The Rock at WrestleMania 17 made the Attitude Era unmissable. In the past decade, there has been only one rivalry that wrestling fans can look back at the defining match in the WWE PG Era and that is CM Punk vs. John Cena at the Money in the Bank 2011 pay-per-view. 
Between the week of June 13th and June 20th 2011, CM Punk had pinned then WWE Champion John Cena on Raw, Rey Mysterio at the Capital Punishment, and then Alberto Del Rio in a number one contendership triple threat match, Punk took to the microphone to announce that on July 17th was his last night under contract with the WWE and made a vow to walk out with the WWE Championship.
That's never been done before for a talent to announce something as private as that it made for everyone to keep eyes on the product. The following week however will go down as one of the most iconic moments in all of pro wrestling. After costing Cena a match on Raw in Las Vegas, CM Punk took the stage and vented out his frustrations with the company. He went on to cut a vicious promo on the state of the company and those in charge like Vince McMahon, including references to the "idiotic daughter and doofus son-in-law." Punk continued to berate the WWE universe, before having his microphone shutdown, something that was unprecedented. A 20-minute promo on the backstage politics inside WWE and vented his anger in such a way that was groundbreaking and actually made pro wrestling socially relevant again.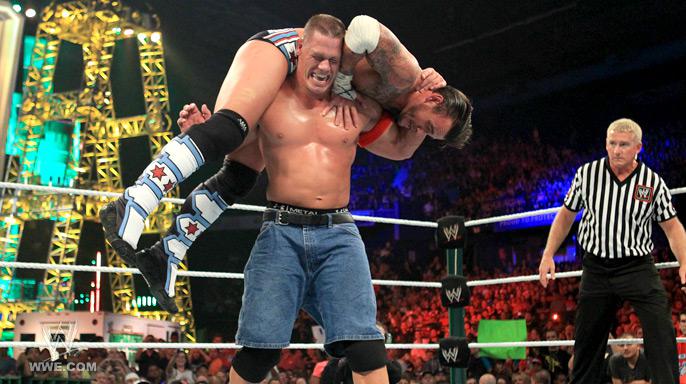 Skipping ahead two weeks, a contract segment took place between Punk and Vince McMahon to keep CM Punk under contract after the Money in the Bank pay-per-view, where his contract would expire at midnight. A really great segment followed by CM Punk and John Cena trading verbal barbs ending with Punk referring to John Cena as the "New York Yankees" before ripping up the new contract he already signed before promising again that he would leave WWE and take the title right alongside him
The stage was set, on a warm summer night in Chicago, Illinois, which also happened to be the hometown of CM Punk. Punk was the heel coming to this event, but CM Punk chants were heard throughout the All State Arena and as soon as "This Fire Burns" played, the crowd erupted for their hometown hero, which only Jerry Lawler accurately described as "if the Chicago Bears were in the Super Bowl and the Super Bowl was in Chicago." CM Punk received a hero's welcome as he came in for the biggest match of his career, followed by John Cena who was met with so many boos as if he'd just stepped on the American flag.
The hardcore Chicago crowd were rooting for anything Punk did that night and when the bell rang, greatness ensued. A 33-minute classic unfolded with the crowd being hot all night with false finishes, great spots and many more great moments that had even the hardcore of Cena haters eating their words. Though it didn't end with a clean finish, once Punk pinned Cena for a three count, a more modest way to put the crowd reaction was "loud."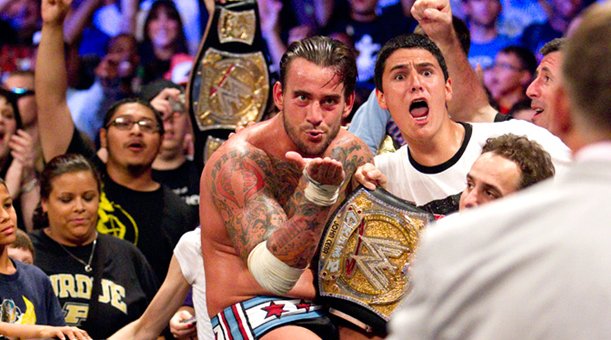 In reference to what Lawler said when Punk came out, the Chicago crowd exploded as if, "the Chicago Bears were in the Super Bowl and the Super Bowl was in Chicago" AND won the whole thing with a field goal in the dying seconds. Vince McMahon could only look as Punk held up the richest prize in sports entertainment and then proceeded to literally kiss Vince and WWE goodbye as he left through his hometown crowd.  Even though Punk and Cena went on to have more great matches from that night and their last show stealing main event on Monday Night Raw in Dallas, this proved to be their best bout. This match solidifed the PG Era and is the signature match that can be pointed at as the standard bearer for the modern era in WWE. 
In the end, if Vince McMahon and CM Punk would kiss and makeup, I think a rematch between John Cena and CM Punk would be welcomed by all.
For more news, rumors, videos, podcasts and exclusive articles, follow us on Twitter @PWPNation.