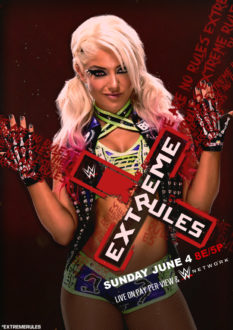 Extreme Rules, the one night a year WWE Goes EXTREME!
Except for TLC, Ladders are extreme. And Money In the Bank, falling into the "ladders" category. Wrestlemania I guess too, as it has had ladder matches for 3 straight years. And Hell in a Cell. And No Way Out.
Extreme Rules, one of the SIX NIGHTS a year that WWE Goes EXTREME!
Hey All, I'm Beef. Some/Most of you may notice me on many comments. I'm kind of a dick. Not like Crazy Bill, who I'm delighted asked me to be a part of this column with him. He is still a dick though. Anywho, enough dick talk, let's talk about sweaty guys in tights.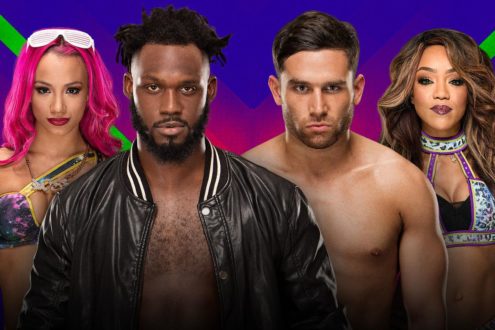 PreShow: Sasha Banks and Rich Swann vs. Noam Dar and Alicia Fox.
BEEF: Yeah okay. 3 (or 4?) time women's champ slumming on 205 Live is a great way to beg for ratings, but I'm not sure that this match deserved a slot on a show like this. I get that it's a culmination of a Feud (on a show that I, like most others, aren't watching). And I love Rich Swann. My Wife loves Rich Swann, and that means that Casuals love Rich Swann. He's fun. He's exciting. And teaming him up with the Boss seems like a stroke of Genius, except when they lose. Listen, I love Sasha. But she jobs on PPV ALL. THE. TIME. Are we all ignoring that Swann has been playing some mind games with the couple, even trying to break them up? That's not very baby face. But like I said, no one is paying attention, and they wouldn't be, if it weren't for the Boss.
CRAZY BILL(CB): I'm with Beef. No one cares. I'm not even that big on Sasha. I really like Swann. He's one of only 5 guys I would keep with 205 and fire the rest. At least Banks is being kept on TV so she's not completely forgotten by the fans. Double pin, by the way. Swann pins Dar while Banks pins Alicia Fox.
WINNERS
Beef – Noam Dar and Alicia Fox
Crazy Bill – Rich Swann and Sasha Banks
BEEF: I gotta believe Truth vs. Goldy gets its day in court as well. Maybe on the preshow, maybe on the actual show. They deserve to. A well done heel turn, and a return to form by the ageless Goldust has me excited. Except he'll be mired in the Mid card. All the same, Goldust in 2017 Is just as effective as Goldust in 95. And that's a HUGE deal. And when these two go, If Goldy doesn't win, it's a damn crime. So that's an extra prediction. This match makes the card, and Goldust wins.
CB: Extreme Rules? Goldust should be having a backlot brawl with R-Truth like he did with Rowdy Roddy Piper in 1996. If it happens, Goldust wins.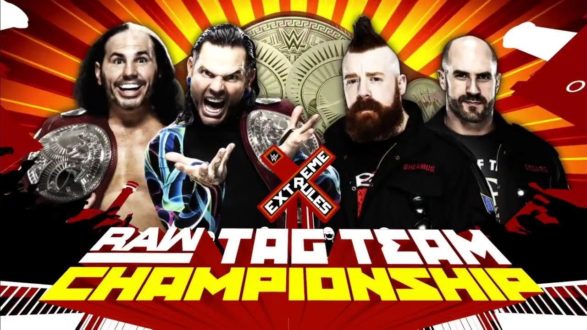 WWE Tag Team Championship Steel Cage Match: The Hardy Boys(c) vs Sheamus and Cesaro
BEEF: Out of all the gimmick matches the Hardy Boys have been involved in, they pick a CAGE match. Not a ladder match, which would make the most sense. Not a tables match, which again would make sense. Not a freaking tornado tag street fight, which would make more freakin sense. But a CAGE match. From a storyline aspect, makes zero sense. It makes more sense for Sheamus or Cesaro to want to lock them in a cage. Match type notwithstanding, I expect this to be a pleasant surprise. I think this is the match people will be talking about. In a perfect world, SheaSaro loses, and Jeff takes the fall, Matt loses It, causing him to be "Fractured" and starting that whole "Fractured" Feud on WWE TV, Complete with the return of Skaarsgard, Senior Benjamin, and Brother Jeff. Regardless of my rampant Fanboyism, I'll take ShaeSaro here.
CB: I'm a big fan of the heel Sheamus/Cesaro team. I'm enjoying this run by the Hardy Boys. Do I want to see the 4 men confined to the inside of the ring? No. Those four larger than life superstars should not be kept inside a cage. It feels like it'll be disappointing, but we'll see. I don't think we'll see any solid character change, or variation of "Broken" Matt until after The Revival takes the titles from them this summer.
WINNERS
Beef: Sheamus and Cesaro
CB: The Hardy Boys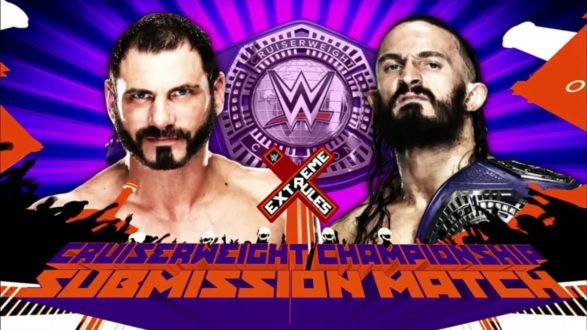 WWE Cruiserweight Championship Submission Match: Neville(c) vs Austin Aries
BEEF: I feel like this feud is low key a candidate for Feud of the year. I mean that honestly. These two have had a nice back and forth dynamic, with the heel keeping the Face at bay each time. I think they messed up with Neville winning at Mania clean. The matches have been good to great, and the involvement of TJP has rejuvenated him in the Cruiser division. Unfortunately, these matches have been routinely the same, throwing in Jack Gallagher, of whom I know Bill is a big fan. I would have preferred seeing Aries taking several partners to beat the duo. Would have kept things fresh. I see Aries taking it here. Even though I love Heel Neville, the division, and 205 Live, needs to go through A Double.
CB: First off, yeah, Jack Gallagher ruins everything, including that tag match. Secondly, there's no way they keep the title from Aries. I truly believe that TJP is going to try and help Neville keep the title so he can get his title shot and then accidentally costs him the title. 205 Live needs Aries to win the title so this feud can keep going. Neville and Aries can both carry the division and with Aries winning, Neville will want his rematch.
WINNERS
Beef: Austin Aries
CB: Austin Aries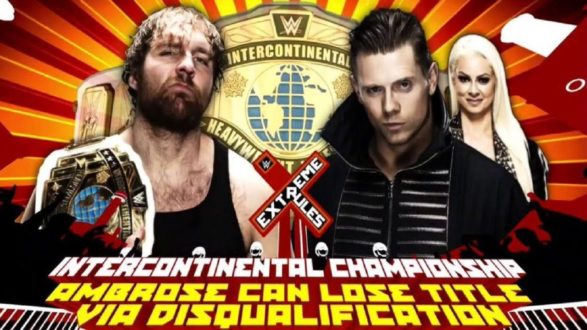 Intercontinental Title Match – Ambrose will lose the if disqualified: Dean Ambrose(c) vs The Miz w/ Maryse
BEEF: Spoiler Alert-I'm predicting a THIRD title change. Dean Ambrose is to the Intercontinental title as Thanksgiving Dinner is to Thanksgiving Day Football- You associate the two together, well meaning, but ultimately it lulls you to sleep. I don't have a problem with Ambrose. He's not boring in the traditional sense-it just feels like a constant retread. You can only call yourself a lunatic for so long, without having to prove it with more than silly faces and non-sensical (yet enjoyable) promos. Miz, meanwhile, was GOLD with that belt. and for a show that's without its main title for months at a time, you want the secondary title elevated. Look at the stipulation- If Ambrose is DQd, he loses the belt. Look at the debut of the drifter- Miz causes a DQ to give him the win. And If I'm not mistaken, I believe he sang a line about one good deed (referring to Miz's effort) deserving another (The Drifters interference). So yeah, Miz wins when the Drifter hits him. What an awkward ending to an awkward match. As the Dream used to say with excitement, regarding the match ending bearing his own name: "Get this, NOBODY WINS!".
CB: I'm just tired of everyone complaining that this match isn't hardcore. Extreme Rules was always billed as "Every match having a stipulation." If Ambrose is DQd he loses the title. That's a rule, that's pretty extreme(not hardcore) so yeah, everyone should get over themselves. They should be more angry by the fact that WWE already gave us the ending by making this stipulation.
WINNERS
Beef: The Miz
CB: The Miz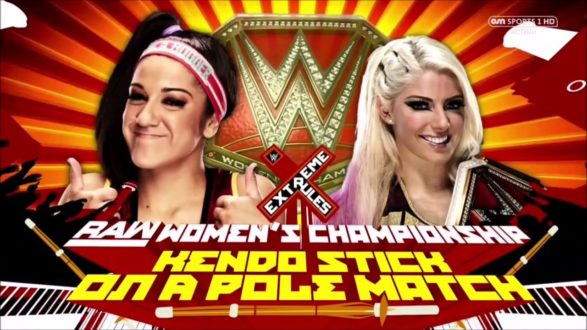 RAW Women's Championship Kendo Stick on a Pole Match – Alexa Bliss(c) vs Bayley
BEEF: To say that this feud has been handle poorly is to say that Godzilla kind of messed up Tokyo. Yikes. Good in theory, Bliss, the mean new girl, who has enchanted the fans, immediately becomes queen bitch on Raw, and takes it out on the Dorky girl, known for her plucky good nature. That's like the plot of half of late 90s teen movies. But the execution, the writing, the direction, yuck. I would have rather seen a strap match. Or a chair match. Or an I quit match. But I think as much thought was put into the stipulation as was the angle itself. Look, I love Bayley, but Bliss is white hot right now. While she may not be Sasha or Bayley in the ring, she improves constantly. Bayley will get the belt back, just in-time for Sasha to turn heel, and maybe make a "Mean Girl" stable with Bliss? (And bring back Melina?!) But that won't be Sunday. Bayley gets the Stick, and takes her …ahem…frustrations…out on Bliss, but blinded by her rage, allows a hole in her game, and Bliss (the new age Ultimate opportunist) takes advantage.
CB: Yeah, I don't think anyone is overly excited about the match. I'm excited to see Alexa Bliss, but not see her do this match. If you think the whole story is bad already, just wait until Sunday. The only story that they're going to tell is the story of Bayley fighting with herself, her own conscience, to try and use the kendo stick. She'll be full of inner turmoil as the fans chant her on. She'll finally use it, the crowd will go insane, and Bliss will win. This is probably the worst feud of the year.
WINNERS
Beef: Alexa Bliss
CB: Alexa Bliss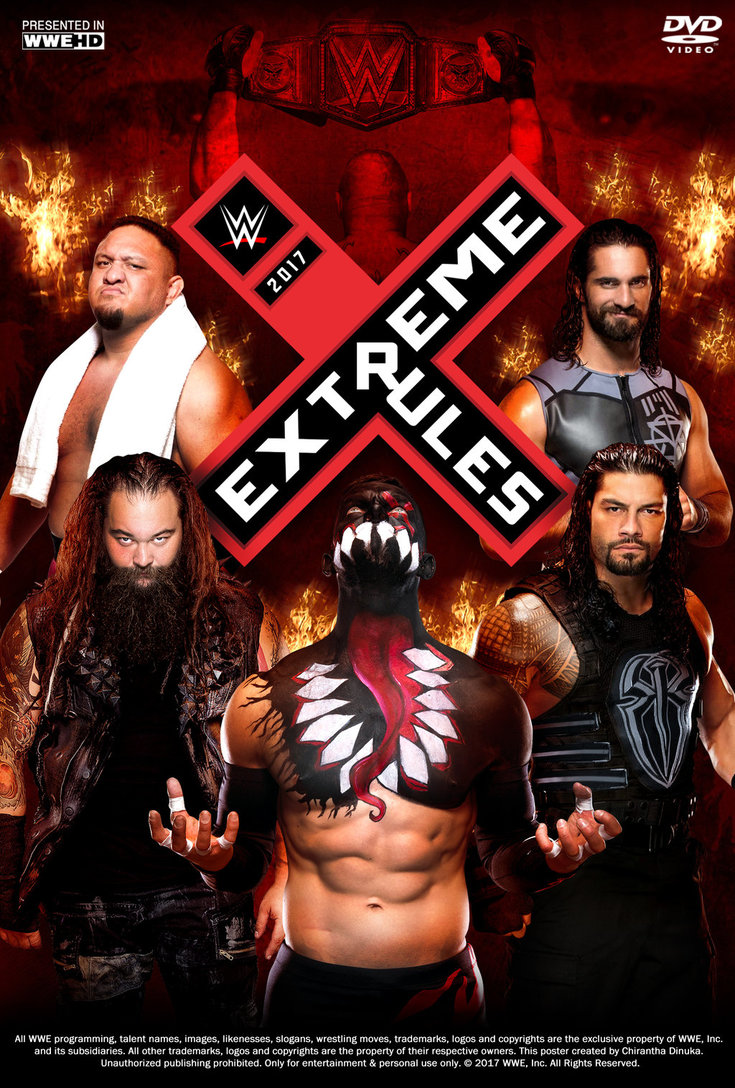 Fatal Five Way to Determine Number 1 Contender to Brock Lesnar's Universal Title:
Bray Wyatt vs. Finn Balor vs. Roman Reigns vs. Seth Rollins vs. Samoa Joe.
BEEF:  The Only match without a Belt on the line, but the one that deserves it the most. I have high expectations for this match. Multi man matches can be dicey, and can underperform, but I think this group of guys can navigate those pitfalls. Given the proper time, I think this match excels. So many storylines. Obviously Joe and Rollins at the forefront, but then you got Rollins injured Balor, Balor dethroning Rollins, Joe being the ONE to beat the Demon in NXT, Reigns and Rollins storied history, Reigns and Balors history, the history of the Wyatts and Shield, I mean there's a lot to digest. No shortage of intrigue, and I think it delivers. 100%. The haters will be out in Full Force in Baltimore, and the Empire can expect his share of boos. Common sense tells you that the Joe/ Rollins thing is unfinished, and is heading for a blow off at Summerslam potentially. Common sense also tells you that Wyatt interrupting Balor upon his transition to Monday nights bodes ominously. If you're the type to take in the dirt sheets, reports were rampant that Balor would be the next Intercontinental Champion as a slow build up were to begin. Common sense also tells you that if they are pushing for Reigns vs. Lesnar at WrestleMania next year, and you wouldn't give it away at Great Balls of Fire. Now there are reports of Lesnar facing Wyatt for the title in dark matches following Extreme Rules. Vince and Co. don't want Lesnar to drop the title prior to Mania. HHH and Co want Balor to regain the belt. Vince doesn't see IT with Balor. Much as he missed IT with Styles on Smackdown. This company is cutting off its nose to spite its face. Then of course, you have the impending return of Strowman, and the blowoff with Reigns, and his alleged title match with Lesnar at SummerSlam looming.
I think you can trash all that noise. Here's my tell: the Paul Heyman promo. He spoke eloquently that Balor is the only perceived threat by Lesnar and Heyman. That is telling. A chink in the armor as it was. Also, they haven't mentioned the Demon once. Or referenced him. Unlike Balor's initial run, when the Demon King was pushed and pushed and even given prior to the Payperview, that name has been on no one's lips since his return. And make no mistake, that's by design. They want you to forget about the Demon. So that when he comes back on Sunday, it is literally like a Jekyll and Hyde scenario. Finn maybe mild mannered, but the Demon can be as extreme as he pleases. Finn may not stand a chance against Lesnar…but the Demon….the Demon can, and in my estimation, will beat Lesnar and take back the title he never lost. Balor wins, and then the Demon goes onto Balls Of Fire to beat the Beast. I don't know where it goes from there, but from a company looking to produce a shock factor (See the WWE Title Hot Potato situation and the Unhindering of Jinder), and a show that is on life support dying in the ratings, this would instantly energize it. Book it.
CB: As I said on Uncensored, Paul Heyman was the give away. Heyman, speaking for Lesnar, never once cared to mention anyone else on the roster as a threat to Brock. He didn't address anyone else, he didn't talk to anyone else. Finn Balor is going to take this. Between Finn, Joe, Styles, Owens and Zayn, I believe the Triple H earworm is well implanted into Vince's head.
WINNER
Beef: Finn Balor/The Demon
CB: Finn Balor/The Demon
So there ya go. I'm sure Bill is gonna shred my stuff like pulled pork. And I'm looking forward to devouring it. Let me know if you enjoyed! Thanks for reading!
CRAZY BILL: No need to tear Beef apart. This isn't a Smackdown PPV, I don't get to rag on him because his favorite thing about Shinsuke is the music. We actually agreed on quite a bit of this. Sure, I got a little more in depth with how a pin would happen, or how a match is going to play out…. I like to be daring like that. All in all, I think Extreme Rules is going to be a really solid PPV. Better than what Smackdown did with Backlash!
Who do you think is winning at Extreme Rules?  Might we see the unlikely return of Braun Strowman? Will Brock Lesnar be there to stand face to face with the No. 1 Contender as the show closes? Will we find out who attacked Enzo Amore?
Sound off below and on twitter