Are you planning on watching New Japan Pro-Wrestling for the first time? Here's everything you need to know about tonight's event written by PWP Staffer Christopher "Toph" Epps. 
Will this be your first time watching Wrestle Kingdom? Are you new to the NJPW product and need a quick refresher course before you jump in? Fear not! That's why I'm here. I've prepared some answers for commonly asked questions by newcomers written below!
What is Wrestle Kingdom?
Wrestle Kingdom is the first show of the year and the biggest show for NJPW.  The show is held on January 4th every year.  It can be viewed as NJPW's WrestleMania and a who's who of all the top stars not signed to WWE.  It is held in the Tokyo Dome which is expected to have the biggest crowd in decades later this week.  If you have never watched a NJPW show before, Wrestle Kingdom is the ideal show to start from.
What time does the show start?
Due to the drastic time difference, the show will start at different times depending on the area you live in.  Below is a post from reddit user Sladgehammer who will help you out to that question.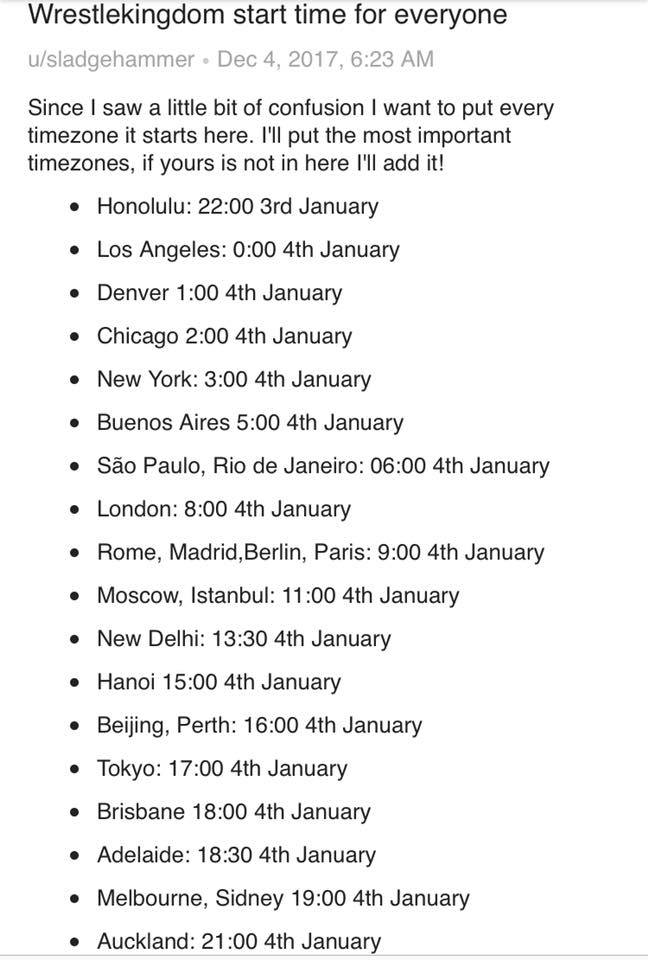 The time difference is too much for me? Any other tips or recommendations?
Staying up late to watch Wrestle Kingdom can be hard.  My first recommendation is to request time off the day of Wrestle Kingdom weeks in advance.  Assuming you aren't an insomniac, you need to go to sleep early that day and have an alarm clock ready to wake you up at least one hour before showtime to get yourself collected and ready for the show.  If this is too much for you, you can always watch the replay later that day, but you risk being spoiled by social media if you take this option.  Should you choose this option, I recommend COMPLETE SOCIAL MEDIA BLACK OUT the moment you wake up the morning of January 4th before you watch the show.
Are the rules for matches any different than what I might be accustomed to?
New Japan has a 20 count instead of the traditional 10 count you might be used to.  The 20 count gives talent more time to rest since the style is faster paced in NJPW.  It also gives the talent more time to work spots outside.  Every now and then they might tease a false finish to a Count Out, but it rarely happens in NJPW.  The referees also count a tad slower to add suspense to the match.  New Japan also has something called Strong Style.  Essentially, it translates to extremely stiff and hard-hitting matches.  They also refer to their matches as Games instead.  Lastly, NJPW is a very faction heavy promotion.  Just something else you should keep in mind.
New Japan often has breaks in their shows. Why is this?
Intermissions happen halfway through the show.  They usually last around 25-30 mins allowing people in attendance and those watching live a break from the action.  Use this time for a restroom break, food break, social media break, etc.  This is one of the reasons NJPW shows rarely drag because it allows you to feel refreshed rather than the dragging feeling of watching a four show from start to finish with no break.
Does New Japan have English Commentary?
There is an English and Japanese Commentary Team.  One of the more intimidating features of NJPW is the commentary.  It can be difficult to understand what is going on if you don't understand the product being told to you.  To compensate for the culture barrier, an English Commentary Team has you covered.  The team consists of former WWE and ROH commentator Kevin Kelly and former manager/wrestler Don Callis who you might remember from ECW as Cyrus or WWE as The Jackal.  They've been the Commentary team since Steve Corino left to work at the Performance Center for WWE.  Callis gives color commentary while Kelly is the face commentator.  They are a very good commentary team and have grown on me over the past year and will hopefully grow on you as well.
Who are those people that are always surrounding the ring during the matches?
Those are the Young Lions of NJPW.  Young Lions are newcomers to NJPW that have been trained through the NJPW system at the NJPW Dojo.  They pay their dues by helping set up the ring, giving them water, and offering ice packs to wrestlers after a match among other things.   You will often see them in the beginning of most NJPW shows in tag matches either fighting each other or teaming up with older established legends in the business to help further along their progress.  Young Lions always wear black trunks.  Depending on the talent, they may be sent on an excursion to other promotions to perfect their craft.  It takes some talents longer than others to return.  When their excursion is complete, they return to NJPW repackaged as a new character ready to migrate with the roster and become official members of the NJPW roster. Expect a future article about the Young Lion system and how it works down the road.
How are the crowds in NJPW normally?
The crowds in NJPW are different from the crowds in USA.  They are quiet and respectable throughout the matches rarely ever chanting anything other than the names of the wrestlers.  The few times the crowd does get lively, you know something special is happening and is typically seen at the end of matches. 
How is the pacing of a NJPW normally go?
NJPW does have promo packages and vignettes, but are extremely uncommon and often saved for important moments such as the top matches on the card or to tease a debut of a new performer.  They are also used to announce something for future events.  The pacing of NJPW shows consists of match after match happening with no interruptions (besides the one in the middle of the show).  Don't expect backstage segments or promo packages except for the main event matches. This rapid-fire pacing is what makes the shows just go by quickly rather than drag.  Lastly, the quality of matches gets better the later the show goes on similar to a UFC show.
How many Championship Belts does NJPW have?
NJPW has eight Championships. The titles consist of:
IWGP Heavyweight Title (Current Champion: Kazuchika Okada)
IWGP United States Heavyweight Title (Current Champion: Kenny Omega)
IWGP Intercontinental Heavyweight Title (Current Champion: Hiroshi Tanahashi)
IWGP Jr. Heavyweight Title (Current Champion: Marty Scurll)
NEVER Openweight Title (Current Champion: Minoru Suzuki)
IWGP Heavyweight Tag Team Titles (Current Champions: K.E.S also known as the Killer Elite Squad. Davey Boy Smith & Lance Archer)
IWGP Jr. Tag Team Titles (Current Champions: Roppongi 3K.  Yoh & Sho)
Never Openweight Six Man Titles (Current Champions: Bullet Club Members Bad Luck Fale, Tama Tonga & Tanga Loa)
Where can I watch Wrestle Kingdom?
You watch Wrestle Kingdom using the streaming service New Japan has called New Japan World. I prefer Google Chrome, but you can use any browser you prefer.  You can also translate the Japanese text to English making navigation of the site easier.
How much is it to subscribe to New Japan World?
New Japan World costs 999 yen, which translates to about $8.89 US Dollars a month.
What is New Year Dash?
New Year Dash is the equivalent of Post Mania RAW for NJPW.  It is the first show after Wrestle Kingdom for NJPW. New Year Dash often has debuts, returns and big angles to start off the new year.
Miscellaneous
These are some unconfirmed things fans expect to see at Wrestle Kingdom later this week: 
The official announcement of a NJPW Dojo in US.

Information about a possible NJPW Video Game.
Another appearance from Katsuyori Shibata.
More information about NJPW's return to US on March 25 at Walter Pyramid
There are many other things I'd like to discuss, but I think I'll save more info for another time.  There is nothing like watching Wrestle Kingdom live and screaming your lungs out at 5 a.m. in the morning.  Hope to hear you guys scream with me!
For more news, rumors, videos, podcasts and exclusive articles, follow us on Twitter @PWPNation.
Follow on Twitter: @TophKnowsBest
Facebook link: https://www.facebook.com/DaToph
Email info: Christopherepps87@gmail.com