In his latest piece, Marc Madison explains why the recent success of Christopher Daniels and Brian Kendrick, although it may be their best, will most certainly not be their last time in the spotlight. 
During this past summer's WWE Cruiserweight Classic, there was a story told about a long-time wrestler and former WWE tag team champion, The Brian Kendrick. It was a case where Kendrick was approaching the end of his career at 38 years of age, and we were told during the tournament of how he lost time because of bad choices (whether they are suggesting substance abuse or something else is unclear). He was competing as though his only option was to win.
After losing to eventual semi-finalist Kota Ibushi, the evening ended with an in-ring embrace with his long-time friend Daniel Bryan. These two men were trained by the Heartbreak Kid Shawn Michaels when they were starting their careers off.
Once the Cruiserweight division was established and brought to Raw, Kendrick immediately challenged TJ Perkins for the title and became the Cruiserweight champion, again playing the veteran that was on the verge of retiring. Whether or not his impending retirement was legitimate or not, fans bought into it.
It was quite easy for Kendrick to tug on heart strings as a sentimental favorite. It was simple to feel a sense of sadness at the possibility he was leaving wrestling since he was closing in on forty years of age.
However, even when he swerved TJ Perkins and captured the WWE Cruiserweight championship, fans cheered his win. Months after winning the title, Kendrick has been able to transition into different feuds with other men for the championship. Whether it is Rich Swann or now Akira Tozawa, his role has transitioned nicely, as he is capable of having short programs with another talent in hopes of elevating them. And Kendrick's role isn't unlike what another wrestler has recently achieved.
At forty-six years of age, Christopher Daniels captured the Ring of Honor World Championship. In an age where Goldberg has captured a title at the age of 50, Daniels win is very different. When he defeated Adam Cole, it became a celebration of all he had accomplished in his career. After all, he had accomplished in tag team competition alongside his best friend Frankie Kazarian, or as a singles wrestler earlier in his career during the days of NWA-TNA and then TNA, Daniels achievement was unquestionably a thank you.
For years, Daniels was known for being a singles wrestler in TNA. But the days of being a key component in TNA's X-division were long past, and it would have made sense if the company had him in a different role rather than at the forefront of the main event scene. Given that Daniels is an intelligent man that knows exactly what he is doing, it could very well have been his choice to be in a different role than competing in the main event.
After a number of, Daniels and Kazarian left TNA and joined Ring of Honor. When they first came in as The Addiction, fans gravitated towards them, but some wondered how long before their role became to simply elevate others on the roster.  But that was never the case, as they pulled a swerve, turned heel, and captured the ROH tag team championships. Daniels and Kazarian's time in ROH has been meaningful.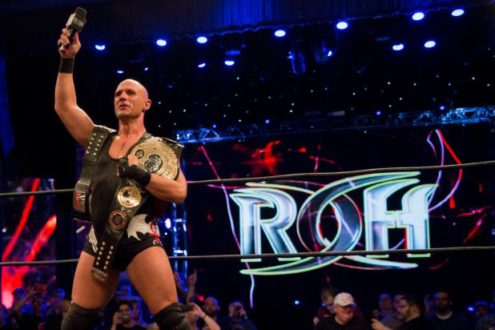 Credit the management of ROH, who stood behind Daniels and put him in a prominent role within the company. As the build towards his ROH championship match was going on, fans were led to believe that this would be Daniels' last opportunity, not just as capturing a championship but his last opportunity at anything of meaning.
Now as champion, a great deal of pressure will be put upon him, and at forty-six years of age, it is very demanding. However, that demand is something he has waiting for his entire career for.
Brian Kendrick and Christopher Daniels at thirty-eight and forty-six years of age, respectively, have proven that there is still not only good matches left in them but great matches. They have seen ups and downs in their career, and while personal or professional challenges can limit some, these two men have come full circle. These men have had similar careers as they have competed in WWE, TNA, and ROH at some point in their career.
These men have earned all the praise they have received around the world. Whether they worked alongside one another or against one another, they have shown that this isn't their last stand in wrestling, and if it is, wrestling fans should be resigned to the fact that this is their best stand.
For more news, rumors, videos, podcasts and exclusive articles, follow us on Twitter @PWPNation. For more of Marc's work, you can follow him on Twitter @TheMarcMadison.