Hart Murmurs # 81
Bruce Hart Predicts WWE Hell in a Cell 2017
Greetings. This week, we'll candidly preview the WWE's upcoming pay per view – Hell in a Cell extravaganza.
Hell in a Cell Match
Shane McMahon vs. Kevin Owens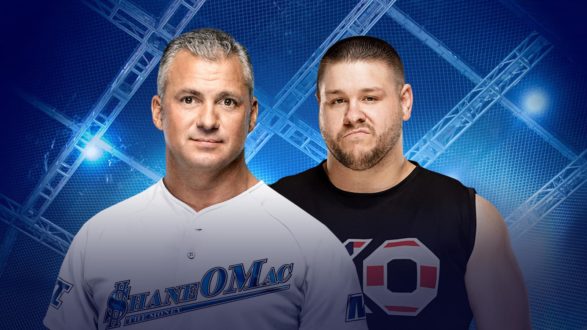 Perhaps the most intriguing encounter on the card is the cage match between Kevin Owens and Shane McMahon. While the lead-up to this match, including the contrived charade with Vince McMahon getting bloodied and battered by Owens, was implausible…
I'm nonetheless anticipating a pretty exciting encounter, with Shane rendering some of his signature death defying leaps of faith and Kevin taking some hellacious bumps.
In the end, I'm anticipating that Owens will go over – perhaps involving some outside interference or skullduggery. Given that Owens' animosity is directed toward the McMahon family, it could be a viable option to have Triple H get involved and shoot some kind of angle – which could set up a potentially hot match between he and Hunter, perhaps at Survivor Series.
WWE World Heavyweight Title Match
Jinder Mahal (Champion) vs. Shinsuke Nakamura
For whatever reason – I have trouble taking this "world title" match as seriously as the epic Universal title clash between Braun Strowman and Brock Lesnar at the recent No Mercy Pay-Per-View.
Having said that, I'm still anticipating a damn good match, as both are hard workers, at the peak of their careers and they seem to have pretty good synergy. Hopefully the WWE's booking committee will refrain from having the Singh Brothers interfere or other illicit outcomes, because it tends to only further diminish the already tarnished image of the once iconic WWE world title.
As for the ostensible outcome, I'd be surprised if Jinder didn't retain the belt, because with the WWE touring India in December, it would make a lot more sense for him to still be champ for that tour, where he would likely have a re-match with The Viper or perhaps against another viable contender, such as a Roman Reigns.
WWE SmackDown Women's Title
Natalya (Champion) vs. Charlotte Flair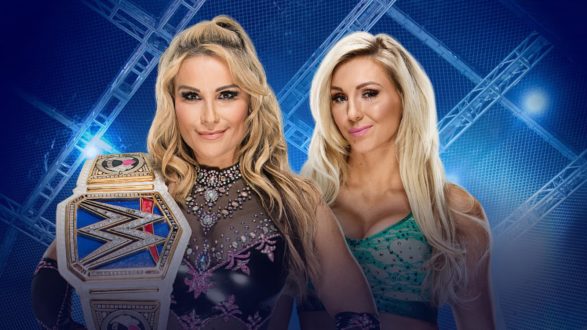 It's been widely speculated that Natalya will be dropping the title in this match to Charlotte, who only recently switched from the RAW faction of the WWE to the SmackDown division. Charlotte is, without question, a most worthy candidate.
However, since Nattie only won the title a short while ago and Charlotte is in the process of being turned into a face, I could see the merits of having some hot finish with Nattie still retaining the belt but setting up a return for an upcoming major show – perhaps even with iconic rivals – Charlotte's dad Ric and Nattie's uncle, The Hitman, on hand, health permitting, of course.
WWE SmackDown Tag Team Title
New Day (Champions) vs. The Uso's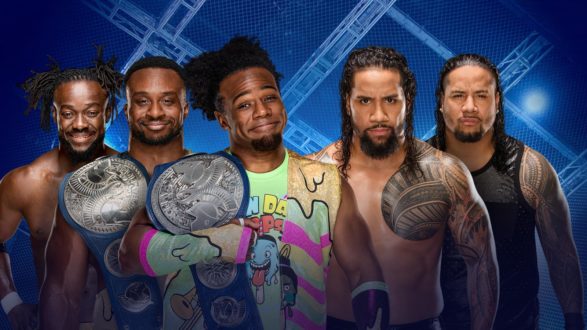 It seems that these two teams have been married to each other for months, if not years. As such, there's not really that much excitement surrounding this somewhat redundant debacle, nor is there any perceptible reason for them to be fighting each other again on a major pay per view.
I have no gut feeling as to who might be going over here, but it would probably make sense for the Uso's to regain the straps and garner some heel heat – which they seem to be lacking, in the process.
As for The New Day, if they lost, I'd be inclined to split them up and let them both go into singles – as I think Big E could do some serious business against some of the other top heavyweights, such as Brock Lesnar, Braun Strowman, Big Cass and Baron Corbin. Kofi, on the other hand, is also a pretty dynamic singles performer in his own right and I could see him doing business against smaller heel types such as perhaps United States champion, AJ Styles or Dolph Ziggler, The Miz or even Neville.
United States Title Match
Baron Corbin vs. AJ Styles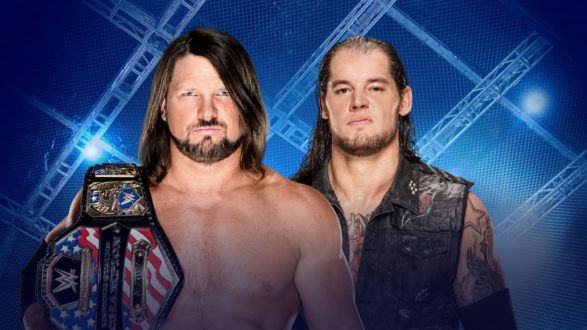 With the glut of titles in the WWE these days, including the World, Universal, Intercontinental, the once prestigious United States title doesn't seem to have the same cachet that it used to have.
However AJ remains one of the WWE's most talented and consistent performers and is capable of having a great match with a wide range of different performers. Corbin, as of late, seems to be in a bit of a slump, but if anyone's capable of giving him a great match and getting him back on track, it would be AJ.
I'd be inclined to have AJ ultimately go over in this one and then let him work with some other potentially worthy contenders, including possibly Seth or Dean or perhaps even engage in a title unification match against Intercontinental champion, The Miz.
Dolph Ziggler vs. Bobby Roode
From a purely athletic perspective, this match has the potential to be one of the best on the card, as both of these guys are great in-ring performers who "bring it" nearly every night.
Unfortunately, poor Dolph – who not that long ago seemed poised to becoming one of the the WWE's next big stars, seems to have pissed off somebody in the office and rather than becoming the next Daniel Bryan or Heartbreak Kid, he's been turned into a buffoonish comic relief type and seems to be on the same track as other promising up and coming stars who were similarly cast – such as Cody Rhodes and Damien Sandow – neither of whom are still on the roster, I might add.
As for Roode, he's also an extremely talented performer who hasn't really been given an opportunity thus far to really show what he's capable of.
While Dolph probably deserves the win, I, nonetheless, wouldn't be surprised to see Roode go over, if only because he just returned to the main roster and probably needs a win more than Ziggler.
Not to digress, but I could see some potential down the road, in having Dolph and Bobby forming a tag team, as both are colorful, charismatic and more than versatile enough to work as either faces or heels. As a team, they might have some entertaining matches against teams like Rollins & Ambrose, the Uso's or even The New Day.
I'm not really expecting that to happen, but it makes more sense than a lot of the misguided misadventures we've been inflicted with in recent years.
Randy Orton vs. Rusev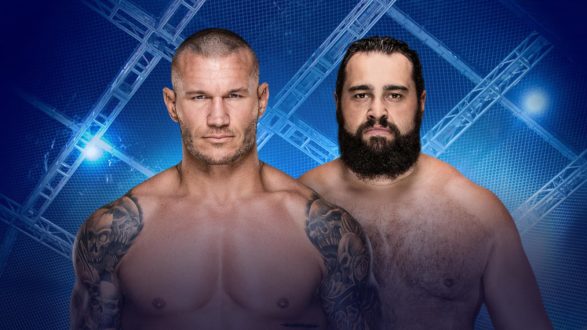 I have no idea why the WWE continues to flog this seemingly dead horse, as there never was much synergy between these two – even at the outset, when Randy was the champion and Rusev was being given a big push. I would expect that Randy will probably go over decisively in this one and then resume his on again, off again quest to regain the world title, from Jinder Mahal.
On that note, I'll call this a wrap, but shall look forward to catching up with you all next time, for my prognosis on the big pay per view.