Clash of Champions 2017 is tomorrow night and it's packed with intense action, intriguing matches, and interesting storylines. To help get you ready for the event, PWP Nation featured writer Zack Heydorn breaks down each match with analysis and predictions.
Mojo Rawley vs. Zack Ryder (kickoff show)
This feud and story has been all about Mojo Rawley. He's the future star and the guy that needs to be protected and built up with a win. Tomorrow night is Rawley's coming out party as a heel and it needs to be executed strongly. Rawley will be victorious in very convincing fashion and I wouldn't be surprised if we see an added beatdown of Ryder after Mojo's won the match to put him over even more.
WINNER: Mojo Rawley
The Bludgeon Brothers vs. Breezango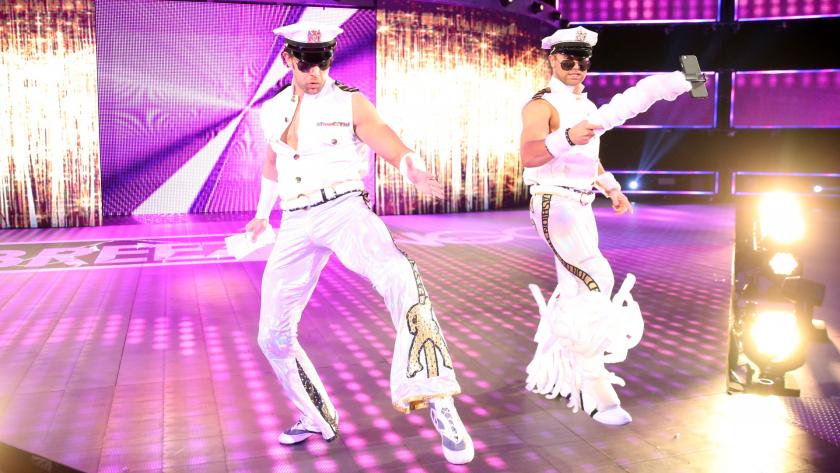 It's gonna be sad to see Breezango go down in this one, but alas, that is what will take place. Breezango has created a nice niche for themselves on SmackDown Live and have taken a gimmick destined for failure and made the most of it. They deserve an enormous amount of credit for that, but they are strictly booked and treated like a comedy team. Based on how the Bludgeon Brothers have been booked thus far, the WWE clearly sees them as a viable team and one that could eventually challenge for the tag team titles and even have a long run as tag team champions. If the Bludgeon Brothers are going to be that type of team for the WWE, it's obvious they'll go over here.
WINNER: The Bludgeon Brothers
Charlotte Flair vs. Natalya (WWE SmackDown Women's Championship) – Lumberjack Match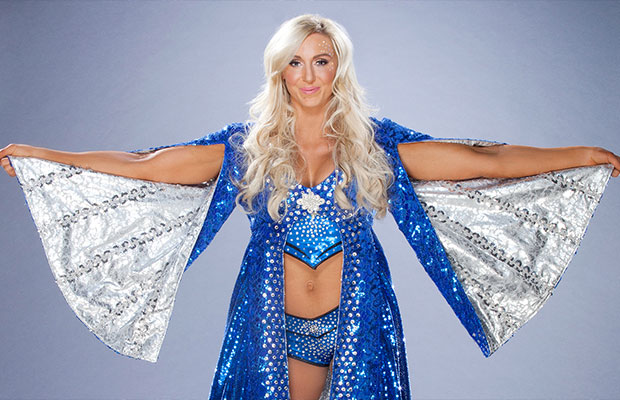 Charlotte and Natalya have had many nice matches together. That fact is one of the biggest draws and reasons to be interested in their feud. Adding the lumberjack stipulation takes away from that. It adds more of a car crash theme to a feud and series of matches that are based on solid in-ring wrestling. The one thing that the lumberjack stipulation does provide is a reason for Carmella to be ringside and it puts Charlotte in a position where she can get attacked by others that then leaves her open to a cash-in. If this moment isn't the one for Carmella, I don't know which will be. Charlotte will win this match cleanly, then get attacked by some angry women serving as lumberjacks (Riott Squad), which will give Carmella the opportunity to cash-in her money in the bank contract and win the SmackDown Women's Championship.
WINNER: Charlotte, followed by a successful Carmella MITB cash-in to become the new SmackDown Women's Champion.
The Usos vs. Chad Gable and Shelton Benjamin vs. The New Day vs. Rusev and Aiden English (WWE SmackDown Tag Team Championship)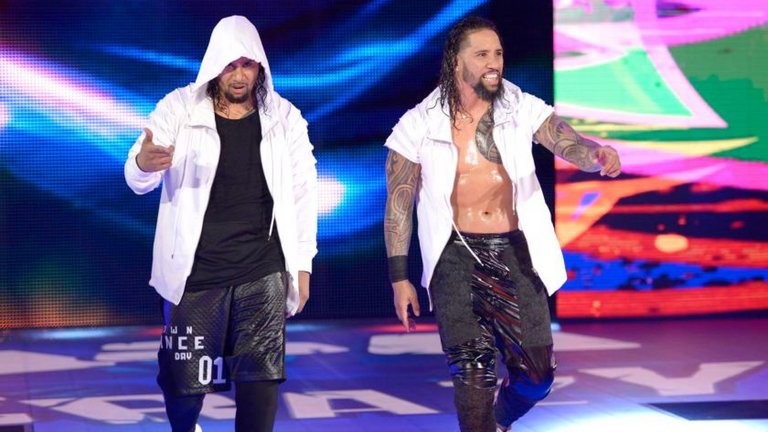 Talk about putting 10 pounds of you know what into a five-pound bag. This match screams, "we have nothing good for the tag team division so let's put everyone into a match." That said, there is so much in-ring talent involved that it could be in the running for match of the night when Clash Of Champions is all said and done. The Usos have made a habit of taking over B-shows and with Gable/Benjamin and English/Rusev recently receiving psuedo pushes, they'll be full engaged to have a great match. Without a viable storyline, a match like this isn't going to change the face of the division. For that reason, The Usos will retain via a clean pinfall over Aiden English.
WINNER: The Usos
Baron Corbin vs. Dolph Ziggler vs. Bobby Roode (WWE United States Championship)
This match should be a one on one match between Baron Corbin and Bobby Roode. That's the feud but this darn PPV event is in the way before the Royal Rumble. Enter, Dolph Ziggler. He certainly is in line to take the pin here so Corbin and Roode don't get damaged before their inevitable match at the Rumble. Will it be a good match? Maybe. But the entire thing lacks a reasonable story to buy in to. Dolph Ziggler isn't going to become US Champion and Roode won't have his crowning moment be in a triple threat like this. Therefore, Corbin gets to walk out champion once again.
WINNER: Baron Corbin
AJ Styles vs. Jinder Mahal (WWE Championship)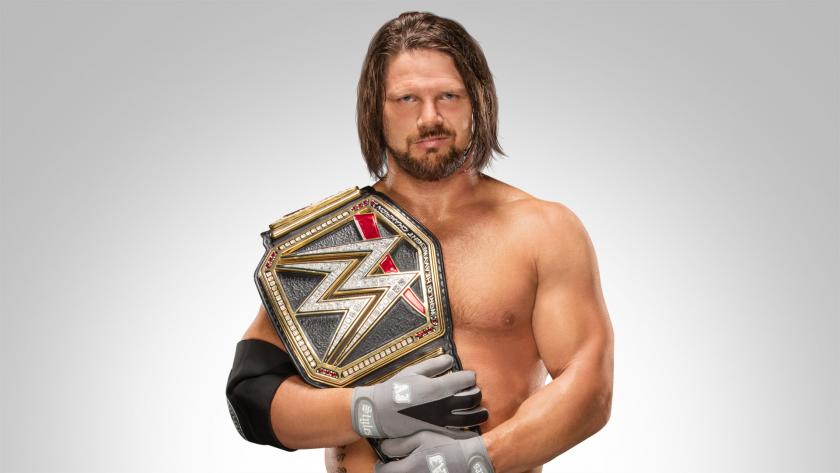 With Triple H pinning Jinder Mahal in India, its safe to say that the Jinder experiment is over. He didn't bounce a number in India as planned with his push and in turn, he helped tank SmackDown Live ratings over the summer. AJ is and should have always been the man on the blue brand. The belt is in the right place and given the recent fall that Jinder took at the hands of Triple H, all signs point to the belt staying in that rightful place – around the waist of AJ Styles. From a storyline standpoint, AJ's win on Sunday will wrap up his business with Mahal and he'll look to bigger and better things like the Royal Rumble and the build to a major match at WrestleMania 34.
Kevin Owens and Sami Zayn vs. Randy Orton and Shinsuke Nakamura (Shane McMahon and Daniel Bryan are special guest referees)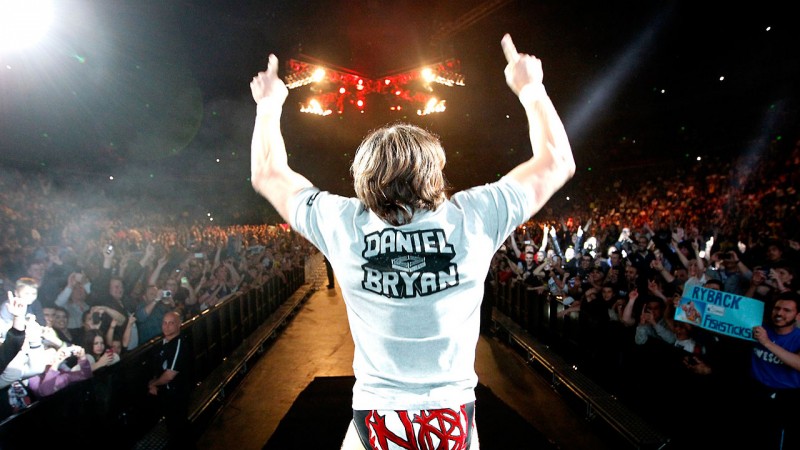 There is a vast array of storylines intertwined into this match. Kevin Owens and Sami Zayn vs. Shane McMahon, Shane McMahon vs. Daniel Bryan, Daniel Bryan vs. Owens and Zayn, plus the fact that Shinsuke Nakamura could be on the verge of being heated up again for a major WrestleMania match. It'll be tough to get closure on all of those elements in one match. That said, I'm expecting a big swerve of some kind to progress the story forward. Looking at the situation objectively, Owens and Zayn aren't turning babyface and Orton and Nakamura aren't turning heel. That removes two potential swerves off the table. Daniel Bryan won't be turning heel either. Bryan is one of the most beloved stars on the WWE roster. Because of that, the WWE couldn't turn him heel if they wanted to. This leaves Shane McMahon. He's the only guy in the match that makes sense to turn so the story being built can progress in a major way. Because of  that, watch Shane side with his enemies Owens and Zayn in an effort to wield  as much power as possible and go against Daniel Bryan.
WINNER: Kevin Owens and Sami Zayn