Sami Zayn vs. Shinsuke Nakamura at NXT Takeover: Dallas is the subject of the latest Booking The Finish article where Jay Alletto analyzes the match & provides a finish that WWE could use for the match. 
Months of intrigue has gone into the in-ring debut of Shinsuke Nakamura in NXT. This weekend at NXT Takeover: Dallas, Nakamura has a huge test in front of him as he goes into battle with WWE Superstar & former NXT Champion Sami Zayn.
This is the perfect match-up to introduce Nakamura to the entire WWE Universe. If you haven't seen him wrestle yet, this is your opportunity. Believe me when I say that Shinsuke Nakamura is one of the best wrestlers in the entire world.
Not only is "The King of Strong Style" arguably the most charismatic Japanese wrestler of all time, but his matches are a hard-hitting mix of classic Japanese strong style & American psychology. The former 3 time IWGP Heavyweight Champion & 5 time IWGP Intercontinental Champion is poised to start a run to becoming one of the greatest Japanese wrestlers to have a longterm run in a major American wrestling organization (Great Muta, Jushin "Thunder" Liger, Takeshi Morishima & Ultimo Dragon just to name a few).
To compliment the debut of Nakamura is NXT veteran Sami Zayn. Zayn is the perfect opponent because he is fluent in working every style of wrestling including the Japanese Strong Style that Nakamura is accustomed to. I have to believe that he will have the NXT fans solidly behind him this coming Friday night in Dallas. And to top it off, this will likely be his final match in NXT; even though that is not confirmed.
So you have to figure that Sami Zayn wants to go out with a bang, right?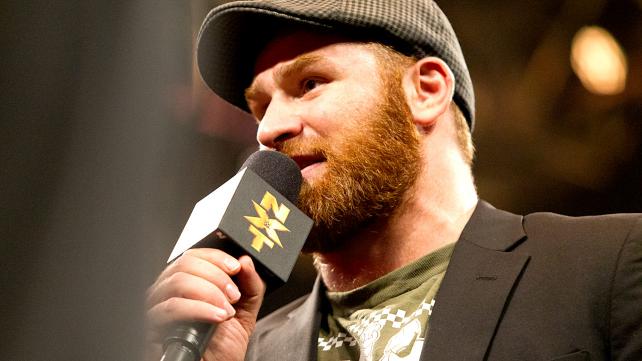 ANALYZING THE MATCH
There isn't much history to talk about between these two competitors. They are simply two of the best wrestlers in the entire world who will be showcasing their craft on a major stage. And because of that, you can argue from a pure psychological standpoint that both men could really use this win.
Sami Zayn needs the momentum heading into his first WrestleMania & would love nothing more than to make Nakamura's debut an unsuccessful one. Zayn has been a part of some of the biggest NXT matches since it's debut on the WWE Network. The 'big fight' experience in NXT easily goes to Zayn, but Nakamura has been in some major battles throughout his career as well.
Shinsuke Nakamura needs to make a statement. There has been a ton of hype for his debut and he absolutely NEEDS to back it up with a convincing victory & memorable performance. Just this past January, he competed in a huge match at Wrestle Kingdom 10 against AJ Styles where he retained his IWGP Intercontinental Championship (He was stripped of the title and never lost it). This would be the last major NJPW match for both men before leaving the promotion for WWE.
Both could use this win, but Nakamura needs it more. No doubt about it.
Unfamiliar fans have been fed the hype & now it's time to deliver. False finishes need to be utilized by both competitors to build the drama. Not knowing what Nakamura's definitive finish is will add some unpredictability for casual viewers who may not have seen him compete before.
Think about KENTA debuting as Hideo Itami for a minute. His finish had been the GTS for years in Japan, but he didn't use it for months in NXT and consistently teased using it in most of his matches. The diehard fans who were familiar with Itami knew exactly what move he was going for, and they reacted accordingly.
The same could essentially happen with Nakamura.
His finish in NJPW was the Bomaye Knee, which is a vicious running knee directly to the head. And he used it in a variety of fashions: back of the head, into the face, directly to the temple or even off the middle rope. It's unclear with the strict concussion protocol whether or not Nakamura will use this as his finish. It's a direct impact to the head with a lot of momentum and force behind it. Don't think "Daniel Bryan's Running Knee." It's not that.
Nakamura has a vast offensive arsenal of moves that aren't regularly seen in WWE, so it will be interesting to see how he finishes matches.
Booking The Finish
Booking The Finish to this match is trickier than you may think. Analyzing this from the standpoint of an aspiring creative writer, there are certain precautions that have to be taken to ensure that both men look strong; regardless of the outcome.
Heading into WrestleMania, Zayn cannot afford to be defeated without a major fight; and I really don't think that is something we need to worry about. He needs to kick out of nearly EVERYTHING that Nakamura throws his way. He also needs to protect himself from potential injury by not taking too many unnecessary risks. Fans need to believe that Zayn can overcome monumental odds at WrestleMania, so it is essential that he looks good during this match.
Could we see Kevin Owens make an appearance to try & screw Sami Zayn in this match? I doubt it, but if WWE plans on running with a longterm Owens vs. Zayn feud for the Intercontinental Championship after WrestleMania, they may want to use this opportunity to build heat. However, you don't want to cheapen a debut victory for Shinsuke Nakamura.
As stated above, Shinsuke Nakamura needs this victory. And I don't think there is any way that he doesn't get it. He can't enter NXT with a loss; that would doom his run right out of the gate. However, he has to show vulnerability. He has to sell his ass off for Zayn's offense, including the Koji Clutch, Corner Exploder Suplex & the Helluva Kick. We don't need him to be overly dominant, but he needs to win with his finish & not a fluke roll-up or small package.
Assuming that the Bomaye Knee will be his finish, I could see him connecting with a Bomaye Knee after Zayn misses a his second Helluva Kick for the win. It's simple, but throughout the course of the match, there will be a variety of near falls…and even a prolonged Koji Clutch by Zayn, putting Nakamura in a near tap out situation. Shinsuke will hit all of his major spots with Zayn kicking out of everything, aside from the Bomaye Knee. The stronger Zayn looks in the defeat; the stronger Nakamura looks in victory.
I don't suggest any swerves or run-ins in this match. It needs to be a memorable WrestleMania Weekend classic that fans will go back and watch again. Hard hitting, fast-paced & explosive out of the gate; a quintessential showcase for Shinsuke Nakamura to be introduced to the WWE Universe and the ending of a chapter in the career of Sami Zayn.