As we approach the 2017 WWE Royal Rumble, Jay Alletto takes an opportunity to Book The Finish of some important matches including the Royal Rumble Match. Also, as an added bonus, Jay will provide some paths for major superstars heading into WrestleMania 33. 
The Road to WrestleMania officially begins at the 2017 Royal Rumble. Heading into the yearly spectacle, WWE has a few major storyline developments ready to go. Here are a few questions that I will take a look at in this article:
Will Triple H return to eliminate Seth Rollins from the Royal Rumble? Or could The Architect eliminate the 2016 Royal Rumble winner?
How will WWE utilize The Undertaker in this year's Royal Rumble match?
Is it possible that AJ Styles will really defeat John Cena AGAIN?!
Can Roman Reigns defeat Kevin Owens to become the new Universal Champion?
And of course, who will win the 2016 Royal Rumble match?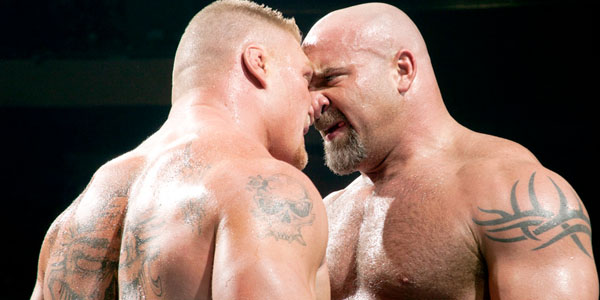 I hope you don't think I forgot about Brock Lesnar & Goldberg. It is apparent that Lesnar vs. Goldberg 3 will take place at WrestleMania 33. So, how do we book these two in the Royal Rumble? There are countless options, but if I'm in the driver's seat, I'm constantly taking chances as a booker.
My idea for Brock Lesnar & Goldberg at the Royal Rumble is to make them enter at #1 & #2 respectively. This would be an epic way to start the match. We haven't seen two massive stars as the first two in the Royal Rumble since The Undertaker & Shawn Michaels did this at Madison Square Garden in 2008. WWE could go a few ways with it. Lesnar could get his heat back fast by eliminating Goldberg dominantly. Throwing your opponent over the top rope immediately gives Lesnar the advantage.
Goldberg can once again get the upper hand on Lesnar, but I doubt it. Lesnar will likely get his revenge at WrestleMania, avenging his previous losses to Goldberg.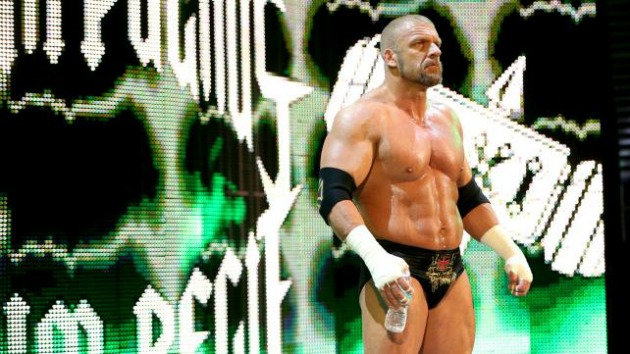 Every year, there are a few surprise entrants into the Royal Rumble match. I believe that we will see last year's winner, Triple H, make his return for a WrestleMania run. If I am booking it, I would heavily promote Triple H as an entrant in the Rumble starting this Monday. Fans would be amped to see a possible confrontation between The Game & Undertaker, Goldberg, Lesnar, etc.
However, we should pencil in a confrontation between Triple H & Seth Rollins right now. The night after SummerSlam, WWE planted a seed for a future storyline involving Triple H & Seth Rollins. A new Universal Champion needed to be crowned & Triple H made sure that Seth Rollins wasn't that man. Since then, there has not been a follow-up aside from the banter between Rollins & Stephanie McMahon.
Why did Triple H screw Rollins? We STILL don't know for sure.
To continue this storyline, WWE should allow Seth Rollins to get his heat back on Triple H. We know the match is likely going to happen at WrestleMania, so why not continue the angle by having Seth Rollins eliminate Triple H from the Royal Rumble?
Of course, this entire thing could always go the other way. It's important for the balance of the storyline to give Rollins the upper-hand here. There is plenty of time between Royal Rumble & WrestleMania for the angle to cultivate & for both men to build the story.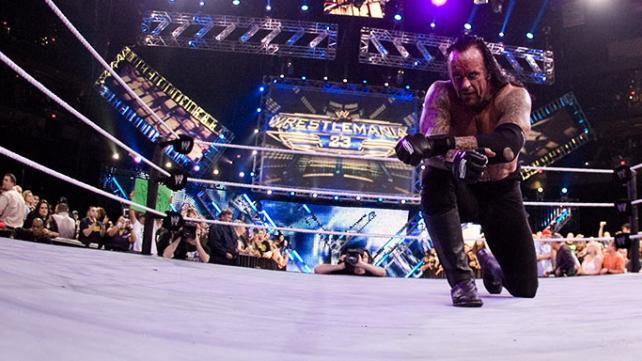 When the odds come out on possible winners for The Royal Rumble, don't be surprised to see The Undertaker as one of the heavy favorites. WWE is in a spot where they two major world title matches at the top of the WrestleMania card. They haven't been in this position since WrestleMania 29. Don't be surprised to see The Undertaker in one of those matches.
WWE absolutely NEEDS to have The Undertaker trade fists with as many "dream match" wrestlers as possible in this match…and that includes Goldberg. They need to allow The Deadman to be nostalgic because at this point, that's what fans want to see.
While it's not ideal, I would consider giving The Undertaker the victory in the Royal Rumble.
As stated above, WWE needs marquee title matches. It has been 10 years since his last Rumble victory & what bigger match is there than The Undertaker vs. AJ Styles for the WWE Championship at WrestleMania 33 in Orlando?
The word on the street is that the heavily rumored Undertaker vs. John Cena WrestleMania match has been scraped from the card. McMahon is likely waiting until WWE returns to New Orleans next year, but I digress.
The Phenom vs. The Phenomenal One. While I'm not sure it will actually happen, it could be the best possible scenario for everyone involved. AJ can work with ANYONE and put on a near perfect match. And The Undertaker needs someone that he can perform all of his signature moves on with ease.
AJ deserves this high profile match at WrestleMania after being the absolute best wrestler on the roster over the past year. The Undertaker deserves AJ Styles after having to wrestle Shane McMahon in a violent Hell in a Cell match last year. Give me The Undertaker vs. AJ Styles…title or not.
With that being said, I'm not all about John Cena defeating AJ Styles at The Royal Rumble, but it would be interesting to see him get that 16th World Championship under his belt to tie Ric Flair. Hypothetically, let's say that John Cena defeats AJ Styles. Who would Cena face at WrestleMania?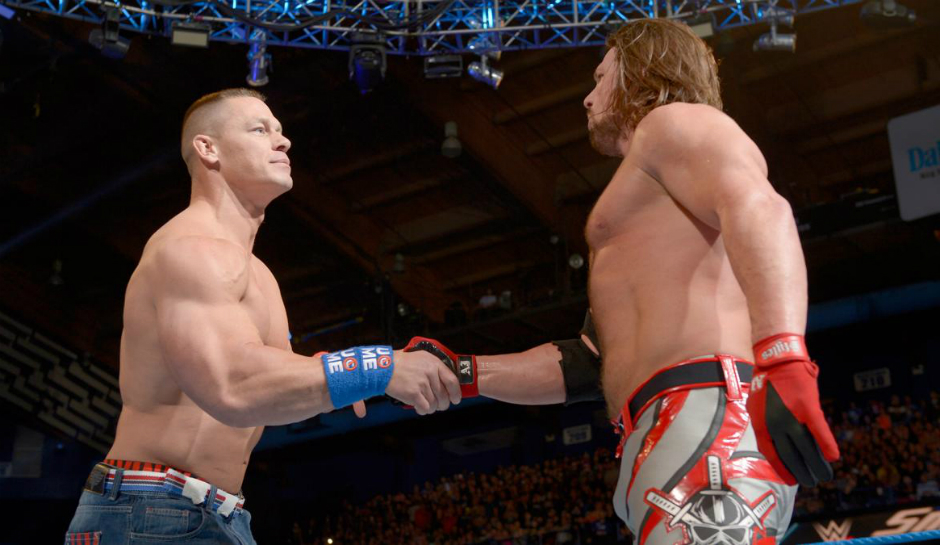 If the proposed match against The Undertaker is really scraped for the time being, John Cena vs. Samoa Joe is the match I would consider. Speaking of Joe, he should be included in The Royal Rumble match. If I'm WWE, I would heavily promote his involvement, but again, they like surprises. Give me John Cena vs. Samoa Joe at WrestleMania regardless of the result of the WWE Championship match at The Royal Rumble.
And it all comes down to this: Kevin Owens vs. Roman Reigns for the Universal Championship. Who wins and why? My gut feeling is that Roman Reigns walks out of The Royal Rumble as champion due to the simple fact that current United States Champion, Chris Jericho, will not have physical involvement in the match.
WWE is STILL trying to convince their rabid fanbase that Roman Reigns is "the guy." They want him to be the top babyface, the heir apparent to John Cena, in the worst possible way. Ladies and gentlemen, Roman vs. Strowman is on the horizon and I wouldn't be shocked to see this colossal confrontation take place at WrestleMania 33 for the WWE Universal Championship.
But there is an alternative match that could allow Roman to channel is inner heel & provide a memorable scene at WrestleMania.
Finn Balor is on the verge of returning to the ring since his injury at SummerSlam last year. Balor vs. Reigns for the Universal Championship that Finn never lost would be a really solid draw for WrestleMania & would essentially keep Braun Strowman away from doing anything important on the show. He would also be a very strong candidate to win The Royal Rumble match if he is cleared to compete. WWE wants to strap the rocket-ship to Finn Balor and push him to the moon…this could be a memorable, legacy starting way to get that accomplished.
This article isn't about booking WrestleMania, but on a side note, give me Chris Jericho vs. Kevin Owens at WrestleMania 33 for the United States Championship please? It could stem from Owens losing the Universal Title…simple, easy, effective booking.
And it all leads to this. Who will win The Royal Rumble match? If you read this entire article, and if you did "THANK YOU", you would know that I have presented two possible winners: The Undertaker & Finn Balor. I would consider The Miz a perennial contender as well, but for whatever reason, I don't think that WWE will threaten making the same mistake they made at WrestleMania 27 by putting The Miz in a marquee title match at WrestleMania. So give me The Demon & The Deadman as my two favorites to win.
In conclusion, there are a ton of unanswered questions heading into this year's Royal Rumble. How will The Road to WrestleMania officially begin? What kind of journey are we about to embark on? One thing is for sure: if WWE wants us to truly "REMEMBER THE RUMBLE", they will take some of the paths that I have presented in this article.
Jay Alletto
Follow @JayAlletto