In the third installment of Booking The Finish for WrestleMania 32, Jay Alletto dives into the WWE Divas Championship Triple Threat Match that could be a show stealer on The Grandest Stage of Them All.
The Divas Revolution started in Summer 2015 and is culminating at WrestleMania 32 as the three women that ushered in said revolution are vying for the WWE Divas Championship.
WWE Divas Champion Charlotte will defend against Becky Lynch & Sasha Banks in a Triple Threat Match.
These three women have been on a collision course since Charlotte won the championship from Nikki Bella at Night of Champions 2015. Fans knew a major WrestleMania match was brewing as the tension started to grow between Charlotte and her former Team PCB stablemates.
Eventually, Charlotte turned heel on Becky Lynch and was joined by her Hall of Fame father Ric Flair. Her push has been dominate, as she defeated Becky on a couple of different occasions to retain her championship.
After a number of weeks away from WWE TV, enter Sasha Banks at the Royal Rumble. Shortly after Charlotte defeated Lynch, Sasha made her return to a huge ovation from the live audience. She teased rejoining her former NXT "BFF" teammate by laying waste to Becky Lynch & then also putting the beatdown on Charlotte.
Becky & Sasha have tried to team up and put their animosity aside, but the desire to be the Divas Champion hasn't allowed that to come to fruition. Charlotte has antagonized both Divas into a frenzy where the only thing on their mind is becoming Divas Champion.
The Triple Threat Match was made shortly after Becky & Sasha fought to a no contest on Smackdown when Charlotte attacked both. Psychology has played a major part in Charlotte's strategy against her adversaries.
Now we are on the verge of a pretty interesting match in WWE Divas history. The veterans of the division have been pushed aside for three women who have made a huge splash coming out of NXT. Their battles at Full Sail University are legendary & now they have the unique opportunity to show the world exactly why they've been pushed to this level.
But who is going to win this match?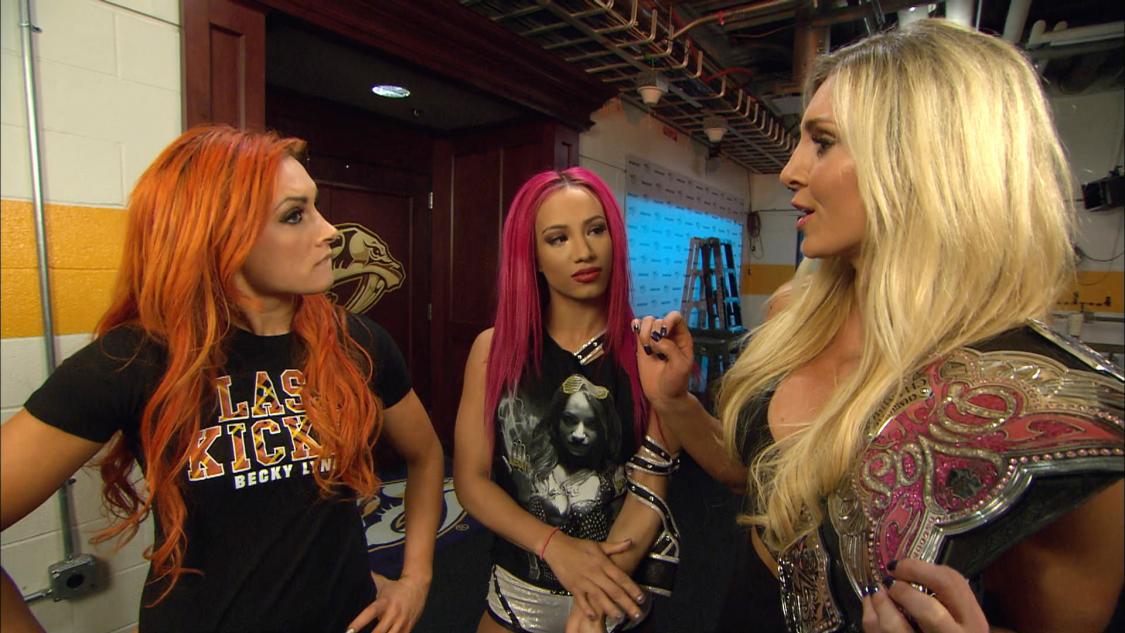 ANALYZING THE MATCH
Charlotte has been dominant with her reign as Divas Champion utilizing her athleticism to outmatch her opponents, one of which has been Becky Lynch on numerous occasions. She also has the backing of her father, who happens to be a 16 time World Champion & the dirtiest villain that wrestling has ever seen.
Sasha Banks made it a point to inform the world on Smackdown recently that she's been quietly undefeated in singles competition since coming to the main roster. That's no small feat and there's likely some reasoning behind it. She may also be the most well rounded of the three competitors. During those aforementioned epic NXT Women's Matches, the common denominator always happened to be Sasha Banks.
Becky Lynch may have surged ahead of the other two in overall likability in the past few months due to her infectious energy levels & overly babyface ways. She has opened up her own branch of suplex city by throwing in some high impact suplexes to her opponents.
A major question to be asked before Booking The Finish is what the future holds for the Divas Championship. Will we see some more talented women come to the main roster from NXT to challenge for the title, or will we get a continuance of the current feud? Where do Divas like Paige & Brie Bella fall into the equation?
All three women should have significant programs set up for them coming out of this match. They could even have a series of Triple Threat Matches during the next couple of pay-per-views. At some point, you could also eliminate one of the Divas from the equation and move forward with a series of singles matches between the two top combatants.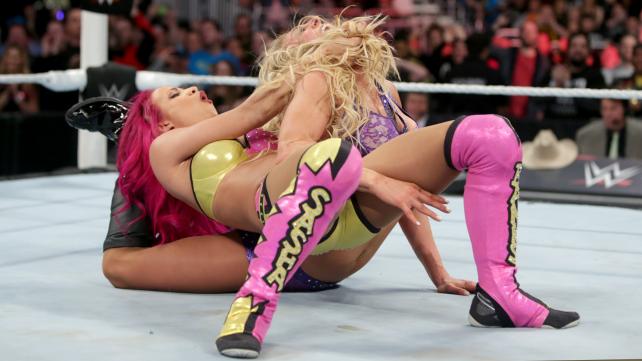 BOOKING THE FINISH
In my estimation, there is only one result to this match and that is Sasha Banks standing tall as the new WWE Divas Champion. The competition will be fast paced and ferocious. If given a solid amount of time, this match could attempt to steal the show at the biggest show of the year. While one could argue that Charlotte should maintain her momentum as Divas Champion, the evidence pointing to Sasha dethroning her is astounding.
First of all, as previously mentioned, Sasha Banks is undefeated on the main roster in singles competition. She hasn't been pinned, which is a huge feat in today's WWE Divas landscape. It is highly unlikely that she will be at WrestleMania.
Secondly, she's been waiting her turn for this moment. Since Sasha came to the main roster, the fans have been chanting her name and clamoring for The Boss every chance they get.
Oh yeah, on a side note: her new t-shirt sold out & was quickly put on backorder on WWEShop.com. When does that happen for WWE Diva merchandise?
And lastly, Sasha was the driving force behind the Divas Revolution that was taking place in NXT. As mentioned above, she was the common denominator in every memorable women's match that took place in NXT; including her Takeover: Brooklyn classic with Bayley. The main roster will want to capitalize on those memorable singles matches by creating simple competitive storylines revolving around the championship reign of Sasha Banks.
This isn't an easy decision by the powers that be. All three women could fit right in as winners of their first WrestleMania contest. And all three women will shine. If I'm Booking The Finish, I'm having Charlotte tap out to the Bank Statement in the middle of the ring. The sequence of events to get to that point would be fast paced & hard hitting with multiple near falls and Charlotte taking a large amount of the punishment leading up to it.
Charlotte has always sold The Bank Statement extremely well with her flexibility and if it's cranked in, it would be a believable and climatic finish.
At the end of the night, all three women will shine & continue to usher in a new brand of women's wrestling in WWE.
Jay Alletto
Follow @JayAlletto