After suffering a broken collarbone during NXT Takeover: Brooklyn III, Asuka's status was thrown up in the air as NXT Women's Champion. However, as revealed during the NXT tapings, Asuka announced that she is vacating the NXT Women's Championship after a 500+ day reign, the longest in NXT's history. Asuka also said she is in talks with RAW and Smackdown about joining the main roster after recovering from her injury.
A fan posted a picture of Asuka and Triple H together in the ting during the tapings. You can see below: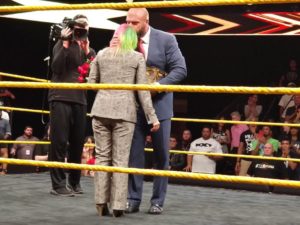 It is an awful feeling having a historic title run to end like this. But, Asuka will be back and better than ever to continue her dominance. We here at PWP nation want to wish Asuka a speedy recovery!
For more updates, follow PWPNation on Twitter @PWPNation