PWP Nation's CJ Moran discusses NXT's newest blockbuster signing, Adam Cole, and why the future is strong with Cole at the forefront
Let me begin this by asking you, the reader, one simple question. If you were running a wrestling company and you needed a young and talented wrestler to build your promotion around, who would you choose? Would you pick the 33 year old Kenny Omega who is arguably the best in the world? Or, what about the most dominant World Champion in the entire world, the 29 year old Kazuchika Okada? Either one of those two men would do wonders for a wrestling company, but, neither one of those men is the right choice. In fact, if I were to start my own wrestling company and needed someone to build around, I'd be calling NXT's newest blockbuster signing, Adam Cole.
At just 28 years old, Adam Cole defines the future of professional wrestling. Or, in Adam's case, he defines the future of WWE. The former three time Ring Of Honor World Champion finally made his long awaited NXT debut this past Saturday at NXT Takeover: Brooklyn III when he attacked the new NXT Champion, Drew McIntyre, with the help of fellow and former ROH compatriots, Kyle O'Reilly and Bobby Fish. Adam Cole's immediate impact sent shock waves throughout the entire wrestling world as nearly everyone had something to say about Cole's debut. From The Young Bucks to Kevin Owens, the debut of Adam Cole in NXT will forever go down as one of the greatest debuts in it's history due to the worldwide reaction and impact.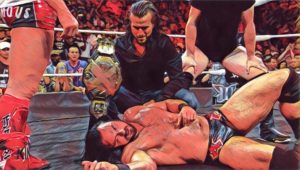 But, what exactly makes Adam Cole the "future" of NXT and quite possibly, the "future" of WWE?
Adam Cole has been working his way up on the independent scene since 2008 when he started for Combat Zone Wrestling. Since his professional wrestling debut, Adam Cole has reached large amounts of success in the industry, especially in Ring Of Honor and Pro Wrestling Guerrilla. If you knew Adam Cole on the independent scene, you already know his history and his success. Cole is the only three time Ring Of Honor World Champion in the promotion's history which goes to show just how important Cole was to Ring Of Honor. With Cole's line of championship success, it is obvious the man knows how to lead a company and knows how to act the part. However, in WWE's mind, it doesn't matter what you've done outside of the WWE. But, for Adam Cole, his wrestling ability and promo ability will prove why he was the man in ROH and why he will be the man in NXT.
Now, I won't lie. Adam Cole isn't anything special when it comes to in-ring. But, his complete wrestling style, character, and promo work blend all into one which makes Cole a complete star. Now, the question is, what is next for Adam Cole in NXT and how will he change the dynamic of the developmental brand? Well, Adam Cole has been all around the world and he has faced and has been involved with some of the best in the world and he has been involved with many names already a part of the WWE. The possibilities for Adam Cole are endless. It is obvious that Cole will get an NXT Championship run very soon, and, judging by the fans reception towards Drew McIntyre, it is almost inevitable that Cole will reign atop NXT.
Adam Cole's history with many NXT and WWE names such as ReDRagon (O'Reilly and Fish), Mike Kanellis (remember The Kingdom?), Kevin Owens, and AJ Styles, will lead his career in a great direction. Adam Cole's reign atop the WWE has just begun, but, the future is bright for the former member of Bullet Club. And, if you don't believe it yet, I promise you that when it's all said and done, Adam Cole will become the man in WWE. Adam Cole's time is now. Adam Cole's moment is now. The future is now in Adam Cole. You better believe it, BAY-BAY!
For more news, exclusive articles, and updates, follow PWP Nation on Twitter @PWPNation