In his latest, PWP Nation's Caden Moran details the rise and fall of former Cruiserweight Champion, Neville
From champion to outcast. From star to underappreciated. From king to jester.
When it comes to overall success in today's WWE, we instantly think of the superstars that have been where they are for the past decade. However, one man's success in the WWE seems to go unnoticed and considering recent backstage drama, it appears that the disrespect and lack of appreciation has finally reached it's breaking point.
The former two time WWE Cruiserweight Champion appears to be on his way out of WWE, and if he is, the sudden fall of the WWE career of this man will go down in history as one of the biggest missed chances in all of WWE. Many superstars have risen to the top and quickly fallen down, but in my opinion, there is no bigger collapse than the "King of the Cruiserweights", Neville.
It's no secret that Neville has all the tools to succeed in WWE. Despite his size, Neville has the incredible athletic in-ring ability, mic work, and power to put on a great match with anyone (except one man who I will get to later).
So now the question is: how did we get here?
Early Success
Starting out his early professional wrestling career on the independent scene known as PAC, Neville made his mark in promotions such as Ring of Honor, New Japan, Pro Wrestling Guerrilla, Dragon Gate and Dragon Gate USA. However, Neville's success was never truly defined until July of 2012 when PAC signed with WWE's developmental territory, NXT, under the new name, Adrian Neville. In my personal opinion, I believe Neville put on his best matches during his time in NXT. By putting on electric matches with guys like Finn Balor, Corey Graves, Bo Dallas, and having arguably the greatest rivalry in NXT history with Sami Zayn, Neville made his mark as one of the very best that WWE had to offer not just then, but for the future of WWE as a whole.
Neville's success in NXT was not only warranted by his performances, but by his championship victories. Neville began his championship runs by becoming a two time NXT Tag Team Champion with Oliver Grey and current RAW and Smackdown Live commentator, Corey Graves. After a short feud with Graves, Neville began his incredible singles run for the yellow brand. After defeating former partner Bo Dallas for the NXT Championship in the first ever ladder match for NXT, Neville would go on to hold the gold for 287 days, the second longest reign in the brands history.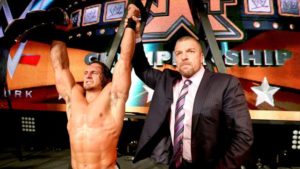 Neville's matches with Dallas, Zayn, Tyson Kidd, and Tyler Breeze, while champion are still talked about to this day. Being such a successful champion, it seemed impossible that Neville would not flourish on WWE's main roster.
But, as we now know, the impossible turned into a reality.
NXT can show a lot of promise from young and talented stars like Neville but once the main roster calls, success is not always guaranteed. That was the case for the former NXT Champion.
Early Struggles
During the post-WrestleMania 31 episode of RAW, Neville made his official main roster debut. Being a former NXT Champion and one of the most popular and talented, Neville's main roster run should have been very simple and successful. That was never the case. Despite impressing the entire WWE Universe with incredible matches with guys like Seth Rollins (even nearly beating Rollins for the WWE Championship) and John Cena, Neville could not seem to find his footing on the main stage.
In my opinion, one of the main, and possibly the only reason, why Neville was not a focal point of RAW was due to leadership change for Neville. Going from the father of NXT and the highly loved and respected Triple H to the out of touch chairman of WWE, Vince McMahon, has never been an easy task especially for someone with the size like Neville's.
After a stellar performance in the 2015 Money In The Bank ladder match, Neville would have his first true main roster feud, and an unorthodox one at that. Neville went on to enter a feud with Stardust in a comic book inspired rivalry involving The Ascension and actor Stephen Amell. This was the feud that said all that needed to be said about how Neville was being booked and, in many eyes, disrespected. Many felt that Neville deserved better and should have been a focal point for the WWE but unfortunately, that was never going to be the case. Being only 5 feet and 8 inches, Neville's size was always destined to hold him back. Neville's struggle on the main roster continued throughout the rest of 2015 and 2016 before his luck got even worse. During a match with Chris Jericho, Neville fractured his ankle which forced him to miss WrestleMania 32 and kept him out of action through Battleground. 
Neville's struggles and lack of direction was a bad sign and many felt he was on his way out early. However, the resurrection of a division was calling Neville and fortunately for him, it was the perfect opportunity for Neville to redeem himself and to claim his throne.
Success
After the successful Cruiserweight Classic in the summer of 2016, the Cruiserweight division was revived for the red brand later in the year. With fresh names and new talents, it was the perfect chance for smaller guys to show what they could do in the ring. It wasn't until December 18th, however, when the division reached it's peak. During Roadblock: End of the Line, Neville returned from a short absence with a new look and demeanor. Neville went on to attack both TJ Perkins and the then WWE Cruiserweight Champion, Rich Swann, turning heel in the process. Not only was it a breath of fresh air for the struggling division, but it was the kick start that Neville needed to reach his full potential on WWE's main roster.
I think it is safe to say that the Cruiserweight division was a complete dud before Neville joined. However, in my opinion, Neville's presence took the division to the next level and to this day, it's peak.
Neville would go on to solidify himself as the "King of the Cruiserweights" at the Royal Rumble earlier this year after defeating Rich Swann for the Cruiserweight Championship. Neville would have an incredible string of matches with Swann, Jack Gallagher, Austin Aries and Akira Tozawa. To this day, many fans claim that Neville's feud with Austin Aries was the best thing to happen to the division so it is a shame that both men have seemingly given up with the WWE.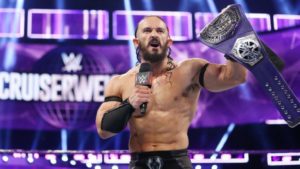 Neville brought eyes to the dismal division and he deserves and has earned all the credit in the world for that. After dropping the championship to Tozawa on the go home episode of RAW before Summerslam, Neville would go on to regain the championship from Tozawa at the biggest party of the summer. Neville's heel turn at the end of 2016 proved to be one of the wiset moves on WWE's part as it showcased exactly what Neville was capable of.
It appeared as if Neville would run the division for the entirety of it's existence. However, a new face for the purple squad would signal the beginning of the end of Neville and his run atop WWE.
Downfall
Despite being one of the most dominant and successful stars on WWE's roster, Neville was still feeling the lack of appreciation and disrespect from the higher ups. With consistent pre-show matches on WWE Pay-Per Views and no merchandise, Neville was still looked at like just another guy and that was just the first nail in the king's coffin. After ending his feud with Akira Tozawa, a new challenger appeared for Neville in the form of the arogant, ignorant, and loud mouthed Enzo Amore.
My feelings on Enzo Amore are no secret. A few months back, I wrote a piece calling for the release of Enzo Amore (read HERE), I passionately believe that Enzo is a disgrace to the professional wrestling business and does not deserve to be anywhere near it. But, I will admit that the WWE is all about money, and Enzo brings just that. Once Enzo was announced as the next challenger for Neville, all I could do is laugh. Enzo has proven that he is incapable of being an average wrestler and Neville has proven to be one of the best in the world. I was 100% committed to the idea that Enzo would never touch Neville's title and would be manhandled once again. As we now know, I could not have been more wrong.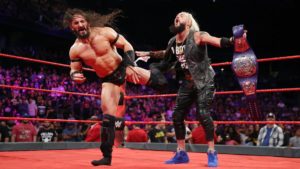 After Enzo shockingly defeated Neville at the No Mercy event in September, I knew instantly that this would not go over well with the former champion. I mean, being forced to take the pin to a Muppet? I would not be happy either. Neville went on to beat down Enzo the next night on RAW, turning babyface in the process, and would go on to get beaten down by Enzo with a crutch the very next night on 205 Live. What we did not know, however, was that was possibly the very last time we will see Neville inside a WWE ring.
Many questions still linger regarding Neville's future with WWE but I think the message is simple. Neville knows his worth and it is not losing to Enzo Amore. After having zero merchandise (except a very ugly and basic design) and being left off the WrestleMania 33 DVD, being booked to lose to Enzo again appears to have been the final straw for the former two time Cruiserweight Champion.
Neville's WWE career has had many downs and very few ups and if the end is near, then I can honestly say that it will be one of the biggest screw ups WWE has had in recent memory. Neville is one of the very best professional wrestlers, talkers, and characters in the world and if the WWE does not appreciate that, I can assure you someone else will.
For more exclusive articles and news, check out the rest of PWPNation.com