In his latest, PWP Nation's

Caden Moran

discusses why joining the cruiserweight division is Hideo Itami's last chance for success in WWE
After being rumored to be joining the cruiserweight division for the past number of weeks, WWE made the news official during this past episode of 205 Live. Now former NXT superstar, Hideo Itami has been announced as the newest member of the cruiserweight division and 205 Live.
After reading the general reaction to the news of Itami's arrival on social media, it is safe to say that not many members of the WWE Universe are happy. Many believe Hideo Itami should not be "disrespected" by being put in the highly critiqued division. After multiple injuries and time off made him an outcast in NXT, Hideo Itami sees himself now on a bigger stage.
But, unfortunately for Hideo, being a part of the purple squad only means one thing: this is Hideo's last chance at being a success in WWE.
When the former Pro Wrestling Noah and Japanese sensation, Kenta, signed with WWE's developmental brand, NXT, the signing gained mainstream attention. At the time, NXT's signing of Kenta was seen as the biggest acquisition in NXT's history.
Being a major player in Japan, Kenta was always looked at as WWE's biggest chance to break into the Japanese wrestling scene. However, after being out of action for what seemed like years, Hideo Itami was quickly replaced by arguably the biggest signing in NXT's history, fellow Japanese cohort, Shinsuke Nakamura.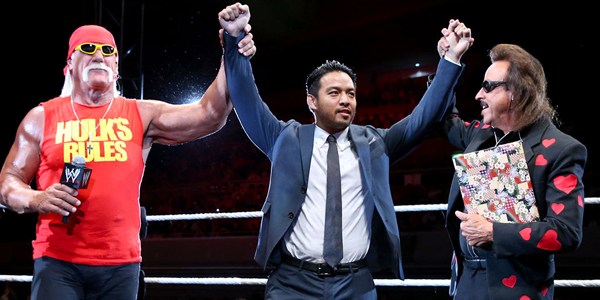 Hideo Itami was easily supposed to be a massive success in NXT. A clear as day future NXT Champion turned into a deep and dark abyss for Itami. Multiple injuries hindered Hideo Itami's career in NXT to the point that when he was 100% and ready to go, nobody seemed to care.
However, despite the lingering injuries and time off, there is one moment in Hideo's NXT run that hurt Hideo more than anything else. When Hideo returned to NXT during NXT Takeover: Brooklyn II in the summer of 2016, Hideo came out to confront now former 205 Live superstar, Austin Aries.
Hideo Itami's resurrection should have came after he finally hit the finisher he created, the Go To Sleep, on Aries. The NXT Universe finally believed in Itami again and it should have been the start of his true NXT career. Hideo then hit another speed bump as he would suffer another injury, as did Aries.
In what my fellow PWP colleague, Christopher Epps, put "the moment that hurt Hideo more than anything", Itami's non existent feud with Aries was the final straw in his damaged NXT career.
After a brief feud for the NXT Championship with the "Glorious" Bobby Roode and a highly entertaining match with Aleister Black at NXT Takeover: Brooklyn III, Hideo's presence in NXT has went away. Now, after being reported to be being called up to the main roster, Hideo Itami is now officially a part of the cruiserweight division. It probably is not what Kenta expected when signing with WWE and to us as fans, it is not what we expected either. Being a part of this division is Hideo's last opportunity at success in WWE and, in my opinion, he will achieve that success.
Despite Hideo Itami's NXT struggles, Itami instantly brings some much needed star power to 205 Live and the entire cruiserweight division. More eyes than ever will be put on the dwindling division as they were with Neville and Austin Aries. However, if Itami does end up like Neville or Aries, then we already know how this will end. We as fans need to stay optimistic, though. We can not assume that Hideo will be mistreated because the fact is, Hideo is now 205 Live's biggest star and he will make the most out of it.
Hideo's arrival to 205 Live will be felt as hard as he strikes. But, instead of having Hideo debut in a quick match with someone like Lince Dorado or TJP, Hideo needs to make his presence felt by going after the face of the cruiserweight division, WWE Cruiserweight Champion, Enzo Amore.
Take it from me, if Hideo immediately goes after the most arrogant and obnoxious superstar in WWE today and makes it clear that he wants the gold, it will make Hideo a mainstay for the foreseeable future. Being a part of this division is Hideo Itami's last shot at achieving success in WWE so there can be no time being wasted. Hideo Itami is destined to be the next face of 205 Live and I promise you that once Hideo arrives, the division will become must see.
It has not been an easy ride for Hideo Itami in WWE.
But, if done right, and I have faith that it will, Hideo Itami could finally reach his potential and can run an entire division.